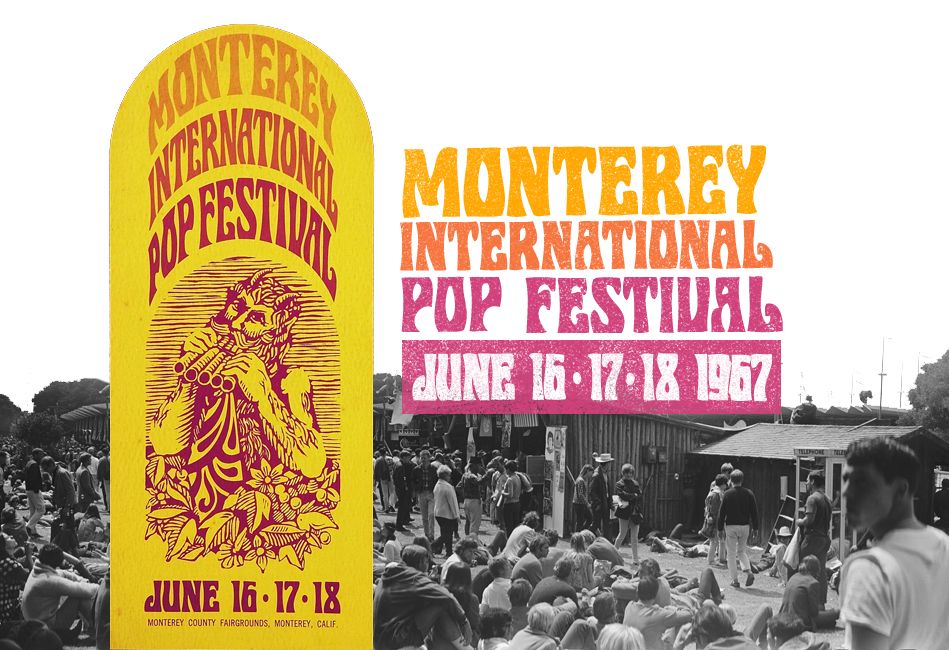 Today on the Rock & Roll is a State of Mind blog, we celebrate the 54th anniversary of what many regard as one of  the very first rock festivals...Monterey Pop!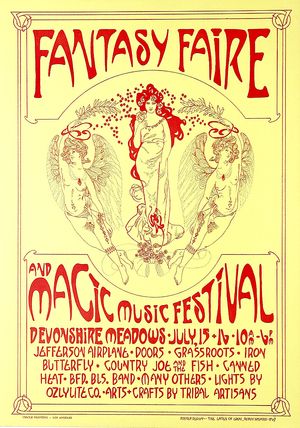 While Monterey Pop wasn't the first music festival ever held — Fantasy Fair and Magic Mountain Music Festival was held just one week earlier — it was a landmark event for rock music festivals, as it inspired those like Woodstock which came after Monterey Pop. Monterey Pop was also the first multi-day concert with rock artists from around the world. The development of the Monterey Pop Festival validated rock music as an art form, forever revolutionizing the music industry. The festival also made waves politically and socially, as it is credited with helping to catalyze the "Summer of Love" and strengthening the 1960s American counterculture movement. 
"By the middle of the 1960's, attitudes about music had certainly changed.  Mainstream America continued to enjoy romantic ballads and frothy pop music, but a harder edge was emerging as young people began to experiment with the more lyrically and musically intricate rock music…It was a new world and the music of the late sixties was the perfect vehicle for expressing the transformation of America's youth…The idea of music festivals wasn't anything new.  The three-day Newport Jazz Festival had been popular since it first debuted in 1954…Modeled aft the Newport festival, folk and jazz festivals also became popular on the West Coast, in particular in the small city of Monterey, California.  Monterey was known as a community of artists and was home to painters, writers, dancers and musicians…it wasn't so much the need to gather with like-minded people that brought about the first rock festival, but rather a desire on the part of the organizers to validate the music that the young people of America were creating and enjoying." (Marley Brant, Join Together: Forty Years of the Rock Festival, 2000 Back Beat Books)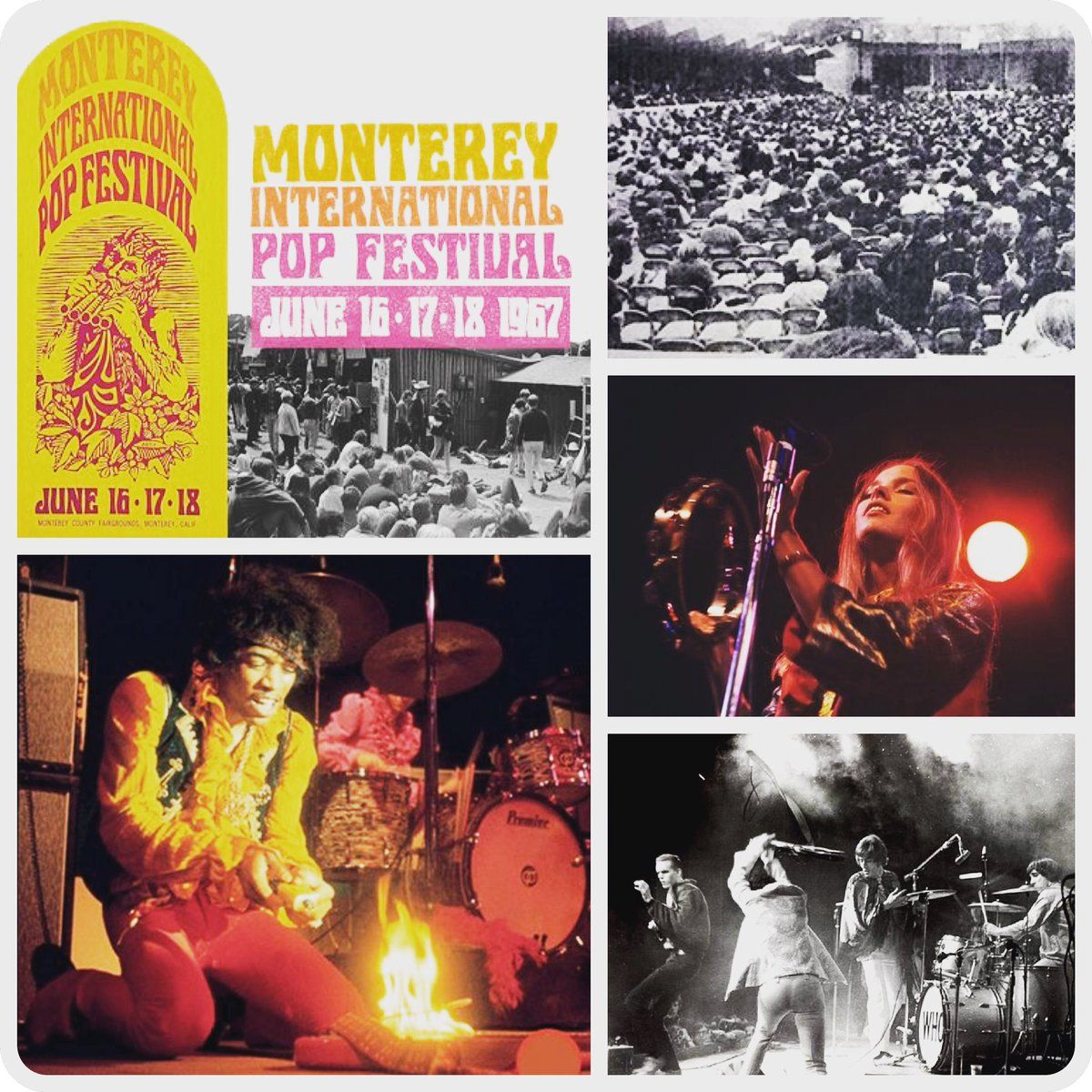 There was a buzz in the air, and it wasn't from the perpetual plumes of pot smoke. Something big was happening – something that had never happened before, and everybody could feel its energy. 
"From 1962 until 1969, nothing happened in linear time, everything was happening at once. There were all these random factors: LSD, the Beatles, the sexual revolution, the anti-war movement, the Civil Rights Movement. It was exhilarating and encompassing and with the Pop Festival we wanted to bring all that emotion and passion to Monterey… It was a revelation." (Paul Kantner, Jefferson Airplane)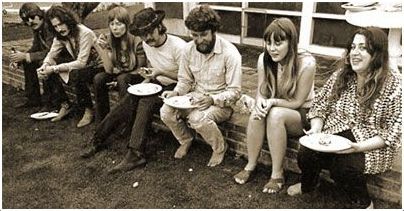 "The impetus behind the staging of the Monterey International Pop Festival evolved one night in 1967, at Mama Cass Elliot's house. Paul McCartney, John and Michelle Phillips, Cass and Lou Adler were discussing, along with other highly inspired issues, the general perception  of Rock 'n' Roll…and that although jazz was considered an art form … Rock 'n' Roll on the other hand…was continually viewed as a fad, a trend … both were American born musical genres. 
The actual idea for the Monterey International Pop Festival initially came from Alan Pariser, who had attended the 1966 Monterey Jazz Festival.  John Phillips and Lou Adler were approached by Alan Pariser and his partner, a promoter named Ben Shapiro who wanted to hire the Mamas and The Papas to headline a blues and rock concert at the Monterey Fairgrounds…and as the story goes … later that night actually three o'clock in the morning John and Lou had decided, influenced by some heavy California Dreamin' that it should be a charitable event…and with six weeks to go the Monterey International Pop Festival; a three-day non-profit event was about to become a reality. 
Alan Pariser would stay on as a co-producer along with Peter Pilafian. Chip Monck would come on to handle lighting and staging.  Derek Taylor, who had worked with Brian Epstein and The Beatles, became the publicist. Tom Wilkes was hired as art director, David Wheeler as head of security… A Board of Governors was established that consisted of: Donovan; Mick Jagger; Paul McCartney; Jim McGuinn; Terry Melcher; Andrew Loog Oldham; Alan Pariser; Johnny Rivers; Smokey Robinson; Brian Wilson, John Phillips and Lou Adler. It was agreed that the line-up of acts would represent all genres of the immediate past, the present, and the future of contemporary music, and that all the acts would be treated the same and have first-class travel and accommodations. The Monterey International Pop Festival production offices were in West Hollywood on Sunset Blvd. housed in the old Renaissance Jazz Club building. The festival's office had a real buzz going through it … David Crosby and Stephen Stills hanging out…Procol Harum's yet to be released 'Whiter Shade Of Pale' being played over and over…Michelle Phillip's was on the phone selling ads…John and Lou on the telephone talking to managers and potential acts … A whirlwind of excitement, of gentle strong-arming, calling in every chip imaginable, dealing with the concerns of the San Francisco group's managers, charming the Monterey City Council and Police Department and getting it all done… for charity…giving something back. (The Official History of Monterey Pop Festival 1967)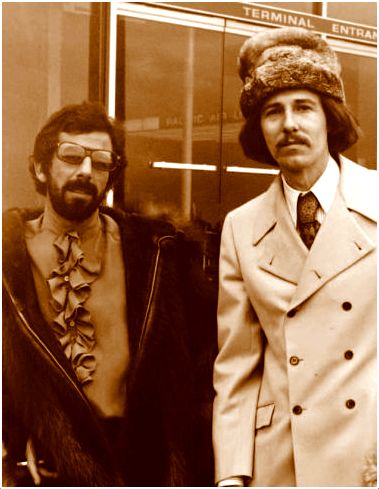 Lou Adler & John Phillips
In short order, others joined in to help this project go forward.  Among those who became involved were record producer Terry Melcher, Johnny Rivers and Paul Simon.  An executive committee was formed that included John Phillips, Lou Adler, Paul McCartney and his fellow Beatles, Alan Pariser and Brian Wilson of the Beach Boys along with the added help of Terry Melcher and Rolling Stones manager, Andrew Loog Oldham.  
"Planning did not get off to a smooth start: Though the idea for the festival had always been to showcase a wide range of musicians, the psychedelic bands from San Francisco wanted nothing to do with the more commercial pop musicians from Los Angeles. Those meetings that took place in San Francisco, Adler says, 'pretty much almost came to blows.'  
On top of that, local authorities in Monterey were starting to get cold feet over the prospect of their town being overrun by hippies. To smooth things over, Phillips wrote a song, San Francisco (Be Sure To Wear Flowers In Your Hair). The song was an instant hit and broke through to the Top 10 charts in the United States.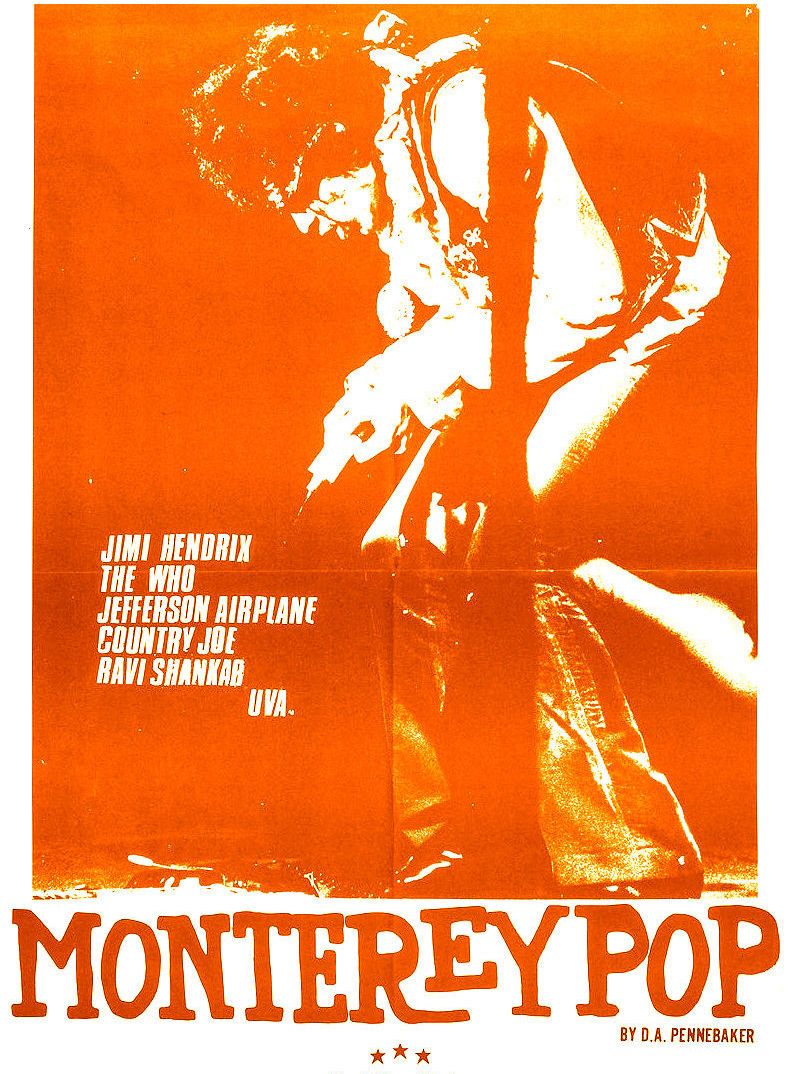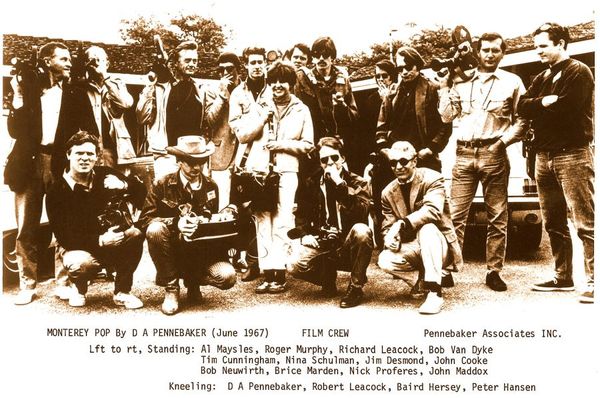 Pennebaker's team used recently developed portable 16mm crystal-sync motion picture cameras that stayed synchronize with double-system sound-recording systems. The film stock was Eastman Kodak's recently released high-speed" 16mm Ektachrome 100 ASA color reversal motion picture stock, without which the nighttime shows would have been virtually impossible to shoot in color. Sound was captured by Wally Heider's mobile studio on a then state-of-the art eight-channel recorder, with one track used for the crystal-sync tone, to synchronize it with the film cameras.
In the meantime, ABC TV put up a $200,000 advance to get a film made about Monterey Pop for its new "Movie of the Week" series. Pennebaker, fresh off the success of his Bob Dylan documentary Don't Look Back, was hired to make it.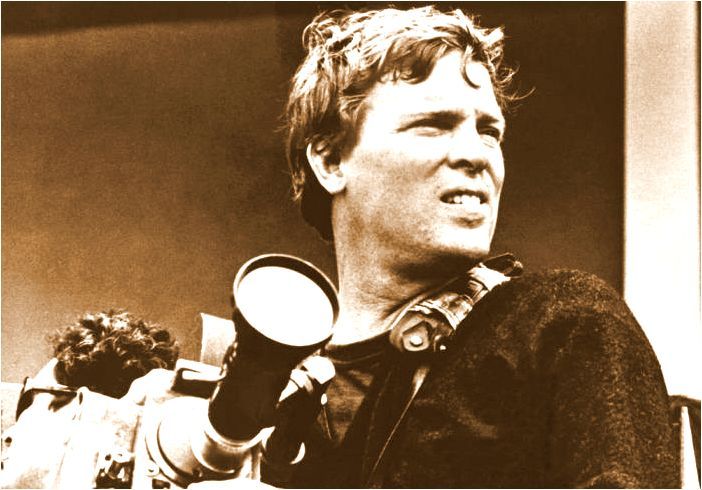 D.A. Pennebaker
"Usually I just did my films by myself. The idea of having to do a concert film with four or five or six cameramen was something I never even thought about doing before. When I sat down to edit, I thought the best thing I could do was to make a film that's like putting on a record. No interviews. No philosophy. Just the music." (D.A. Pennebaker)
Most of the Monterey Pop musicians played for free, with ticket proceeds going to charity. A foundation set up for the festival still donates royalties from any Monterey-related releases and from Pennebaker's documentary, which was released in theaters the following year. However, Monterey Pop never aired on ABC, the network that bankrolled it — a decision made by Tom Moore, the head of ABC at the time and, according to Adler, 'We showed him Jimi Hendrix fornicating with his amp and we said, 'What do you think?' ' Adler recalls. 'And he said, 'Keep the money and get out.' He said, 'Not on my network.' " (www.kazu.org)
The financing for the festival would be provided by the afore-mentioned executive committee.  Those who were providing the finance to present the festival would end up being able to dictate who might appear at the festival.  The committee decided to avoid booking a lot of acts who were supported by corporate interests.  They decided to focus on many acts from the local scene in California.  The committee also decided that none of the performers would be paid since the event was a charitable one; it was assumed that in lieu of payment for their performances, the artists would receive significant exposure in the media.  As predicted, some of the artists who played the festival were indeed rewarded with media coverage; such as Jimi Hendrix and Janis Joplin.  Ironically, both Hendrix and Joplin were on major corporate record labels.  In lieu of payment, the artists received transportation, meals and hotel rooms during the festival.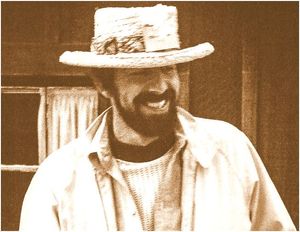 Lou Adler
"Our idea for Monterey was to provide the best of everything – sound equipment, sleeping and eating accommodations, transportation – services that had never been provided for the artist before Monterey." (Lou Adler)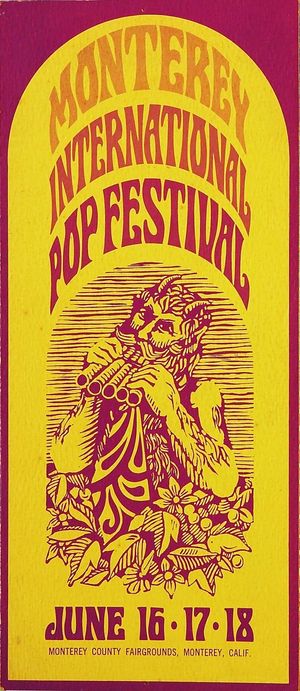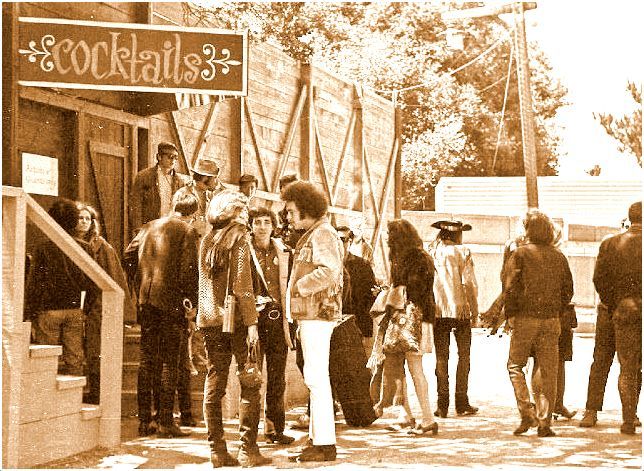 Backstage @ the Performers Lounge
Below the single stage that hosted 32 acts was a 24-hour cafe serving the artists steak and lobster. The organizers also set up a first-aid clinic for concertgoers and those folks with any drug-related problems.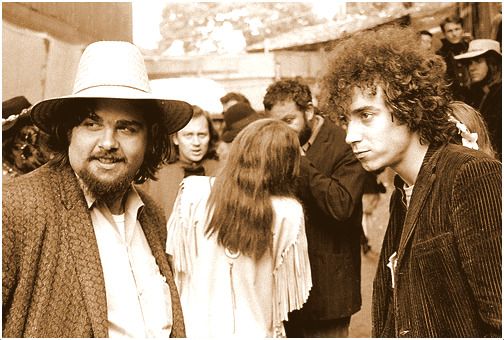 Bob "the Bear" Hite (Canned Heat)
& Elvin Bishop (Paul Butterfield Band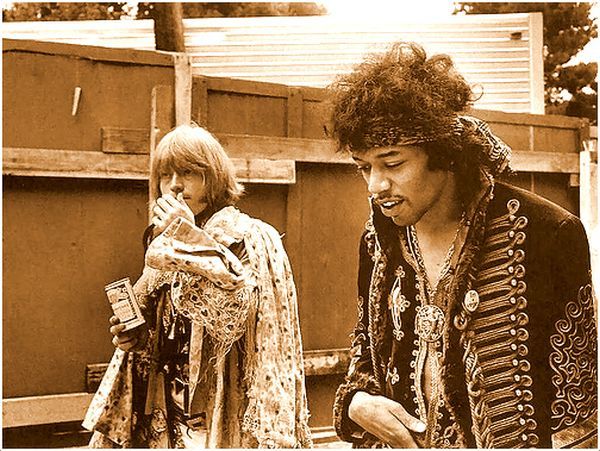 Brian Jones & Jimi Hendrix
Many of the artists who performed at the Monterey Pop Festival in 1967 would go on to become rock music icons.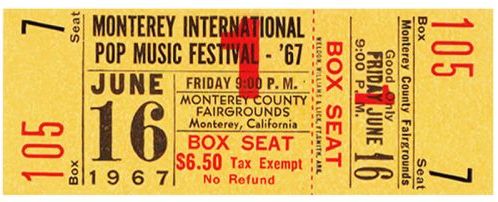 FRIDAY JUNE 16 
The Association 
Introduced by John Phillips 
Set List
Enter The Young 
Along Comes Mary 
Windy
(this set list is incomplete)
"At Monterey Pop one of the biggest shocker was the Top 40 pop group the Association. Their lush harmonies weren't just the product of studio tinkering, it turns out, and aggressive bass lines and a sharp-edged Rickenbacker guitar sound made Windy and Along Comes Mary sound like something more than just moldy oldies." (paperback writer blog)
The Paupers 
Introduced by David Crosby 
Set List
Magic People 
Think I Care 
Tudor Impressions 
Simple Deed 
Let Me Be 
Dr. Feelgood/Bass Solo/Dr. Feelgood
"...the bassist for The Paupers, Dennis Gerrard, a stubby bullfrog with bulging eyes that seem to rise clear out of his head when he would start fooling around with the feedback--The Paupers really know how--and gradually worked into an unanticipated solo. It was really good--Gerrard was the most expressive bass player I've ever heard in a rock band. He's one of the few musicians who explored the kind of facility the electric bass was invented to provide--and as he played his bass he kept going, his eyes half-closed and showing nothing but white, and after a couple of good stretches he got scattered applause. Then he appeared to finish and was cheered enthusiastically. But Gerrard wasn't through yet. He turned to the amplifier, doubling the cord so he got shuddering interference on every note, and played some more, not so well this time, but very intensely, perhaps even hoking it up consciously, and now, although the whole solo was turning into an exhibition, the place really broke up, unable to withstand the impulsion of its own excitement." (YardByrd blog)
Lou Rawls 
Introduced by Peter Tork 
Set List
Love Is A Hurtin' Thing 
Dead End Street 
Tobacco Road[1] 
On A Clear Day You Can See Forever 
Autumn Leaves
"Lou Rawls, the R&B singer from Chicago delivered big time here with some very charismatic and articulately humored performances that the crowd responded to. Every line he utters has a eye wink with it and when he gets serious, he's a soulful and passionate vocalist. Fantastic R&B performances from Lou Rawls and his band bring plenty of applause and laughter. Rawls storytelling with instrumental backing and his singing just wins over the audience and me when I first heard how likable he sounds musically and comically. I say 'yes and double dee-dee' joking around (a double yes, indeed!)-one of his ad-libs during this set. He seems to use a lot more 60's slang then most addressing the audience and the set is better for it. "Tobacco Road" brings humor, drama, and a mix of rock, soul, jazz & blues. It's multi-suite arrangement and long drawn out vocal at the end is stellar." (Steve Hoffman Music Forums)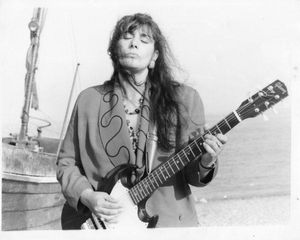 Beverly Martyn
Introduced by Paul Simon 
Set List
Sweet Joy (solo) 
Sweet Honesty (solo) 
Picking Up the Sunshine (with 'house' band)
"Beverley Martyn (born Beverley Kutner on 24 March 1947), singer, songwriter and guitarist. Beverley was born near Coventry and fronted The Levee Breakers, a jug band who played the folk circuit in south east England. At the age of 16 she recorded her first single. Babe I'm Leaving You, released on Parlophone 1965. Martyn was then signed as a solo artist to Deram. In 1966 she released a single, Happy New Year (b-side Where The Good Times Are), written by Randy Newman, on which she was accompanied by Jimmy Page, John Paul Jones, Nicky Hopkins and Andy White. Happy New Year was chosen, together with I Love My Dog by Cat Stevens, to launch Deram as the progressive branch of Decca Records. She also recorded an unreleased single in the same year, Picking Up The Sunshine / Gin House Blues. These last two tracks also featured John Renbourn and Mike Lease. During this period she was taught the guitar by the folk guitarist Bert Jansch who also encouraged her songwriting. Her follow-up single Museum, written by Donovan was released in 1967, produced by Denny Cordell. 
Closely involved with the folk scene, Beverly met Paul Simon who invited her to New York where she contributed to the track Fakin' It on the Simon & Garfunkel album Bookends on which she says in the middle of the song: 'Good morning, Mr Leitch, have you had a busy day.' She later appeared at the Monterey Pop Festival on 16 June 1967, as did Simon & Garfunkel." (coventrygigs.blogspot.com)
Johnny Rivers 
Introduced by Peter Tork
Set List
Help Me, Rhonda 
Memphis, Tennessee 
Mountain of Love 
Midnight Special 
Do What You Gotta Do 
Tunesmith 
Baby I Need Your Loving 
Poor Side of Town 
Secret Agent Man 
Help! (performed twice during set)
"Another singer that shows the diversity of the festival, Johnny Rivers brought more star power than psychedelic rock. Both had strong chart showings at this time, but Rivers was a bonafide star by this time. Scanning the setlist, Memphis, Tennessee, Mountain of Love, Poor Side of Town and Secret Agent Man were all hits before 1967. With Rivers there, it was guaranteed some AM radio hits would be played." (Steve Hoffman Music Forums)

Eric Burdon and The Animals 
Introduced by Chet Helms 
Set List
San Franciscan Nights 
Gin House Blues 
Hey Gyp 
Paint It, Black
"Eric Burdon will always be associated with the Monterey Pop Festival largely due to his hit single Monterey which was released in 1968.  During the Animals set at Monterey Pop, Eric & his new band of Animals performed the Rolling Stones song, Paint It Black which gave off a vibe of frightening psychedelic dark wastelands around the world. The "New" Animals were a remarkable band that always played well and with so much diversity. Burdon had so many different styles he was trying and they usually pulled off great music-always staying creative within their psychedelia. A great set from The Animals who show so many facets of pop/rock in just 4 selections." (Steve Hoffman Music Forums)
Simon & Garfunkel 
Introduced by John Phillips 
Set List
Homeward Bound 
At The Zoo 
The 59th Street Bridge Song (Feelin' Groovy) 
For Emily, Whenever I May Find Her[1] 
The Sound of Silence 
Benedictus 
Punky's Dilemma
Simon & Garfunkel closed out the first night of the festival.  Paul Simon, who felt the festival reflected the spirit of a 'jubilee', was anxious to perform for the crowd..  Simon's beautiful melodies, when matched with Garfunkel's angelic voice, captured the spirit of 1967.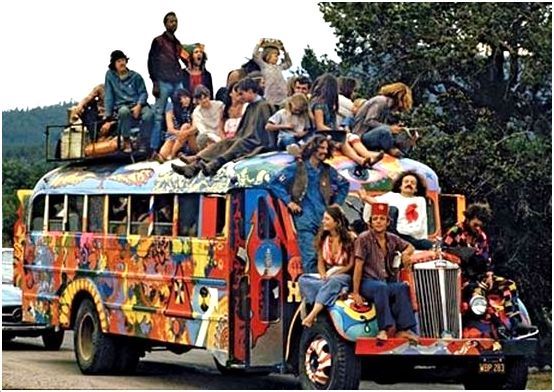 The communal group, the Merry Pranksters & their leader Ken Kesey, traveled to Monterey in Further, their notorious dayglow bus, to be part of the festival.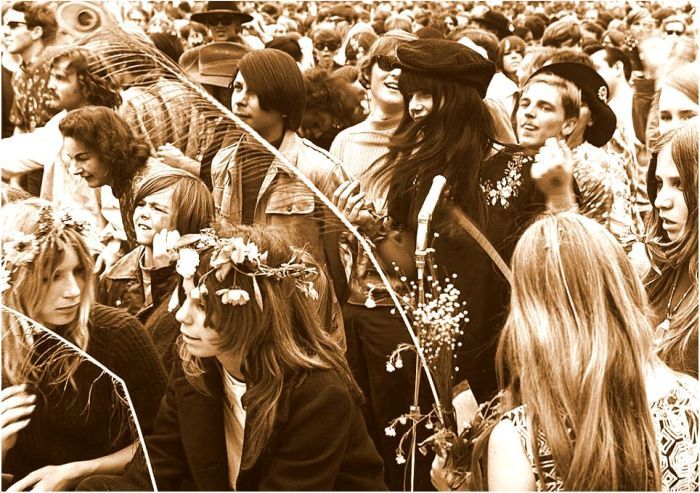 Across the fairgrounds, the crowd was filled with the notion that they were part of a watershed event that would be remembered for the ages.

SATURDAY JUNE 17


 
Canned Heat 
Introduced by John Phillips
Set List
Rollin' And Tumblin' 
Dust My Broom 
Bullfrog Blues 
Note: Canned Heat set list is incomplete.
Monterey Pop was the festival that broke Canned Heat on a big scale. Prior to this, Canned Heat had mainly played smaller gigs around the L.A. underground scene – a scene that was bubbling, and threatening to erupt at the time. 
Canned Heat's set was filmed by director DA Pennebaker (who directed Dylan's legendary 'Don't Look Back' film) and a rave review of their set in popular music rag Down Beat gushed: "Technically, Vestine and Wilson are quite possibly the best two-guitar team in the world and Wilson has certainly become our finest white blues harmonica man." 
The band's performance at Monterey and the release of their debut album the following month saw the band quickly rise to fame.


Big Brother and the Holding Company 
Introduced by Chet Helms
Set List
Down on Me 
Combination of the Two 
Harry 
Roadblock 
Ball 'n' Chain
As one of the first acts on Saturday afternoon at Monterey, Bib Brother and the Holding Company clearly made an impression with a song called Ball and Chain. The song provided Joplin with the the opportunity to build slowly and summon her powers at various points along the way. When Pennebaker's crew ran out of film and could not film the band's Saturday performance, they had a second shot at filming on Sunday.
.
Country Joe and the Fish 
Set List
Not So Sweet Martha Lorraine 
I-Feel-Like-I'm-Fixin'-to-Die Rag 
The Bomb Song 
Section 43
"Country Joe & The Fish entered the music scene with their debut album, Electric Music For The Mind and Body, was one of the best full-fledged psychedelic albums of its time, the instruments, particularly the guitar and organ taking center stage in their songs. The band knew how to craft their music that it didn't adhere to the era's commercialized rock radio candy.: (iclassicrock.com)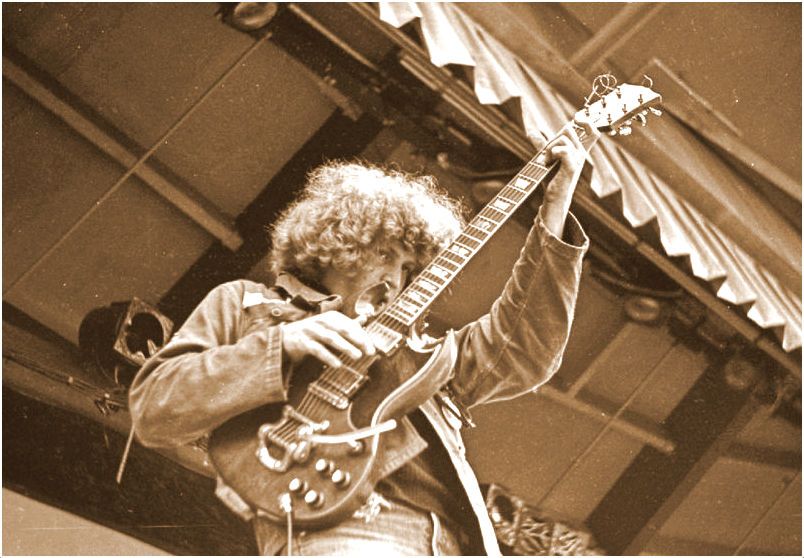 "I attended the entire Monterey Pop event. Jimi Hendrix and The Who were phenomenal, as were Big Brother and the Holding Company, Canned Heat, The Electric Flag, Otis Redding and Ravi Shankar. The Monterey Pop movie was shot on a shoestring. But, that Festival contained the hope, promise and idealism of the era. Two years later, by the time of the Woodstock movie, much of what went wrong with the Sixties became obvious." (Barry "The Fish" Melton, Country Joe and the Fish Lead Guitarist)

Al Kooper 
Introduced by Paul Butterfield 
Set List
I Can't Keep from Cryin' Sometimes 
Wake Me, Shake Me
"Al Kooper was in a bit of flux when he performed in Monterey. After famously being a part of Bob Dylan going electric, he joined the NY-based The Blues Project who were somewhat successful with their live reputation and had released two albums in 1966 plus the single I Can't Keep From Crying in November of that year. Sometime after that, Kooper left the group despite being a major part of its sound and released a solo single in March. While The Blues Project also played Monterey, Kooper did 2 Blues Project songs – both arranged by him and The Blues Project did Al Kooper stuff like Flute Thing later.  Kooper proved he could bring entertainment on his own. Regardless, maybe he didn't feel totally right as a solo artist perhaps because of this show and formed Blood Sweat & Tears soon after- before again going solo the following year." (Steve Hoffman Forums)


The Butterfield Blues Band 
Set List
Look Over Yonders Wall 
Mystery Train 
Born In Chicago 
Double Trouble 
Mary Ann 
Droppin' Out 
One More Headache 
Driftin' Blues 
Note: The Butterfield Blues Band set list is incomplete.
The Paul Butterfield Blues Band were based in Chicago and already were established as one of rock's innovators engaging in long jamming, Chicago blues rock, and excellent instrumental work. Butterfield gaves extended harmonica performances, with impressive ones on both Mystery Train and Born in Chicago.  Mike Bloomfield, who left the band to form form his Electric Flag combo, was sorely missed.
Quicksilver Messenger Service  
Set List 
Dino's Song (All I Ever Wanted to Do)  
If You Live  
Acapulco Gold and Silver  
Too Long  
Who Do You Love?
"Quicksilver Messenger Service started life during the folk-rock boom as an electric backing band for singer-guitarist-songwriter Dino Valenti. Before they could develop in that capacity, however, Valenti was arrested for drug possession and received a prison sentence. However, rather than splitting up, the group continued on without their front man, and over the next two years, the group proceeded to astound audiences in San Francisco with their performances, consisting of extended jams, stretched out through Cipollina's shimmering angular lead guitar lines. For a time, the two top acts in the city were 'the Quick and the Dead (The Grateful Dead)', but at the time of their appearance at Monterey, Quicksilver had yet to be signed by any label." (Arthur's Musical Journey blog)

Steve Miller Band
Set List
Living in the USA 
Mercury Blues 
Super Shuffle
"San Francisco was almost the center of the universe. It was a swirling amount of energy -- art, lights, posters, writing, music -- and the world seemed to be looking to it for inspiration. Whereas L.A. just had a bunch of pop stars trying to make money." (Steve Miller)
The Electric Flag 
Introduced by David Crosby
Set List
Groovin' Is Easy 
Over-Lovin' You 
The Night Time Is the Right Time 
Wine
Barry Goldberg (The Electric Flag, keyboards): "We were from Chicago. We'd never seen surfers before. It was like H.G. Wells' The Time Machine -- we were the Morlocks, living under ground and not getting enough sun. These perfect blonde people with hardly any clothes on, they were the Eloi. Some hippie girls dressed me in a sharktooth necklace and a cut-off Levi jacket. [Electric Flag guitarist] Michael Bloomfield said, 'Take off those stupid clothes right now.' I'd just heard Strawberry Fields Forever, so I said, 'There's nothing to get hung up about.' Then he threw a book at me." (Monterey Pop's Oral History)
Moby Grape 
Introduced by Tom Smothers. 
Set List
Indifference 
Mr. Blues 
Sitting By the Window 
Omaha 
Fall On You 
Hey Grandma 
Lazy Me
Peter Lewis (Moby Grape): "Moby Grape were backstage with our manager, Matthew Katz, and Lou Adler. Lou talked about putting us on Saturday night, and filming it. That story is absolutely true: Matthew said, 'I own the band's name, and you have to pay me $1 million or you can't film my band.' Adler was pissed off, and said, 'Fine, you'll play in the afternoon.' [Moby Grape singer] Skip Spence went crazy and fired Matthew right then. If we had been in the movie, like Janis, it would've made us huge stars.
Peter Lewis: Monterey was the first time I took acid. Some chick gave it to me. She mentioned getting it from David Crosby, and I split it with [bandmate] Bob Mosley. I remember thinking I was dead. Then light appeared in front of my eyes, and I realized I was lying in the parking lot of our motel, and the light was the stars. By the time the sun came up, I thought, "This is a real beginning." I had died to my identity as [actress] Loretta Young's son, and woke up to a new identity: a guy who played music. Making it in show business was not part of my vision of who I was. The age of the individual was coming." (The Oral History of Monterey Pop Festival)
Hugh Masekela 
Set List
Here, There And Everywhere 
Society's Child 
Bajabula Bonke (Healing Song) 
Note: Hugh Masekela set list is incomplete.
"D. A. Pennebaker, whose classic documentary Monterey Pop captures Masekela in one of the breakthrough performances of his early career. The filmmaker noted that what struck him about Masekela was how he served as a vital contrast to the rest of the concert lineup. 'The film begins with Canned Heat playing Rollin' and Tumblin,' followed by Simon & Garfunkel doing The 59th Street Bridge Song —personal performances, which I think is where music began. Then the film jumps into the big sound of Masekela and his band, and with that beginning I always think of the film as a kind of history of music."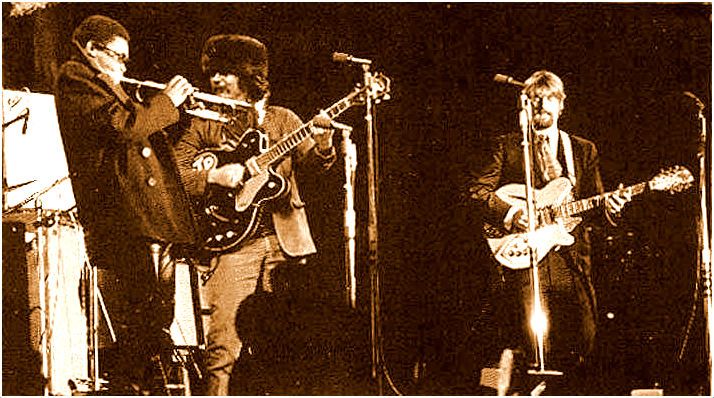 The Byrds 
Introduced by Mike Bloomfield 
Set List
Renaissance Fair 
Have You Seen Her Face 
Hey Joe 
He Was a Friend of Mine 
Lady Friend 
Chimes of Freedom 
I Know My Rider 
So You Want to Be a Rock 'n' Roll Star (featuring Hugh Masekela on Trumpet)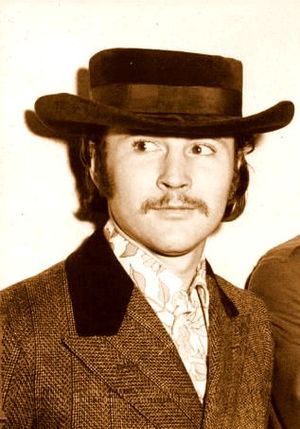 On stage with The Byrds, David Crosby pissed off his bandmates by lecturing the audience between songs on the Kennedy assassination and expressing the notion that every man, woman and child should take LSD.  Four months later, they kicked Crosby out of the band.
Laura Nyro 
Set List
Eli's Comin' 
Stoned Soul Picnic[6] 
Wedding Bell Blues 
Poverty Train
"Laura Nyro underwent an almost nightmarish experience when she played the Monterey Pop Festival. Nyro, dressed up in gypsy Vegas garbs and backed by a black chic trio, thoroughly alienated the hippie audience by attempting to put on a soul revue and was all but booed off the stage." (montereyherald.com)


Jefferson Airplane 
Introduced by Jerry Garcia 
Set List
Somebody to Love 
The Other Side of This Life 
White Rabbit[1] 
High Flying Bird 
Today 
She Has Funny Cars 
Young Girl Sunday Blues 
The Ballad of You and Me and Pooneil
"My idea of a good festival, the best festival of all time, was Monterey. They had these little booths where you could actually walk up if you wanted to buy something, with artists' stuff on display. You could get food. You could go to the bathroom. People could see things. It wasn't too big. When it was over and you wanted to go home, you could just get in your car and drive there." (Grace Slick)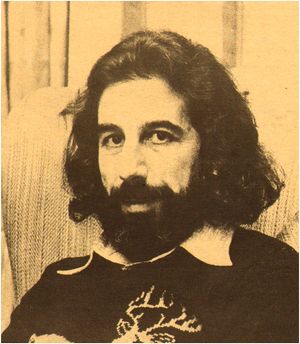 Lou Adler
Lou Adler: "The Beach Boys had confirmed that they would play the festival on Saturday but then they decided not to play, which catapulted Otis Redding, backed by Booker T. & The M.G.'s and The Mar-Keys, into the Saturday night headlining spot."
Booker T. & the M.G.'s 
The Mar-Keys 
Set List
Booker Loo 
Hip Hug-Her 
Philly Dog 
Green Onions 
Note: Booker T. & the M.G.s set list is incomplete.
"I didn't have any knowledge of the counterculture, so I was one shocked young fella. Everyone was dressed so casually, and there we were, in silk mohair suits. We could not have been more out of place." (Booker T. Jones)
Otis Redding 
Introduced by Tommy Smothers 
Set List
Shake 
Respect[1] 
I've Been Loving You Too Long 
Satisfaction 
Try a Little Tenderness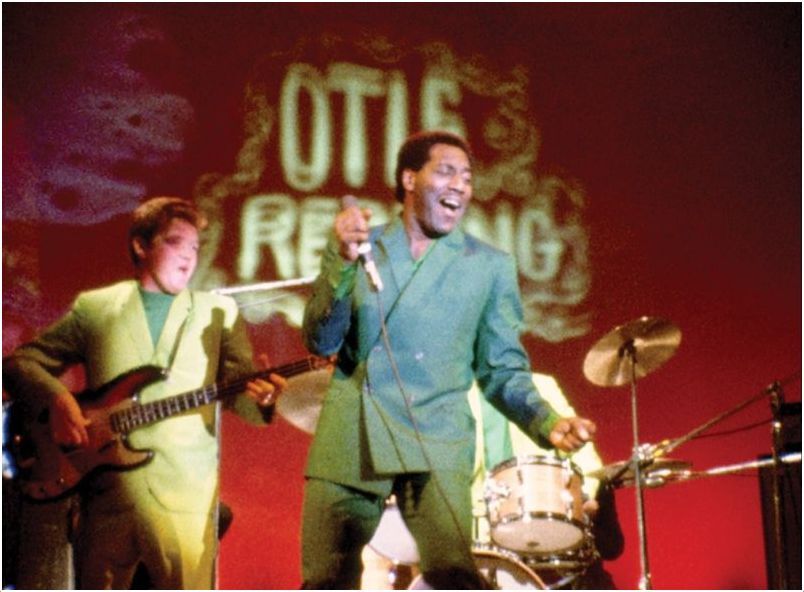 Booker T. Jones: "We were very anxious about Monterey. Otis came out onstage timidly. That lasted about two seconds. The crowd made him feel at home. It came on the heels of an extended tour of Europe, and those performances stand out in my memory as, in some ways, unsurpassable. But because of the crowd energy in Monterey and the occasion, it was another superlative performance from Otis.  That evening was surreal to me because of the cultural changes I was seeing. It was like coming home, but stepping into a new world. It was an America I hadn't seen before. (The Oral History of Monterey Pop Festival)
"Monterey Pop placed Otis Redding before a whole new audience. These young hippie kids, not to mention all the industry folks and press who also attended the event, took him to a whole new level. Listen to his voice control in the clip above — how gently he starts, like velvet; and how easily he flips to a thundering wail. My favorite moment is around the 1:00 mark, where he howls Oh!, pauses, and asks to do it again. He does it three times total, working the audience without directly addressing the audience. This was a masterclass in subtlety." (Consequence of Sound blog)
SUNDA

Y JUNE 18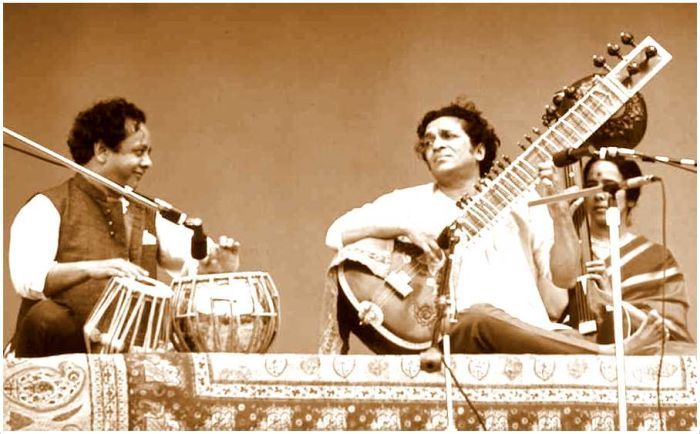 Ravi Shankar 

Set List
Rãga Todi-Rupak Tal (7 Beats) 
Tabla Solo In Ektal (12 Beats) 
Rãga Shuddha Sarang-Tintal (16 Beats) 
Rãga Bhimpalasi 
Dhun In dadra and fast teental (6 and 16 beats)
"On the third day of the festival, Ravi Shankar was given the stage for the entire Sunday afternoon. It really came out of nowhere. Rumor of Shankar had been circulating for a bit. George Harrison was a student and a couple of rock stars were starting to dabble in Eastern mysticism. Shankar had been playing in the U.S for years, notably at Carnegie Hall, and at Royce Hall in UCLA in 1961. A recording of the Royce Hall concert was released in cooperation with the school's Institute of Ethnomusicology. Shankar moved to California earlier in 1967 because he was in such demand. 
But his appearance on the Monterey County Fairgrounds stage in 1967 — and the recordings that followed — would be Shankar's real introduction to a larger audience. It was so different and so mesmerizing that it opened the minds of American youth to a culture completely separate from their own. And that's saying something. At 48, Shankar was a relative geezer in that place at that time, and his instrument resembled some loon attempt to make a centipede musical. In Monterey, he lets loose with a collection of classical Hindustani music of his own
It was apparently an other-worldly experience for Shankar himself. On stage with his elaborate instrument, Shankar was joined by his tabla player, Alla Rakha, and his partner at the time, Kamala Chakravarty, on tambura. Critics say it was his greatest performance ever, and Shankar himself agreed." (voicesofmontereybay.org)
The Blues Project 
Set List
Flute Thing 
Wake Me, Shake Me 
Note: Blues Project set list is incomplete.
The Blues Project's last hurrah was at the Monterey International Pop Festival held in Monterey, California, in June 1967. By this time, however, half of the band's original line-up was gone. Katz left soon thereafter, followed by Kalb. Al Kooper was at the festival in the capacity of "assistant stage manager" to "Chip" Monck.  Along with sitting in with the Blues Project for two tunes, Kooper also performed a short set with a pickup group of players.

Big Brother and the Holding Company 
Introduced by Tommy Smothers 
Set List
Combination of the Two 
Ball and Chain 
Note: Big Brother and the Holding Company second set is the one filmed for Monterey Pop. The first set was not filmed, but the band wanted to appear in the film after their first set (Saturday afternoon) received huge acclaim.


The Group With No Name 


Set List is Unknown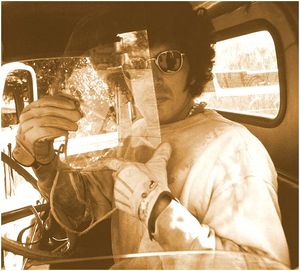 Cyrus Faryar
"The Group With No Name took the stage. Michael Lydon, a well known rock writer, for once, got it right, predicting they 'may well not last long enough to get a name'. No one seems to have recognised, recorded or recalled anything they played. The band was led by Cyrus Faryar, a founder member of The Modern Folk Quartet.
Yes indeed, there is little known about The Group With No Name.  The only name I could come up with is the band's leader, Cyrus Faryar (who once recorded a psychedelic album for Elektra Records).  I came across an interview with Faryar that briefly mentioned the Monterey Pop Festival: "For me, the whole of the Monterey Pop event was a bit like a fabulous banquet with so many different dishes and flavors; from outright bar-b-q to ice cream and cake. There should be one very year. Each player was so unique and amazing in their own way. It felt like an endless outpouring of talents and gifts. Some of the performers were old friends and they were just as amazed being part of that wonderful menu of great artists." (Blues GR blog)
Buffalo Springfield (played with David Crosby) 
Introduced by Peter Tork 
(With David Crosby guesting in place of Neil Young, plus Doug Hastings) 
Set List
For What It's Worth 
Nowadays Clancy Can't Even Sing 
Rock and Roll Woman 
Bluebird 
A Child's Claim to Fame 
Pretty Girl Why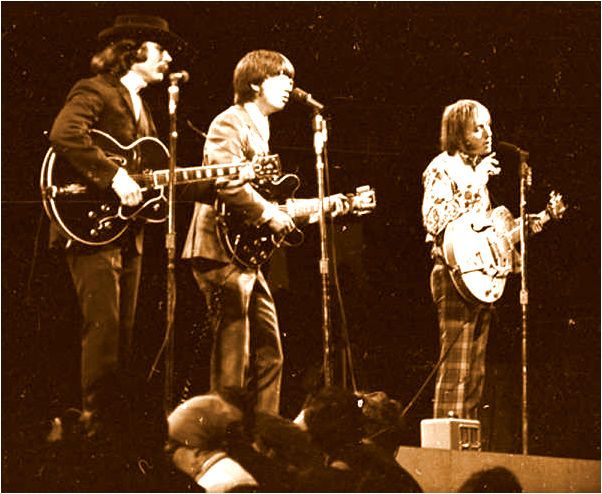 2011 Interview with Richie Furay in Goldmine Magazine
Goldmine Magazine: "Years ago, Buffalo Springfield performed at the Monterey Pop Festival. Will the footage of the band's entire performance ever be released? 
Richie Furay: Our performance at Monterey we were definitely not on. It was not a real good representation of the band, from my perspective. Neil wasn't there, and that was disappointing. David Crosby sat in with us for our set. Monterey wasn't our best performance. I was just coming off tonsillitis and I was half there myself. (Laughing) It was just not a really good representation of how I'd like the Springfield to be remembered."
The Who 
Introduced by Eric Burdon 
Set List
Substitute 
Summertime Blues 
Pictures of Lily 
A Quick One, While He's Away 
Happy Jack (the only song not filmed from this performance) 
My Generation
"Although already a big act in the UK, and now gaining some attention in the US after playing some New York dates two months earlier, The Who were propelled into the American mainstream at Monterey. The band used rented Vox amps for their set, which were not as powerful as their regular Sound City amps which they had left in England to save shipping costs. At the end of their frenetic performance of My Generation, the audience was stunned as guitarist Pete Townshend smashed his guitar, smoke bombs exploded behind the amps and frightened concert staff rushed onstage to retrieve expensive microphones. At the end of the mayhem, drummer Keith Moon kicked over his drum kit as the band exited the stage. During Jimi Hendrix's stay in England he and the Who had seen each other perform, they were both impressed with and intimidated by each other, so neither wanted to be upstaged by the other. They decided to toss a coin, with The Who.  The Who won the coin toss and ended up performing before Hendrix." (alchetron.com)


Grateful Dead 
Set List
Viola Lee Blues 
Cold Rain and Snow 
Alligator/Caution (Do Not Stop On Tracks)
"The Dead finally made their appearance in a sunburst of San Francisco warm.'You know what foldin' chairs are for, don't you?' asked Bob Weir, his dirty blond hair hanging down past his shoulder blades and over his face. 'They're for foldin' up and dancin' on.' As the group drifted into Viola Lee Blues, the hangers-on in the wings started to dance, slowly gravitating toward the center of the stage, and some of the audience got up as well. Adler's compulsive streak was really beginning to show. He was mad. Before too long he helped the stagehands hustle the dancers off, and the ushers did the same in the aisles. There was no resistance per se, but everyone was annoyed. The Dead looked as if they might actually leave the stage themselves." (Robert Christgau, Esquire)
The Jimi Hendrix Experience 
Introduced by Brian Jones. 
Set List
Killing Floor 
Foxy Lady 
Like a Rolling Stone 
Rock Me Baby 
Hey Joe 
Can You See Me
The Wind Cries Mary 
Purple Haze (Only partly filmed - cameras were changing reels) 
Wild Thing
"With the Rainbow Shriek of his flaming Stratocaster at the 1967 Monterey International Pop Festival, Jimi Hendrix dramatically announced the arrival of the new Aquarian age of peace, love and spiritual aspiration. At the same time, he liberated rock & roll guitar once and for all from the choke of Top Forty dictums. The way he tore into Purple Haze, scratching the song's elephantine funk intro with sawtoothed distortion, and calmly skated up the shimmering, ascending chorus of The Wind Cries Mary had no precedent in rock guitar and, even at Monterey, no equal. 
The American debut of the Jimi Hendrix Experience at Monterey on June 18th, 1967, is still a revelation, an orgasmic explosion of singing feedback, agitated stretches of jazzy improvisation and recombinant R&B guitar. Sucking the crowd into his hurricane sound, Hendrix dragged Dylan's Like a Rolling Stone through Mississippi-blues mud, attacked his own Can You See Me with amphetamine impatience and, egged on by Noel Redding and Mitch Mitchell's rhythmic frenzy, drove Wild Thing head-on into a wall of white noise.
Hendrix employed epic volumes to the music in his performance, which made for that monumental feedback. And, of course, after his rendition of Wild Thing Hendrix poured lighter fluid over his black Fender Stratocaster, setting it ablaze and making rock and roll history." (Rolling Stone Magazine)


Scott McKenzie 
Set List
(Backed by The Mamas & the Papas) 
San Francisco (Be Sure to Wear Flowers in Your Hair)
The Mamas & the Papas
Introduced by Paul Simon. 
Set List
Straight Shooter
Spanish Harlem 
Somebody Groovy 
Got a Feelin' 
California Dreamin'
I Call Your Name 
Monday, Monday
Dancing in the Streets
The Mamas and the Papas ended up being the final act at the festival on Sunday, June 18. The already-successful band was a big draw but because the entire group had been working as festival organizers, they had very little time to practice for their performance.  When the reviews for the festival came out, critics dismissed their performance as mediocre.  When you watch their performance in the movie, it's obvious that they their set was akin to sleeping walking.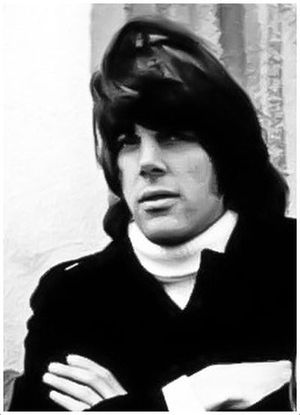 Peter Lewis (Moby Grape)
Peter Lewis (Moby Grape): "Media and music executives flocked to Monterey and discovered a burgeoning sound and culture. Soon, underground music was a commodity, which tore some groups apart.  After Monterey, the world discovered the word, "hippie." Then, when the music business began to get involved, compromises were definitely made. "Hippie" became a big business.  Monterey, was where the culture began and ended, in a sense."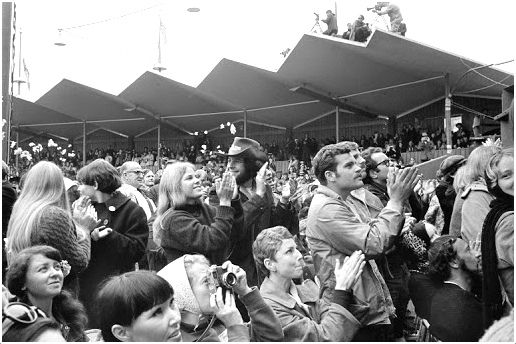 "Monterey Pop Festival was a watershed moment in the whole rock culture movement. Although it had this outsized historical influence, it really was a small-scale event. The arena sat 8,500 people. There were another 5,000-8,000 people admitted to the festival grounds, and possibly as many as 15,000 hanging out outside the fences.
Rock is an art form in decline. That's in the nature of art movements. You have an avant-garde that seeps ideas into the mainstream. Then you get this bell curve where people keep repeating ideas until you get diminishing returns. And it's been a long time since there were any important popular new ideas in music. I guess hip-hop was the last one, but even that has become formalized. And when an art form becomes formalized, it will no longer innovate." (Joel Selvin,  Monterey Pop, Chronicle Books 1992)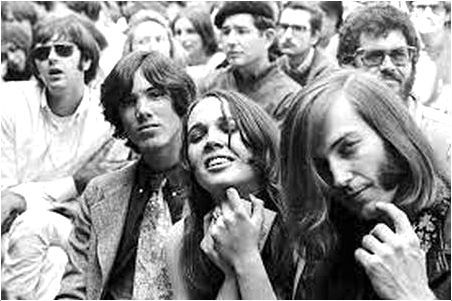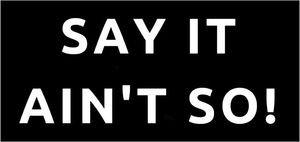 Cancellations & No Shows @ Monterey Pop
The Beach Boys, who had been involved in the conception of the event and were at one point scheduled to headline and close the show, failed to perform.
The  Beatles were rumored to appear because of the involvement of their press officer Derek Taylor, but they declined, since their music had become too complex to be performed live.  Instead, at the instigation of Paul McCartney, the festival booked The Who and the Jimi Hendrix Experience.
The Kinks were invited but could not get a work visa to enter the US because of a dispute with the American Federation of Musicians.
Donovan was refused a visa to enter the United States because of a 1966 drug bust.
Captain Beefheart & the Magic Band was also invited to appear but the band turned the offer down at the insistence of guitarist Ry Cooder, who felt the group was not ready.
Dionne Warwick and The Impressions were advertised on some of the early posters for the event, but Warwick dropped out because of a conflict in booking that weekend.
The group, Love, rejected an invitation to perform at the festival.
The promoters also invited several Motown artists to perform and were even going to give the label's artists their own slot. However, Berry Gordy refused to let any of his acts appear,
The Doors did not appear because the coordinators forgot to invite them. Drummer John Densmore, in his book Riders on the Storm, expressed his belief that the band was not invited because its music didn't express the "peace and love" ideals of the time.
The Monkees were seriously considered but eventually John Phillips nixed their invitation to play.
According to Eric Clapton, Cream did not perform because the band's manager wanted to make a bigger splash for their American debut. However, it has since been revealed that the band were not considered by the festival organizers.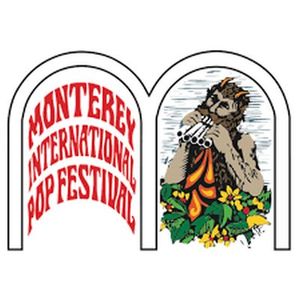 Monterey Pop spawned an eponymous nonprofit foundation that donates to musical and humanitarian efforts in the names of the festival's original performers. Its money comes from video and audio profits generated by the festival.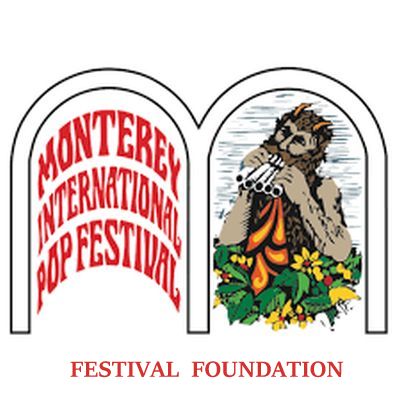 The Monterey International Pop Festival Foundation (MIPFF) is a non-profit charitable and educational foundation empowering music-related personal development, creativity, and mental and physical health. In the spirit of the Monterey International Pop Festival, and on behalf of the artists who took part, the Foundation awards grants to qualified organizations and individuals with identifiable needs in those areas. 
The genesis of the Monterey International Pop Foundation was borne of the musical reverberations created on the weekend of June 16, 17 and 18, 1967. Those artists who performed at the Monterey International Pop Festival, in Monterey California, continue to be the musical messengers sustaining the Foundation's aims and ideals. It is their historic performances that keep the promise and spirit of Monterey Pop alive. We have never veered from the mandate established in 1967, when John Phillips, who co-produced the festival suggested, 'Let's give something back.' 
The Monterey International Pop Festival's nonprofit foundation continues to generate thousands each year from its intellectual property. That revenue is donated to various organizations.  The Foundation has successfully generated funds through audio and video ancillaries and has made donations to worthwhile recipients over the past five decades. Each and every donation has been made in the names of those artists who performed at the Monterey International Pop Festival. The Monterey International Pop Foundation has propelled their idealistic intents into realities by making the following examples of donations: 
The initial grant went towards a music instruction program in Harlem championed by Paul Simon. Subsequent grant recipients whose initial contact or in name of are in parenthesis and include: Blue Monday Foundation – Marin County initial contact Mark Naftalin, Chicago's Providence St. Mel Music Program (Otis Redding), UCSF Benioff Children's Hospital – Music Therapy initial contact Gregg Perloff, Another Planet Entertainment, Clive Davis School of Recorded Music at New York University, San Francisco Earthquake Fund (Bill Graham), Texas Habitat for Humanity (Janis Joplin), H.E.A.R. – Hearing Education and Awareness for Rockers (Pete Townsend), New York's Children's Health Fund - Mobile pediatric clinics, providing care to homeless shelters, housing projects and schools (Paul Simon), Romanian Angels- initial contact Olivia Harrison, Berklee School of Music – Five week program Scholarship. 
Since 1967, everything relating to the Monterey International Pop Festival Foundation's efforts has the line: 'On behalf of the ARTISTS WHO APPEARED THERE June 16, 17 and 18, 1967.'
---
---
Move ahead, don't get left behind...
Rock & Roll is a State of Mind!
---