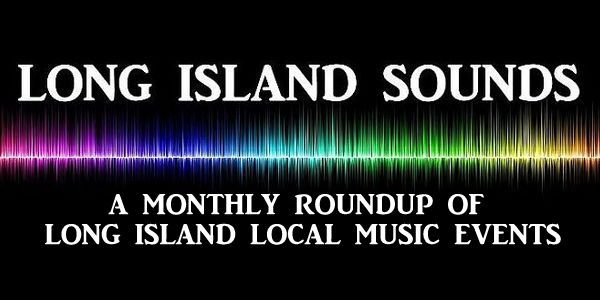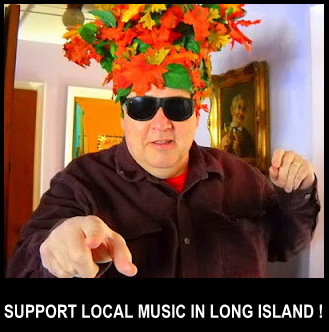 NOVEMBER 2018
---
1st - Time Out Blues Band  Giacomo Jacks  Amityville, NY

Ahwooooooooo!  If you think you got some hellhounds on your trail, head on down to this legendary venue and the Time Out Blues Band will help you come to terms with those demons in your soul.  Special Note: handling the keyboards in this cool combo is none other than the legendary Roast Beef Joe, formerly of Little Buster & The Soul Brothers!
---
2nd - Soapbox Messiah  KJ Farrells  Bellmore, NY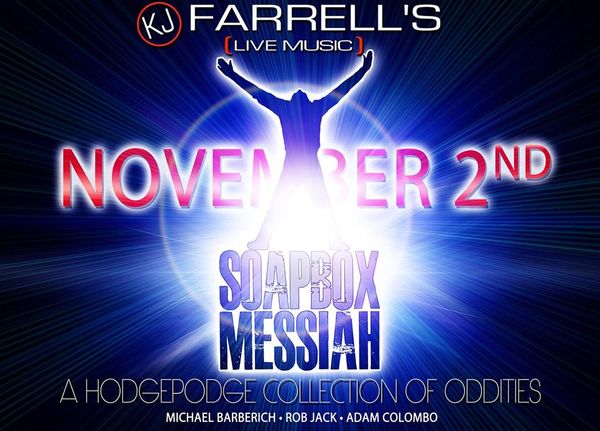 Heads up y'all!  There's a new band making its debut at this popular showcase venue in Bellmore.  Think James Brown meets the Red Hot Chili Peppers!  Showtime: 10 pm - Midnight
---
2nd - Mike Barry  Repeal  Garden City, NY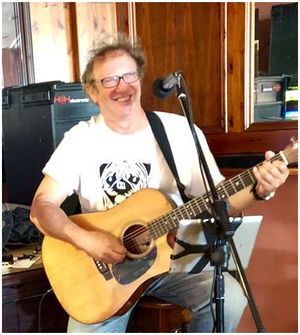 Barry, who is a frequent performer on the local circuit with his lively combo, does a solo gig at this Garden City gastro pub.  Expect an evening featuring a genuine mix of blues, folk, rock and more.  If you get hungry, you might wanna check out the Cuban Burger (Ham, Swiss Cheese, Pickles and Garlic Mayo).  Showtime: 7 pm
---
3rd - Fishing With Fredo  RS Jones  Merrick, NY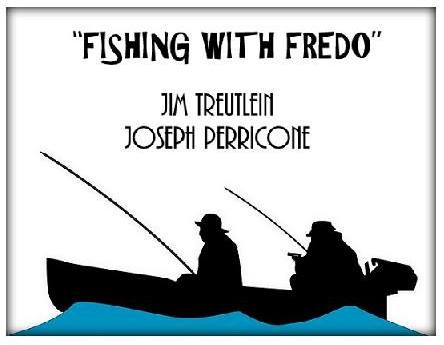 This slightly eccentric duo, which includes Jim Treutlein (renowned local songfinder) and Joseph Perricone (head honcho of The Other Shoe) present an evening of music that runs the gamut from Americana to Alt-Country to Roots Rock.  Along with the sounds, there will be stories and improvised blarney.  Showtime: 7:30 pm - 10:30 pm
---
3rd - Blue Velvo  Mr. Beery's  Bethpage, NY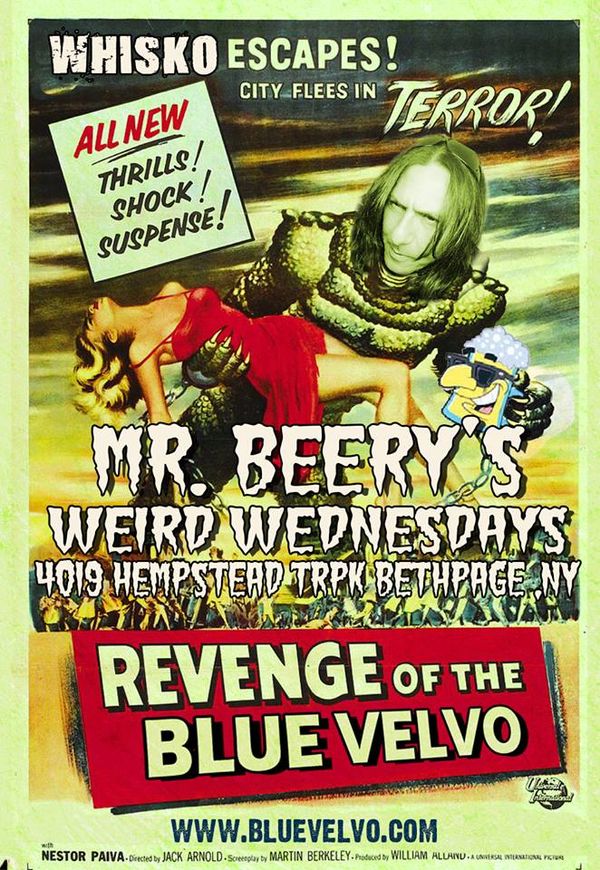 One of the local live music highlights of this fall season is Blue Velvo's wacky residency, aka WEIRD WEDNESDAYS, at Mr. Beery's, a legendary LI watering hole which has just celebrated its 25th anniversary on the local scene.  If you haven't caught these guys yet, you should know that this band is as sharp as a razor.  Their rising popularity is most probably due to their cheeky original material.  Hump Day will never be the same!
---
3rd - Undercover Funk  Front Street Pub  Massapequa Park, NY

Undercover Funk, a band that was a presence on the local scene from the early 80's until 2003, are reuniting for one night to celebrate their 30 Year Reunion with a party at a neighborhood tavern in Massapequa Park.  The band, which collectively explored the roots of the blues, jazz, funk & reggae includes the following local players: Jeff Sheloff, Johnny Mac, Matt Zebrowski, Steve Sheloff, Mohair Sam and Allonzo Gardner.  Happy Anniversary Gentlemen,...now start your engines!  Free Admission  Showtime: 9 pm - Midnight
---
3rd - Blue Roots  Treme  Islip, NY
If you're in the mood for some excellent down home blues music, Blue Roots is the real deal and this jazz/blues venue is a great place to check them out!  Showtime: 8 pm
---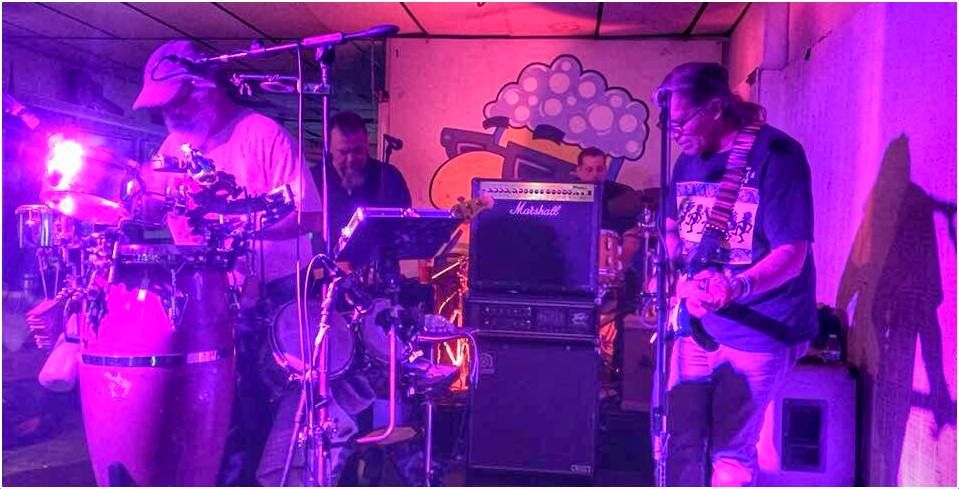 It's all happening @ Otto's Shrunken Head!  Journey into the big town to catch Shecky & the Twangtones as they celebrate their retro surf-rock roots @ Unsteady Freddie's Surf-Rock Shindig.  Unsteady Freddie known as "The Ed Sullivan of Surf", is a passionate cheerleader for the instrumental surf-beat music genre. This is due to his wildly popular Monthly SURF-ROCK SHINDIG concert series which he has been running successfully at a tiki bar in NYC called OTTO's SHRUNKEN HEAD, featuring 4 reverb-drenched bands every first Saturday of the Month!! And no shows are ever alike!!  Showtime: 9 pm
---
3rd - Commander Cody with special guest Wild Bill Kirchen  My Father's Place @ The Roslyn Hotel  Roslyn, NY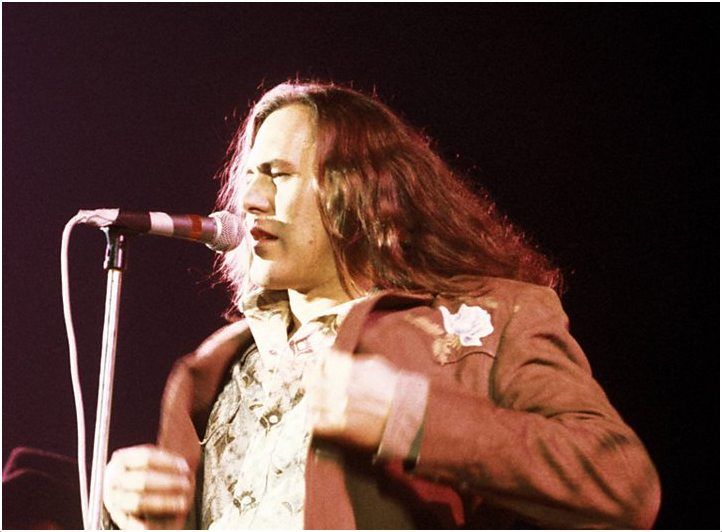 Cody, who started out in Long Island back in the day, is still a musical outlaw who delights in bringing home the sonic bacon every time out.  Also on the bill is Wild Bill Kirchen, Cody's longtime guitarist from his Lost Planet Airmen days.  Showtime: 8 PM – 11 PM.  This venue partners with the vital LI Charity Organization, Rock CAN Roll, which helps "beat hunger" on Long Island.  Please support their effort by bringing healthy, non-perishable food donations for people or pets to the show.  Showtime:    Get Tickets HERE 
---
3rd - Tom Chapin & The Chapin Sisters  Folk Music Society of Huntington  Huntington, NY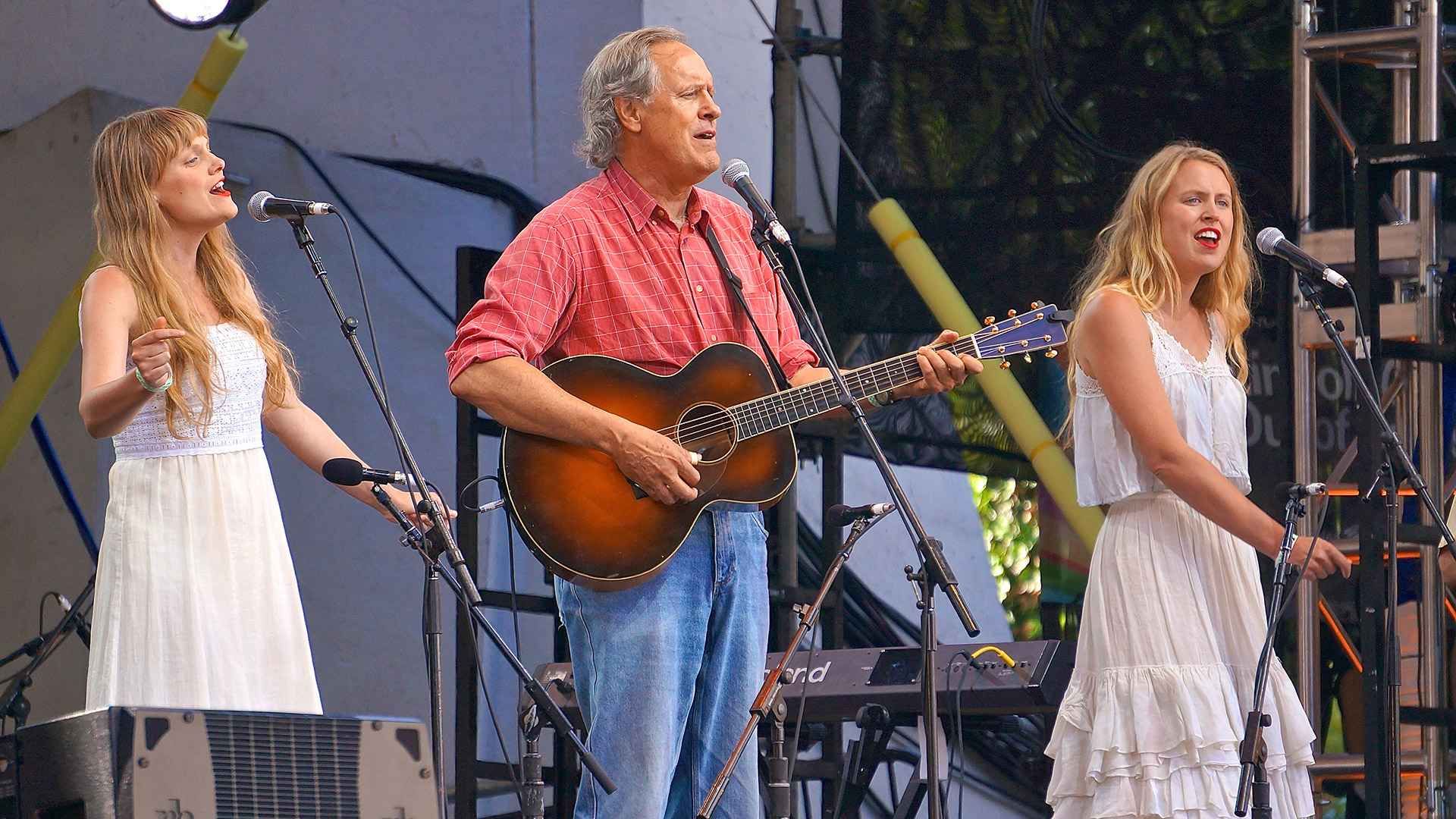 In the long, rich history of family groups in American roots music, the Chapins have a special place. Grammy Award-winning singer-songwriter Tom Chapin, who previously performed for FMSH a few years ago, returns to share the stage with The Chapin Sisters -- the singer-songwriter duo comprised of his daughters Lily and Abigail. In this rare joint performance, they will sing their own original and traditional songs, as well as classics by Tom's brother and their uncle, the late Harry Chapin. Selections from their respective recent releases, At The Turning Point and Ferry Boat, will be featured during the evening.  Showtime: 7:30 - 10:30 pm  Tickets & info on how to get to this venue are available HERE 
---
4th - Peter Kanelous  Clovis Point Winery  Jamesport, NY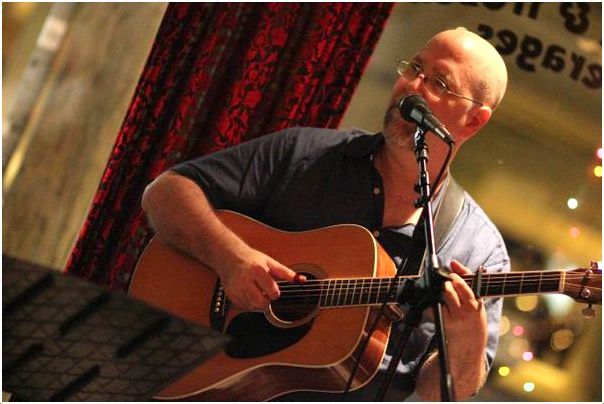 Spend a lazy Fall Sunday afternoon at this pleasant winery that will be filled with the warm sounds of singer-songwriter, Peter Kanelous.  Showtime: 1:30 - 5:30 pm
---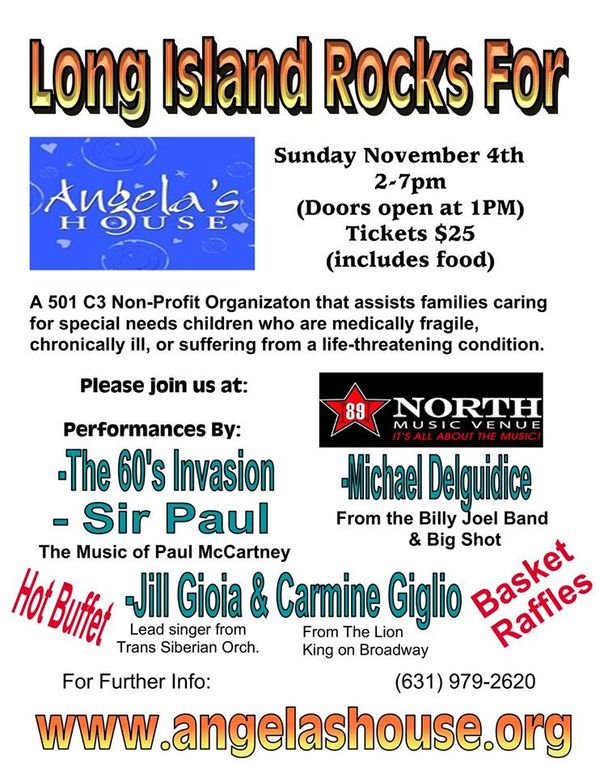 Angela's House is a non-profit organization that assists families caring for special needs children who are medically fragile, chronically ill, or suffering from a life-threatening condition. Join us from 2PM-7PM to enjoy a hot buffet, basket raffles, and support a great cause. Featuring The 60s Invasion, Sir Paul, Michael Delguidice from Billy Joel's band and Big Shot, and Jill Gioia (the lead singer of the Trans Siberian Orchestra) and Carmine Giglio (from The Lion King on Broadway)!   Doors open at 1PM. Tickets $25 (including food).   For more information, call (631)-979-2620 or go to www.angelashouse.org 
---
7th - The Live Art Fusion Show  Katie's of Smithtown  Smithtown, NY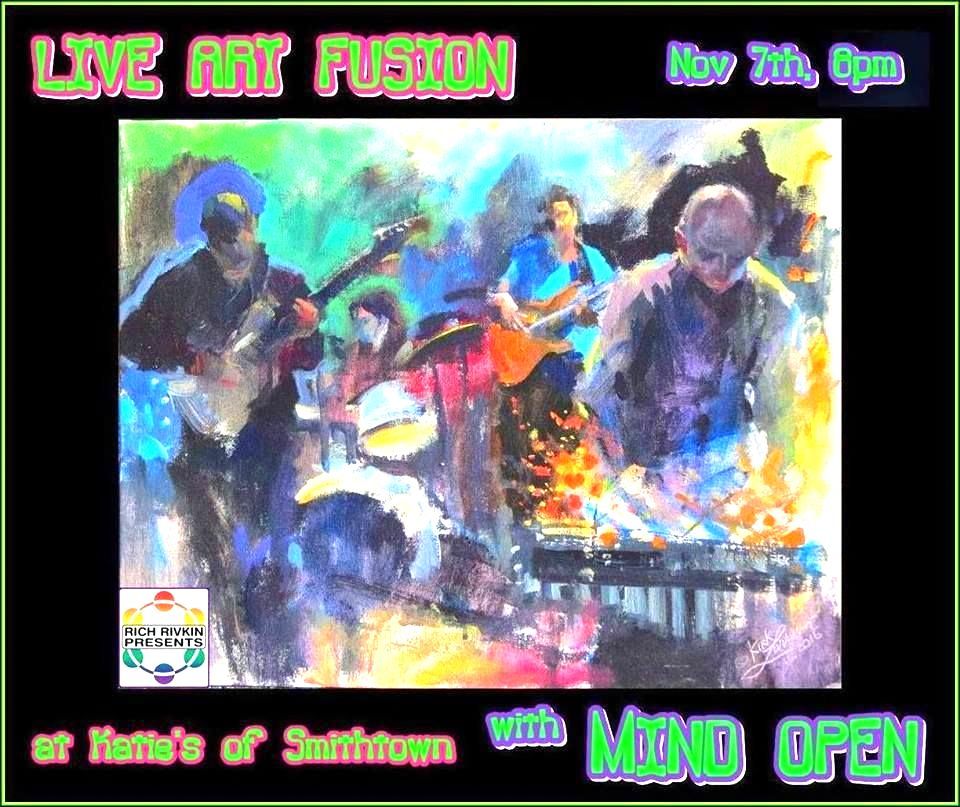 Don't miss this compendium of live music and live painting.  The music will be provided by Mind Open, one of the more inventive combos on the Island who are known for performing a heady mix of   Rock, Funk, Brazilian, and Psychedelic sounds.  While digging the music, you can also check out the art that is being created by various graphic artists.  If the sights and sounds give you an appetite, Katie's Famous Food Truck will be right outside in the parking lot!  FREE ADMISSION  Showtime: 8 - 11 PM
---
9th - 4 Amigos  Fadeleys Deli Pub  Patchogue, NY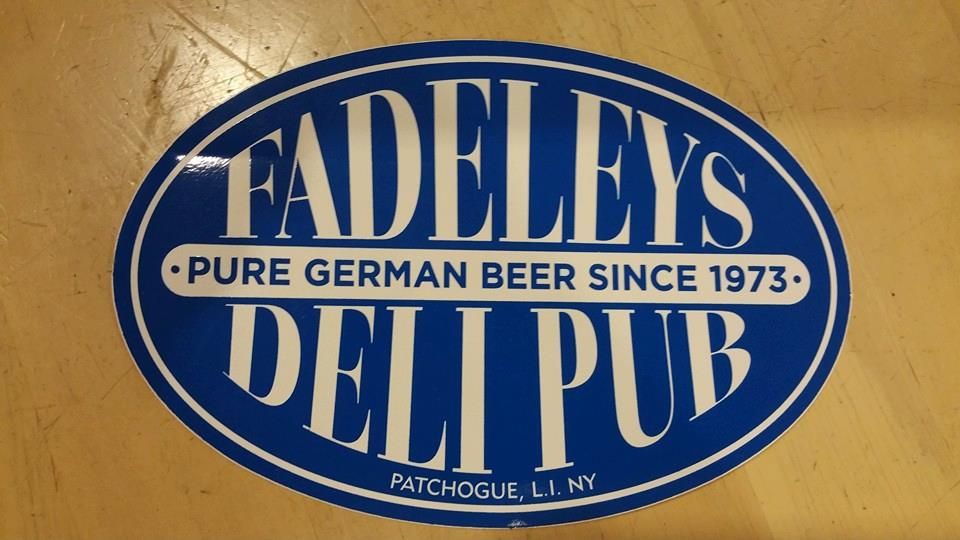 This quartet features some major players on the LI scene: Russ Seeger, John Mercurio, Lee Shonik and Jeff Goldstein.  Be on hand to catch The 4 Amigos as they make their first visit to the House of Love!
---
9th - Mighty Ramon & The Phantoms of Soul  Finley's of Green Street  Huntington, NY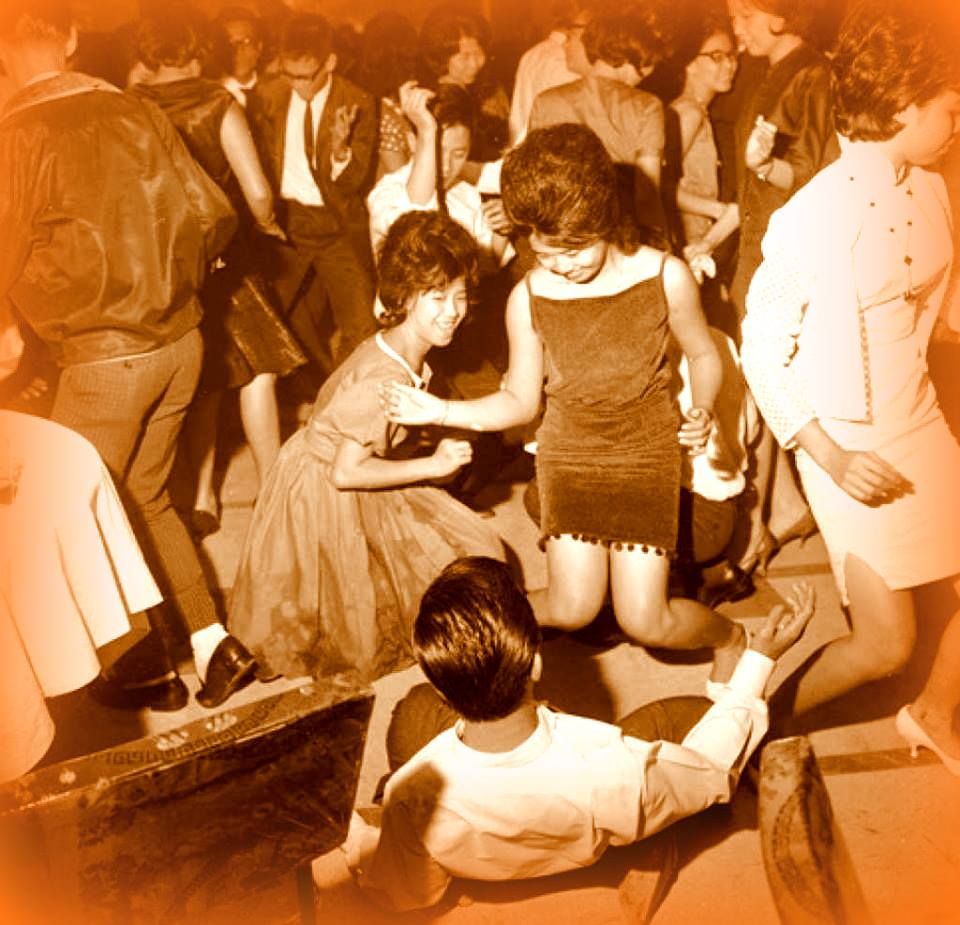 Mighty Ramon & those fearless Phantoms of Soul will be swinging the good thing through two sets of smokin' R&B Soul that you haven't heard in a while. Bring your goods down to the club and shake 'em!  Showtime: 8:30 - 11 pm.
---
10th - Jack Licitra & Friends  Eclectic Cafe  Bay Shore, NY
Shazam!  Here's a special performance that you do not want to miss out on:  Jack Licitra, who many you know from his fine work as Jack's Waterfall, will be bringing his uplifting brand of soulful piano and songs to the Eclectic Café, featuring Trifon Dimitrov on upright bass, Amanda Lopez on vocals and percussion as well as the White Spider Singers..  You can expect to hear selections from INSIDE SONG, Licitra's latest album which is filled with beautiful piano driven singer songwriter music with powerful spiritual chants.  Showtime: 7:30  Tickets are available HERE
---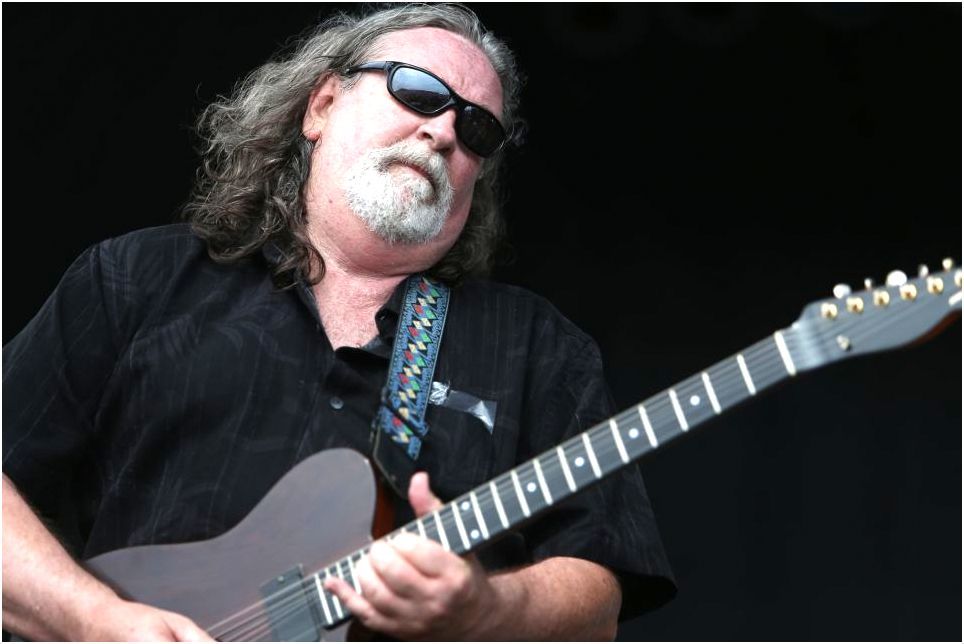 Hear ye!  Hear ye!  Kerry Kearney & his combo will be doing an exclusive cd release party for his new album, "Smokehouse Serenade",  which takes the listener on a musical journey that hits every corner of the Blues; from Louisiana to Texas, Piedmont to Mississippi, Primitive to modern.  Along with Kearney's veteran rhythm section Mario Staiano & Gerry Sorrentino, there will be some special guests on hand: Michael Falzarano (Hot Tuna, New Riders), Dave Bennett Cohen (Blues Project, Country Joe & The Fish), Frank "King Bee" Latorre (Grammy winner with Johnny Winter) and Nydia "Liberty" Mata (Laura Nyro's percussionist).  Opening the show will be the legendary Chapman Stick virtuoso, Steve Adelson.  Showtime: 8 - 10:30 pm.  Tickets (which are going fast as I type this) are available HERE 
---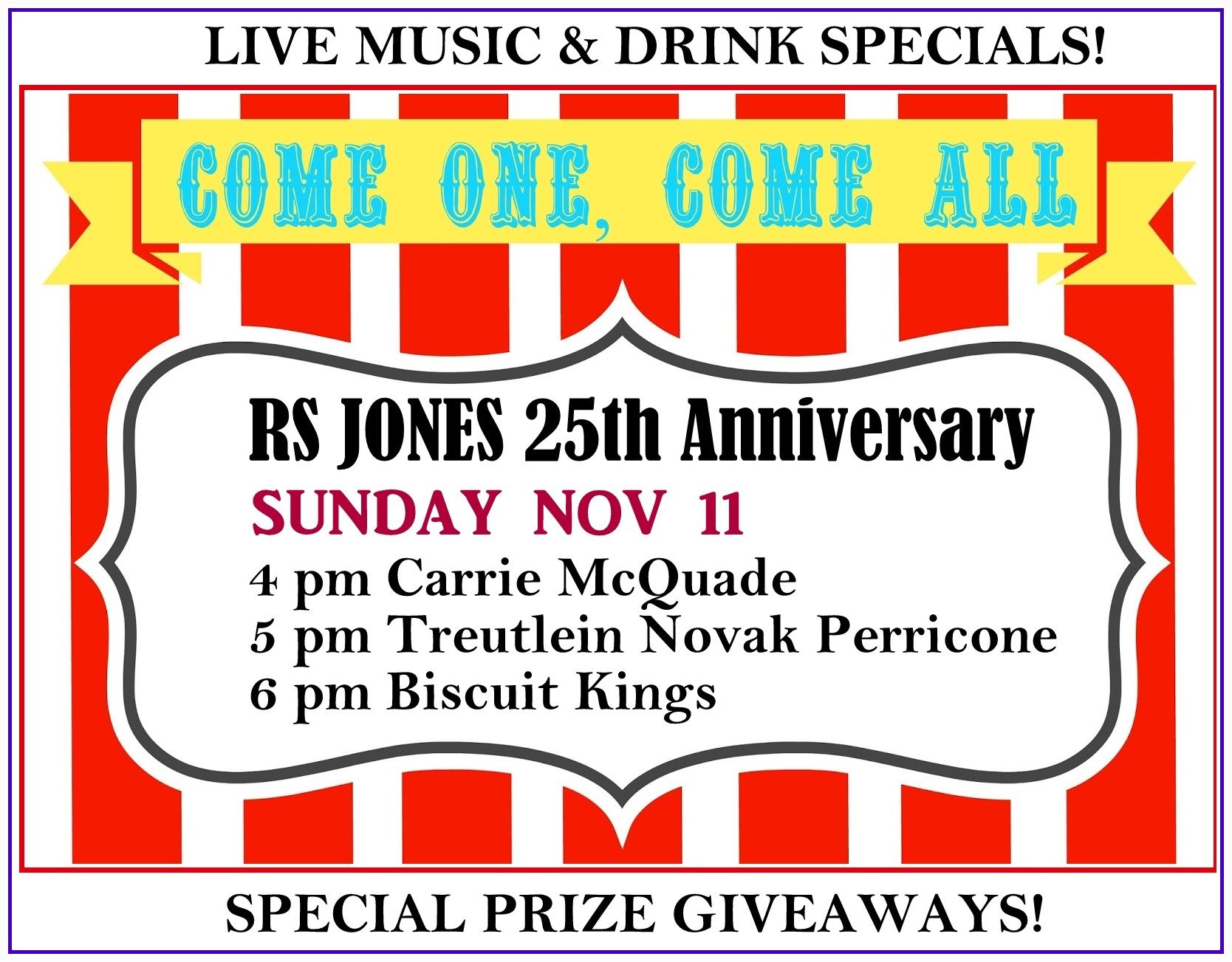 Margaret & Carole Mueller, owners of this popular eatery, are throwing a big ol' party to celebrate being in business for 25 years.  Along with Drink Specials and Special Prize Giveaways, there will be live music performed by Carrie McQuade, The Treutlein Novak Perricone Band (Jim Treutlein, Deb Novak & Joseph Perricone) and the Biscuit Kings (Dave "Slippery Finger" Filloramo, Jeff "Shadow Groove" Goldstein & Johnny "the Jellyroll Joyboy" Pierre).  The fun starts at 4 pm.  Hula Hoops, glow-in-the-dark neckties and false mustaches are optional!  Congrats to Margaret & Carole! 
---
11th - 45 RPM  Suffolk Theater  Riverhead, NY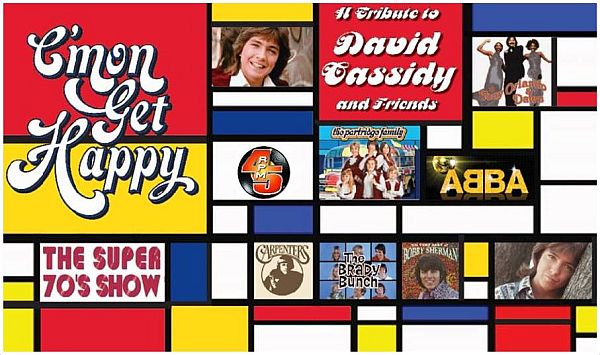 This tight combo that specializes in channeling the sounds of the 70's, presents C'Mon Get Happy: A Tribute To David Cassidy.  "Last year, the world lost one of the greats -- Suffolk Theater favorite David Cassidy -- a friend of the theater and an inspiration to a generation of performers. Featuring musicians who've performed with Cheap Trick, Steve Vai, Herman's Hermits and others, 45rpm will pay homage to David Cassidy with a special set, complemented by other great songs from The Carpenters, Bobby Sherman, Abba - and so many more."   You can get your Tickets HERE 
---
11th - Little Lesley & The Bloodshots  Buckley's  Valley Stream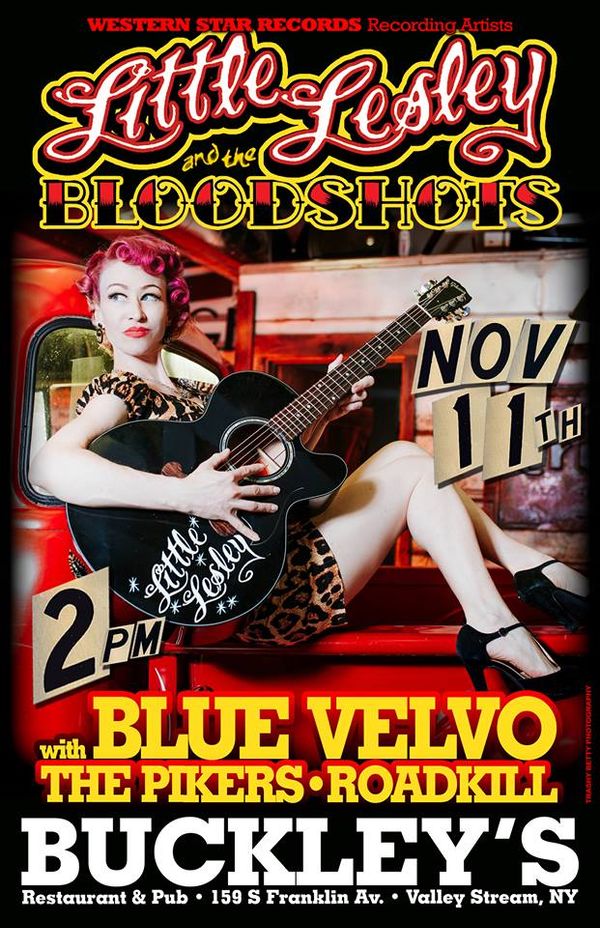 Little Lesley & the ready steady Bloodshots bring their dangerous twang and high energy live show to this bar & grill in Valley Stream.  Expect compelling original songs and roots-rockabilly hi-jinks!  Showtime: 2 pm
---
11th - Dead Ringers Celebrate Beau's Birthday!  Beau's  Greenlawn, NY

Come out and celebrate Beau's birthday with the Dead Ringers! if you haven't seen these guys yet it's a band you don't want to miss!  Showtime: 4 pm - 8 pm
---
14th - Harmonica Bill & Marked Deck  Treme  Islip, NY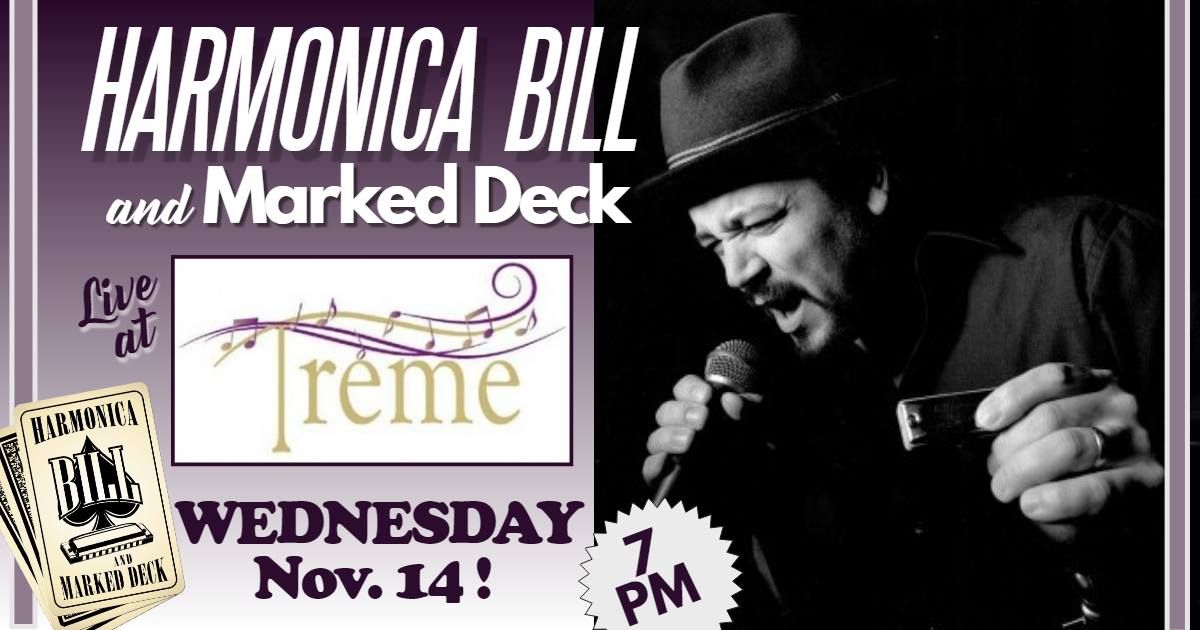 This steam driven blues combo brings their moola-walla-gotta heat to one of the Island's best blues joints.  Be there or be square baby! Showtime: 8 pm
---
14th - Richard Lanahan & Pete Mancini  The Wild Rose  Farmingdale, NY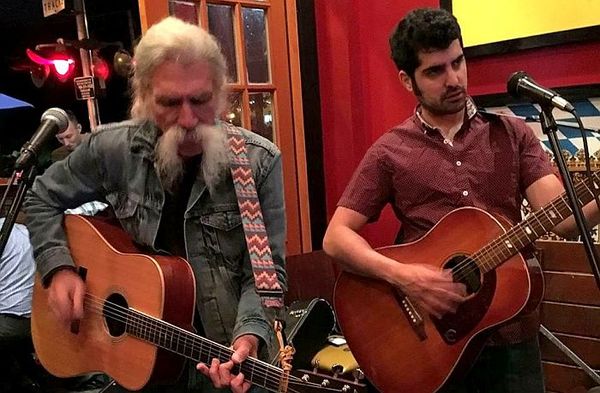 Be sure to catch this special show which features two of LI's prominent Americana singer-songwriters swapping songs and stories at this relaxed bar & grill.  Free admission  Showtime: 7 - 10 pm
---
14th - The Joni Project  KJ Farrells  Bellmore, NY

This combo channels the music of Joni Mitchell and, in the course of doing so, they bring a fresh resonance to this material due to the band's crisp musicianship and Katie Pearlman's beautiful vocals.  Also on the bill is the highly inventive Dave Diamond Band.
---
15th - Biscuit Kings  RS Jones Restaurant  Merrick, NY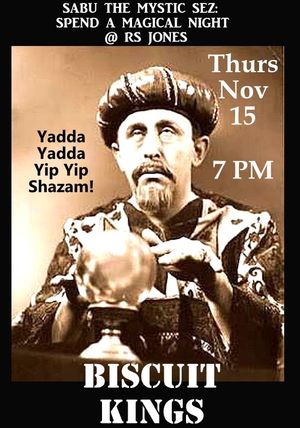 Enjoy an evening of Americana Blues music!
Showtime: 7 pm - 10 pm
---
15th - Katie Pearlman with Rich Lanahan & Friends  Still Partners  Sea Cliff, NY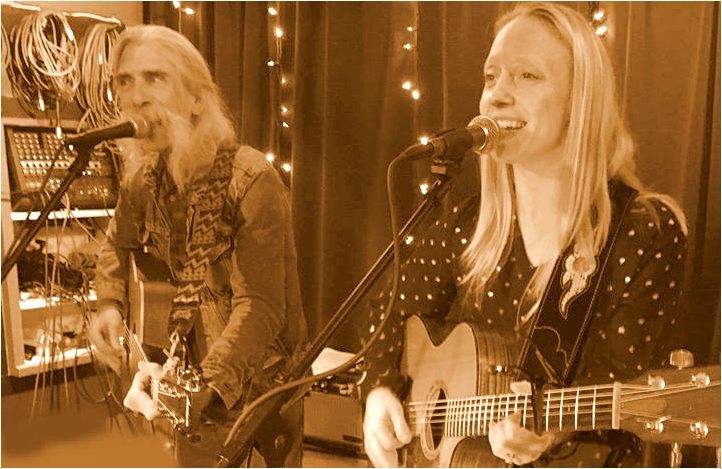 Pearlman and Lanahan will be performing a special show featuring songs from the music catalog of Gram Parsons and Emmylou Harris.  The backing band includes Prof. Mark Mancini, Skip Krevens, Steve Kaplan, and Michael Leuci.  Showtme: 8 pm - 11 pm
---
15th - Jim Treutlein & Chris James  Big Daddy's Restaurant  Massapequa, NY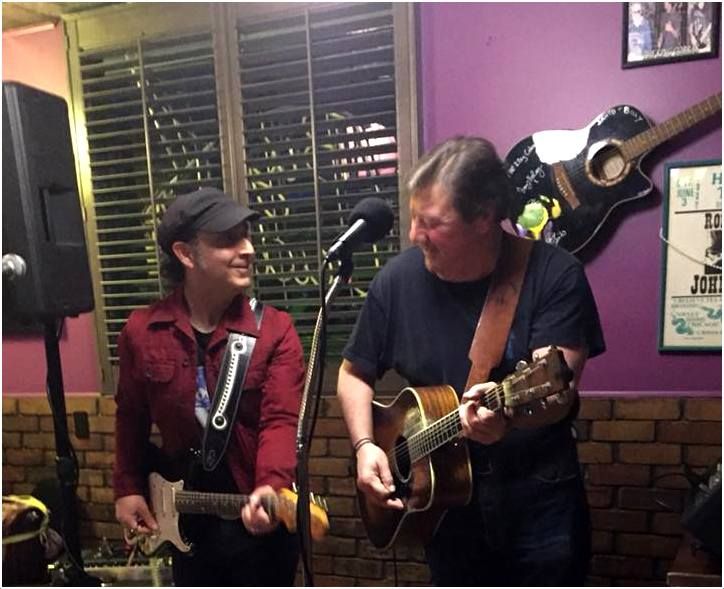 This newly minted duo of Jim Treutlein (who many of you know from his popular "Beating A Dead Horse" solo tour and his longtime presence in the Treutlein Novak Perricone ensemble) and Chris James (guitar/vocalist of the must-see punk blues outfit, The Hideaways) present an evening of musical surprises at this popular South Shore Southern Bbq eatery.  Showtime: 7 pm
---
16th - Breakaway  Thai Rock  Rockaway Beach, NY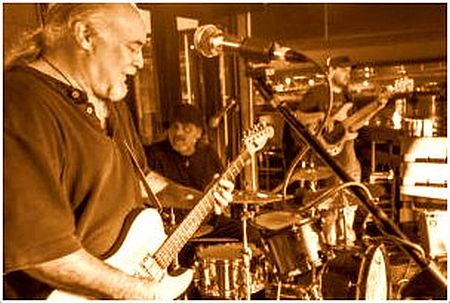 Make plans to dine at this great restaurant and as an added bonus, you'll get some blues you can use as played by this tight combo!  Showtime: 9 pm
---
17th - Klyph Black & Rumor Has It  Stephen Talkhouse  Amagansett, NY
Klyph Black, who many of you might remember from his work with the popular Grateful Dead offshoot, The Zen Tricksters, brings his unique groove to this venerable club on the East End.  Showtime: 8 pm
---
17th - Tooty & The Mother Plucker  Swing The Teapot  Floral Park, NY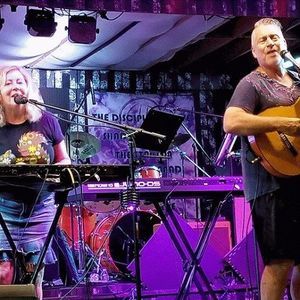 During the course of their shows, this electro-acoustic duo plays an eclectic mix of Pop, Rock, R&B and Latin music that incorporates flute, flamenco guitar , synthesizer and vocals..
---
17th - Andy Aledort  Still Partners  Sea Cliff, NY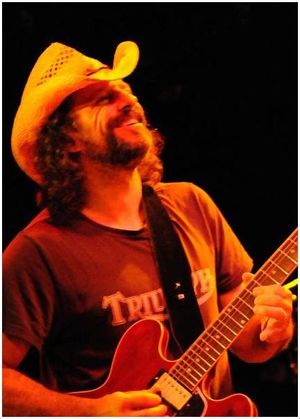 Aledort, one of LI's top guitarslingers, presents a TRIBUTE TO STEVIE RAY VAUGHN at one of the cooler joints on the Island.  Expect sparks to fly across  the fretboard all night long!
---
21st - Reckoning  Fadeley's Deli Pub  Patchogue, NY

Looking for some tribal music to help you get yer ya-yas out on Thanksgiving Eve?  Then swing by this renowned pub to catch Reckoning; a combo that offers up genuine interpretations of Grateful Dead music.
---
23rd - Atomic Red Hots  Bluepoint Brewery  Patchogue, NY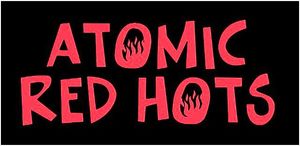 This high energy rockabilly outfit always hits the groove.  Soak up some of the band's wild sounds while you enjoy some of the fine craft brews that are on hand.
---
23rd - Gene Casey & The Lone Sharks  Grey Horse Tavern  Bayport, NY
Long Island's premier rockabilly outfit kicks up some serious dust at one of the Island's most relaxed venues.  Expect some honky-tonk roadhouse shenanigans along with a healthy taste of classic country and R&B sounds.
---
23rd - Funk Filharmonik's Funksgiving 2018!  My Father's Place @ The Roslyn Hotel  Roslyn, NY
Funk Filharmonik is a legendary LI band that features a horn section that rivals the brilliance of Tower of Power's renowned brass section.  Over the years, Funk Filharmonik's Thanksgiving concerts have become storied events so don't miss this chance to catch one of the great musical legends of Long Island!
---
27th - Jam Monkeys  The Warehouse  Amityville, NY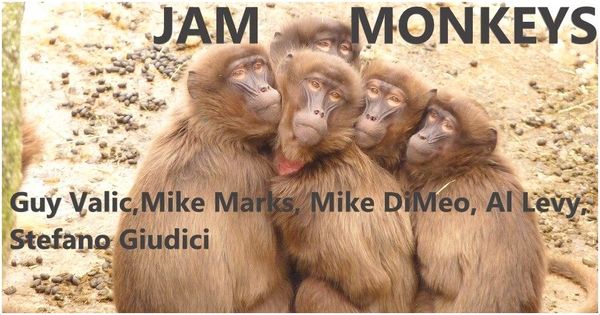 Head on down to the Island's newest live music venue (formerly known as the Mouse Trap Cafe) to catch this collective of local players (Gaetano Valic, Mike Marks, Mike DiMeo, Al Levy & Stefano Giudici) as they give vent to their longstanding addiction to jamming the night away.  "Many special guests will be joining us & we promise you a great night of Drinks ,Grub and Jamming!"
---
30th - Jay Reilly  Bellmore Bean Cafe  Bellmore, NY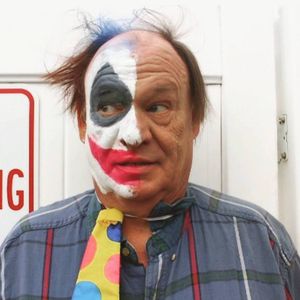 This intimate coffeehouse provides a great backdrop for singer-songwriters such as Jay Reilly.  Enjoy an evening of music that features Reilly's smart mix of cynicism and sentiment.
---

---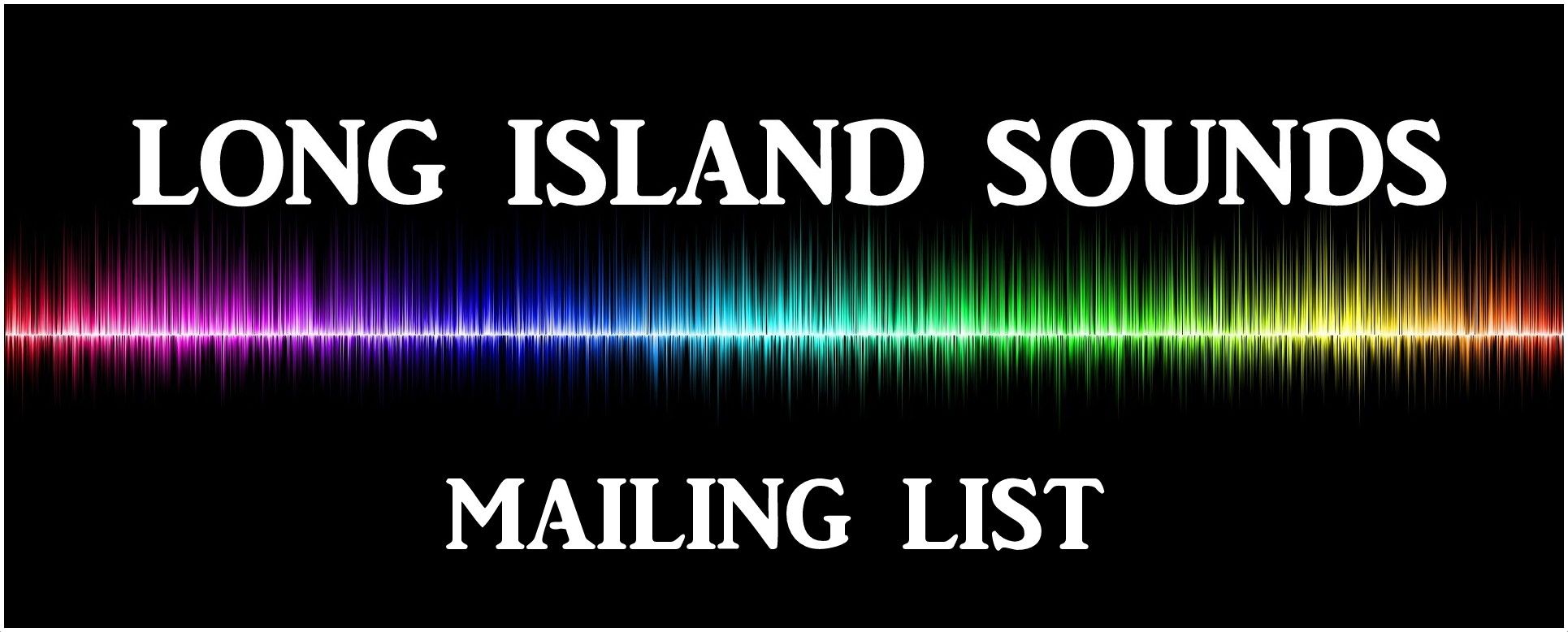 ---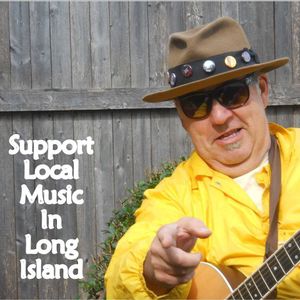 ---