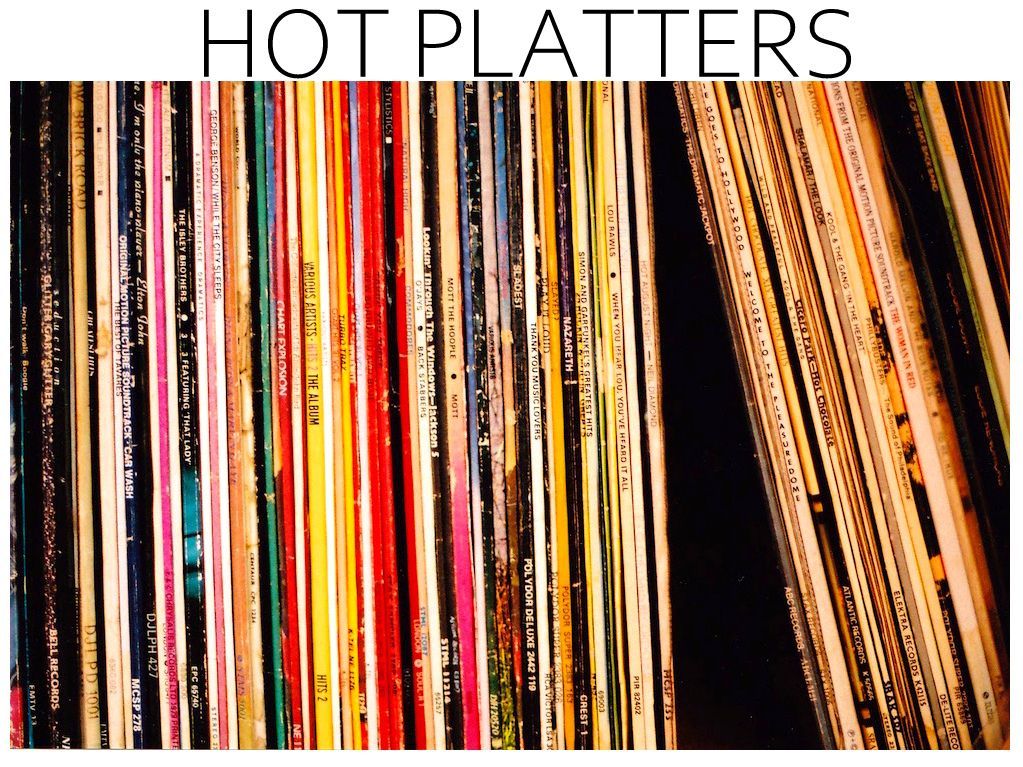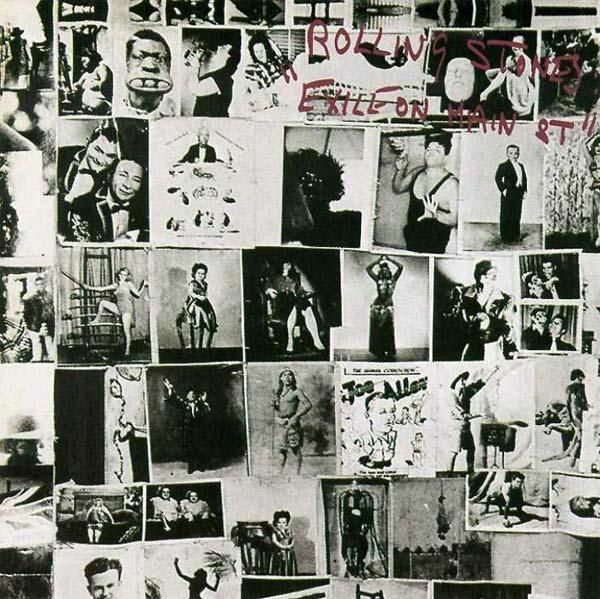 The Exiles On Main Street Story
In the early '70s, after extricating themselves from some horrific business deals, the Stones discovered that they owed their homeland piles and piles of money in taxes – much more than they could afford to fork over. To avoid any penalties, they ditched England for France, which agreed to take in the rock stars, as long as they stayed for a year and spent a bunch of money. However, they didn't realize that Keith Richards would spend the majority of his money on heroin. 
Each of the five Stones (Richards, Mick Jagger, Mick Taylor, Bill Wyman and Charlie Watts) bought or rented a place in France and the plan was to find a studio along the French Riviera in which to make a new LP. When nothing suitable appeared, the band decided to employ its mobile recording truck and use the basement of Richards' mansion – Nellcôte, in Villefranche-sur-Mer, close to Nice. 
Although Nellcôte became a den of iniquity, Richards was on smack (as were many of Stones associates), and Jagger's attentions were sometimes diverted by his new marriage and baby, the band somehow managed to deliver a body of sounds steeped in blues, soul, country and early rock 'n' roll. When the proceedings moved to Los Angeles to gain shape, the band also drew on earlier work recorded in England and added new tracks. With a sprawling assembly of songs on their hands, Jagger and Richards decided to release the Stones' first double LP. Exile on Main St. arrived on May 12, 1972.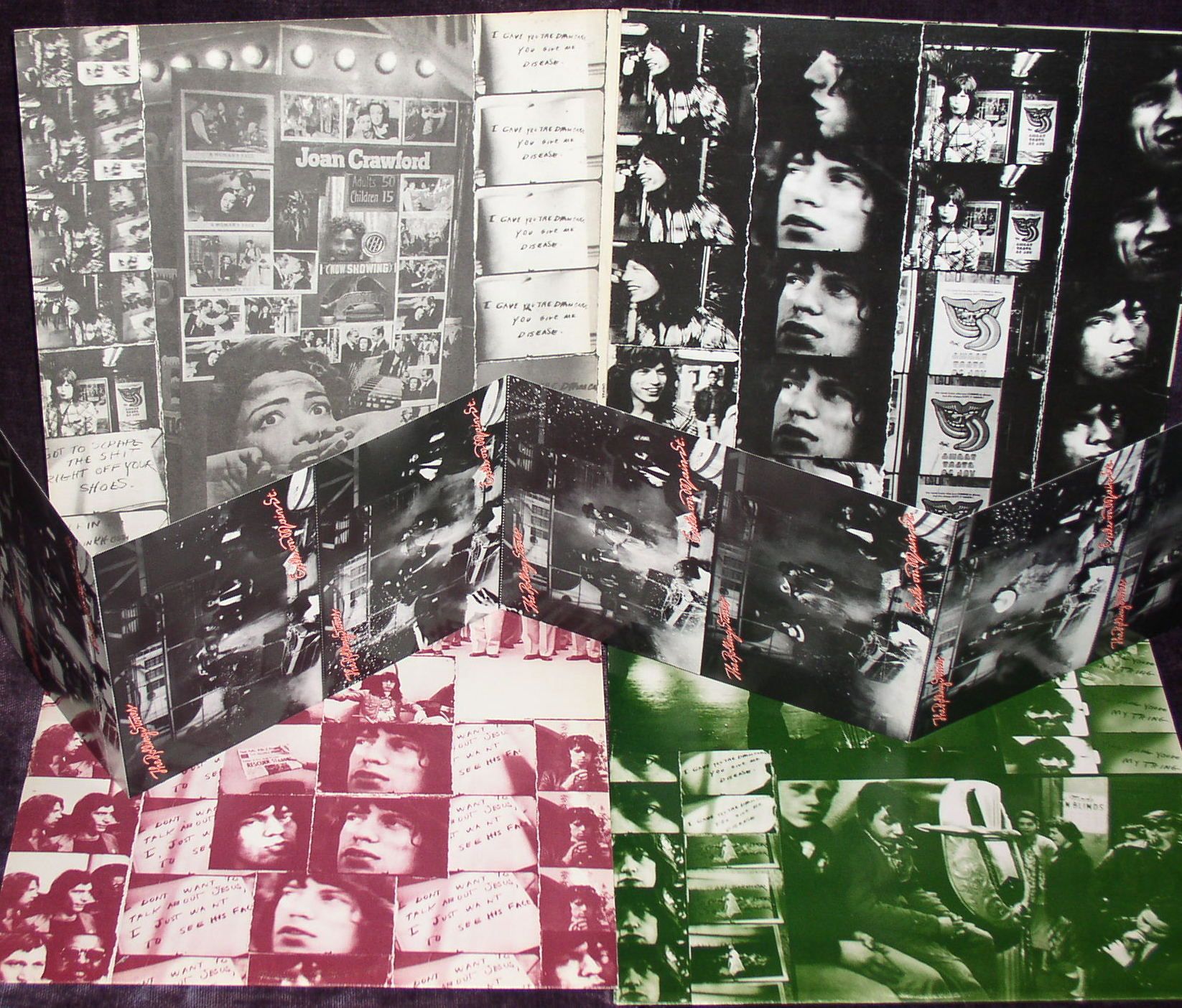 The record was initially perceived as a flop, but eventually earned praise as one of rock's all-time greatest albums. Exile became known not just for its incredible, hazy aesthetic and strung-out songwriting, but also for the sinister circus that was rumored to surround the music's creation. 
In 1971, the Stones set up camp at Nellcôte, a seaside mansion Keith Richards and Anita Pallenberg were renting. The estate had been the headquarters of the local Gestapo during the Nazi occupation of France in the '40s. Reportedly, it still retained floor vents decorated with swastikas when Keef arrived.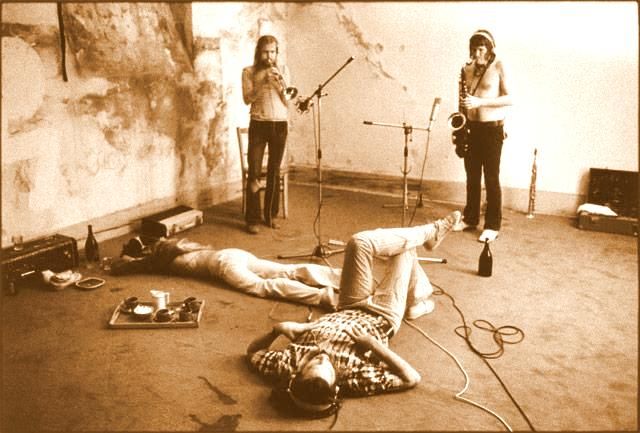 The Stones recorded much of 'Exile' in Nellcôte's basement, described as a labyrinth of partitions and cubicles that created a murky sound. During the summer sessions. It would also get hot and humid down there, causing guitars to go out of tune constantly. It was then that the album got its working title: 'Tropical Disease.'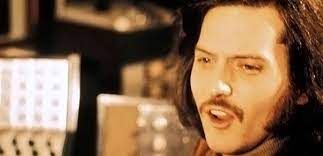 Jimmy Miller - Producer
An article on the Guardian website describes the difficulty of recording in the basement at Nellcôte: "In the intense heat of the dank basement, the group struggled to get started. Musicians set up their instruments in adjoining rooms, with Bill Wyman having to play his bass in one space while his amplifiers stood in a hallway. Initially, they were hampered by guitars going out of tune due to the humidity. Basic communication, too, was a problem, with Jimmy Miller continually having to run from the mobile studio to the basement to deliver his instructions."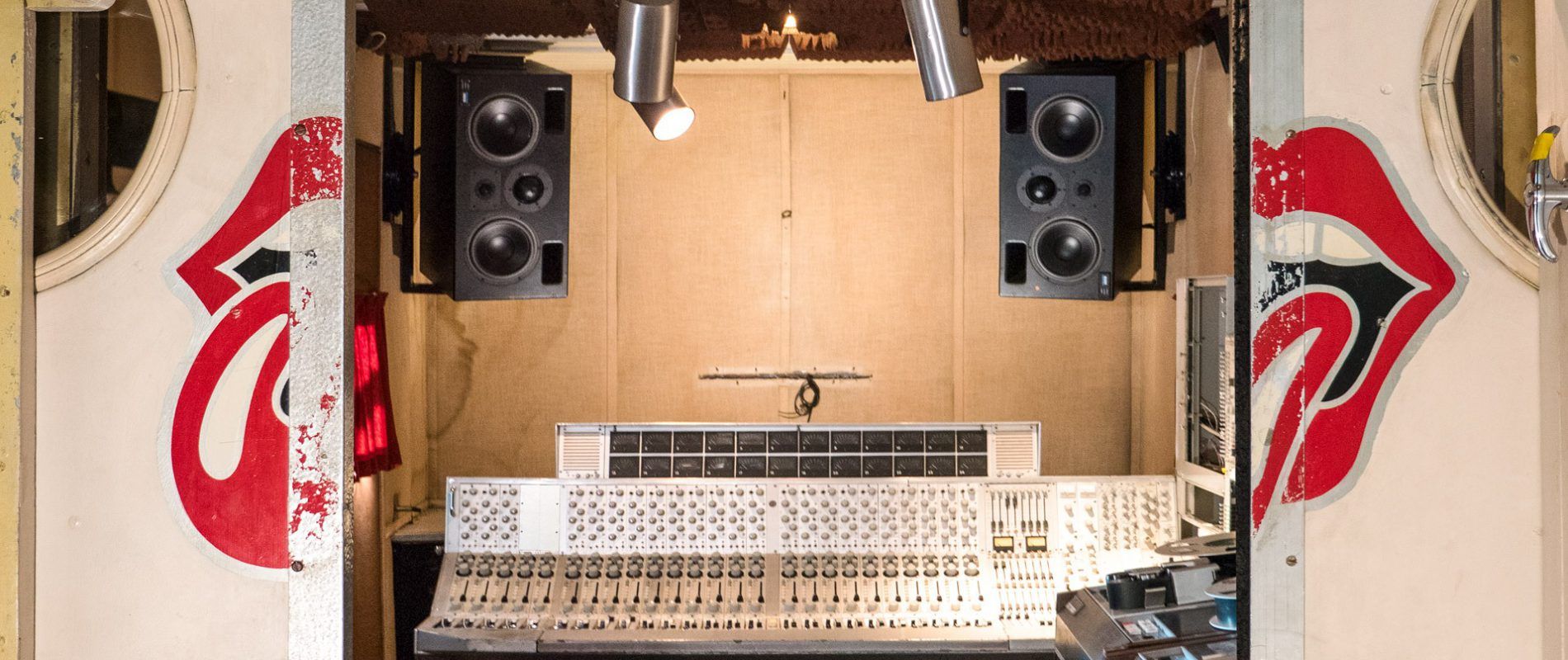 The Rolling Stones Mobile Studio
From a 2017 GQ article on the Exiles album: "…the conditions in which the Stones' long-serving producer, Jimmy Miller, was expected to work were less favorable. The Rolling Stones Mobile Studio, a Bedford truck containing the recording equipment the band had used at Stargroves, was driven down to the Cote d'Azur, only to prove a poor match for both the area's electricity supply and the long, hot Provençal summer then under way. To compound the problem, musicians were spread throughout Nellcôte's warren-like basement, unable to communicate with the truck outside, forcing the young Andy Johns (younger brother of Beatles engineer Glyn Johns and credited as engineer on the album) to race to and fro to communicate the producer's wishes. 'That Nellcôte thing was very, very difficult,' remembers Jagger. 'The house looks great, but I can assure you the basement did not look very good. Things were getting done, but they were very disorganized... We should've recorded in the drawing room, which is what we did in my house in England before, but we didn't. We were very impatient and we ended up in Keith's basement, and the basement was crummy in every possible way. But it wasn't the ideal recording environment. It was very hard to record there. Probably the sound in there was adequate, but there were power problems, which made it very difficult. And we took ages and ages and ages to get it to work. And then of course, you had all these hangers-on. We did get stuff done, but it was pretty chaotic. But we made it more difficult for ourselves by making it a double album, I think. That just doubled our workload.'"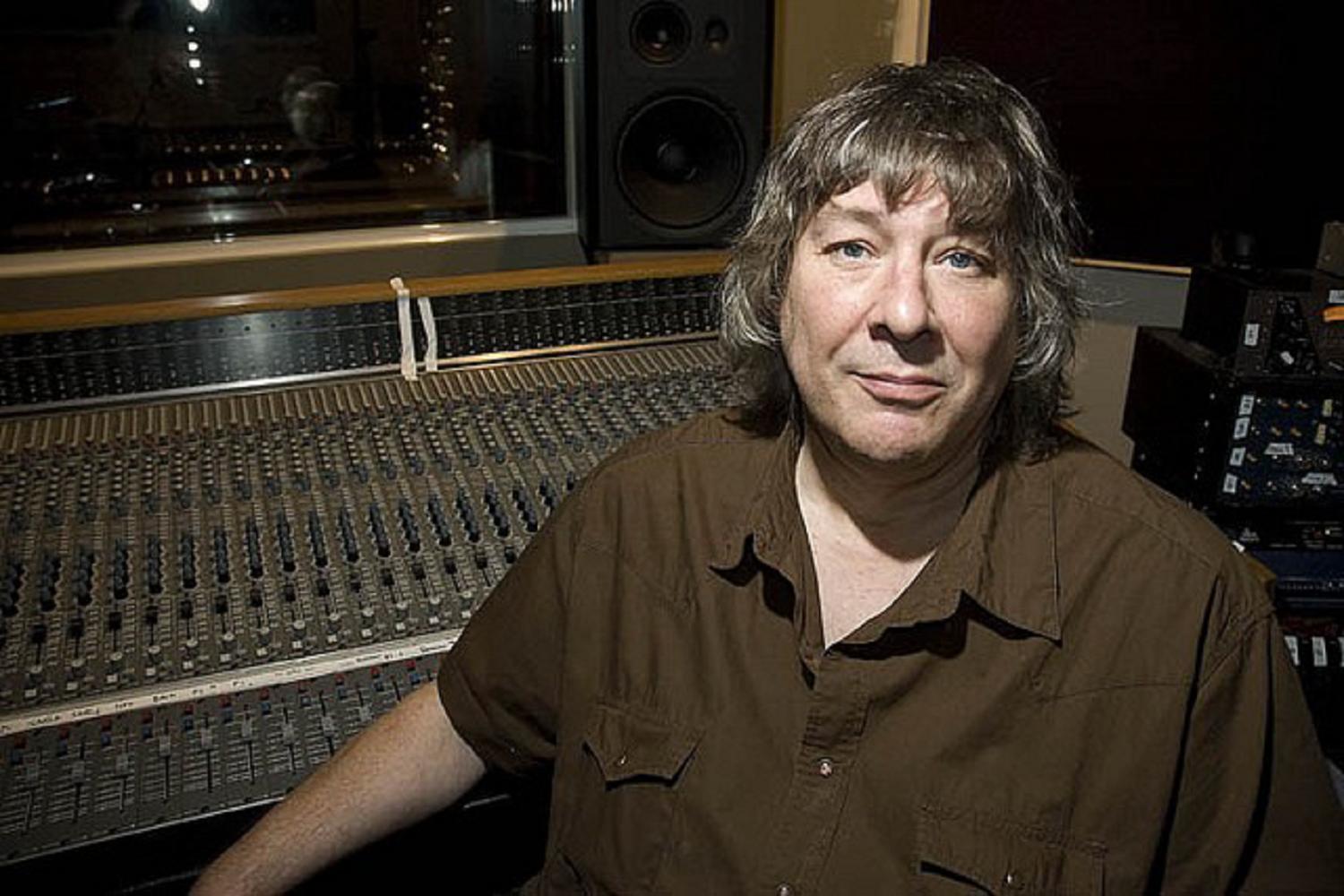 Andy Johns
In a Goldmine Magazine interview with Andy Johns (engineer who worked closely with Jimmy Miller), Johns describes his working relationship with Jimmy Miller and the obstacles of recording via the Stones Mobile Recording Truck and the basement in Nellcôte: 
Goldmine: What are your memories of Exiles On Main Street and the Stones' mobile recording truck? 
Andy Johns: Well, the gear in there was made by this fellow Dick Swetenam who really made the first mixes that you would recognize as a modern mixer. Dick put the truck together. It was his very cool stuff with four speakers in Lockwood cabinets. It could sound very nice in there but it could also be very difficult. The confined space. The camera never worked. The talk back never worked. So you couldn't see or talk to people. You had to keep running out of the truck. Jimmy and I went to France with that truck. Ian Stewart was supposed to find a house that we could all go to everyday to work. And he couldn't find one. So we ended up recording the album in Keith's basement. 
Goldmine: Did you have to make some overt adjustments about actually recording in the Nellcôte Villa? 
Andy Johns: The first room I put them in was this basement which was a disaster. It just was too dead. So I moved them to another room that had stone walls. And I had Charlie and Keith in there and Mick Taylor and Bill had his bass underneath the stairs. Nicky Hopkins was in a separate room. And it was tough but some of the things came out rather well. It was just these rooms were a bit weird. The villa was a local Gestapo headquarters when the Nazis occupied France. I didn't notice that until we'd been there for a while and the floor heating vents in the hallway were shaped like Swastikas. Gold Swastikas. 
Goldmine: Let's talk about "Tumbling Dice... 
Andy Johns: Obviously it was going to be great but it was a big struggle. Eventually we get a take. Hooray! I thought, 'Let's kick this up a notch and double track Charlie.' 'Oh, we've never done that before.' 'Well, it doesn't mean we can't do it now.' We double-tracked Charlie but he couldn't play the ending. For some reason he got a mental block about the ending. So, Jimmy Miller plays from the breakdown on out that was very easy to punch in. It was a little bit different than some of the others. That song we did more takes than anything else. It was a very busy mix. It was very difficult to mix. At Sunset Sound I tried mixing it a couple of times and it wouldn't work. On the last batch Mick called up and said 'Come back. We can't beat your mixes.' I mixed about another 12 songs in a marathon session. I would just leave the booth to have a piss and just go back in the room and that was it. For some reason I brought 'Tumbling Dice' up and it just started to work. 
Goldmine: Tell me about Jimmy Miller as a producer 
Andy Johns: Well that's easy. Jimmy was an extremely talented man. His main gift I think was his ability to get grooves. Which for a band like the Stones was very important. Look at the difference between Beggar's Banquet and Satanic Majesties. He put them right back on the rail. So, he was quite influential then and came up with all sorts of lovely ideas for them. In fact that's him playing the cowbell at the beginning of Honky Tonk Woman. He sets it up. He was somewhat of a frail individual and they got to him like they got to everybody. Sooner or later you lose your mind. By the time we got to Exile on Main Street they weren't really listening to him anymore. So, he felt a bit like a fifth wheel. He was being squeezed out a bit and I was watching that go down."
In the book, Inside Tracks, Miller sheds some light on the primitive conditions there: "For Exile, we suddenly found ourselves in this concrete basement with very little ventilation during a hot summer in the south of France. The sound was really harsh, and no matter how hard we tried, no matter how many different microphones we tried and no matter how many different positions we tried, we could never get it right." Besides the acoustical problems that Miller was dealing with, Keith Richards' growing addiction to heroin and Mick Jagger's frequent absences while spending time in Paris with his new wife, Bianca, added additional obstacles that had to be worked around as the chaotic sessions dragged on for the remainder of the summer. 
In retrospect, it's a testament to Miller's production abilities that he was able to salvage the album under such trying circumstances. In part, Miller pulled this off by using some tracks that had been recorded previously: "Sweet Virginia," "Sweet Black Angel," "Loving Cup," "Stop Breaking Down," and "Shine a Light" were originally created during sessions for the Let It Bleed and Sticky Fingers albums. In November 1971, Miller and the band flew to Los Angeles to conduct extensive overdub sessions and to mix the final version of the album. Despite his professional and personal difficulties at the time, Miller's deft production touch is apparent throughout the album. Once again, many tracks are enhanced by his work as a percussionist. On "Happy" and "Shine a Light," he handles the drum kit. At the end of "Tumbling Dice," he reinforces the rhythmic breakdown to great effect. 
Some sources claim that Miller's ongoing frustration with the recording situation during Exile led to the beginning of his own narcotics addiction at this time. Other forces may have been at work as well.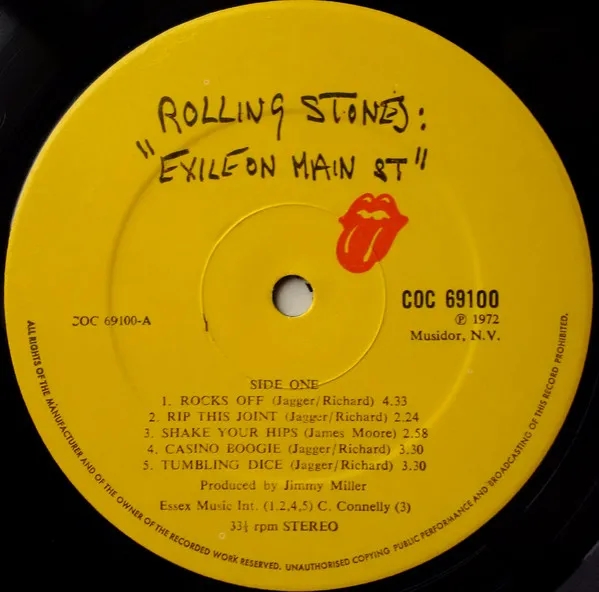 In Robert Greenfield's Exile on Main Street: A Season in Hell with the Rolling Stones (2006, Da Capo Press), a comprehensive description of the album's making, Andy Johns, the engineer on the sessions, describes some of the difficulties Miller was having with the band: "When they first started working with him, he was a lot of help. Then after a year or two, they kind of used Jimmy for what they wanted, and learned Jimmy's tricks, and started shutting him out a bit. So by the time of Exile on Main Street, they weren't listening to Jimmy very much, and it did him in. They weren't really rude, but they would ignore him a lot more than he would have liked."
By the end of the project, Jimmy Miller was, in Andy Johns' words, "burnt out on the thing, and I didn't blame him." After his association with the Rolling Stones ended, Miller frequently disowned Exile, saying, "I was never happy with the sound of that album, especially after Let It Bleed and Sticky Fingers." In a 2003 interview, Mick Jagger said, "Exile...is not one of my favorite albums, although I think the record does have a particular feeling. When I listen to Exile it has some of the worst mixes I've ever heard. I'd love to remix the record, not just because of the vocals, but because generally I think it sounds lousy. At the time, Jimmy Miller was not functioning properly." There is a certain irony in all this. Decades after its release, Exile on Main Street has achieved a legendary status. It is a complex album, filled with dense, raw sounds that seem to literally capture the restless cultural limbo of the early seventies.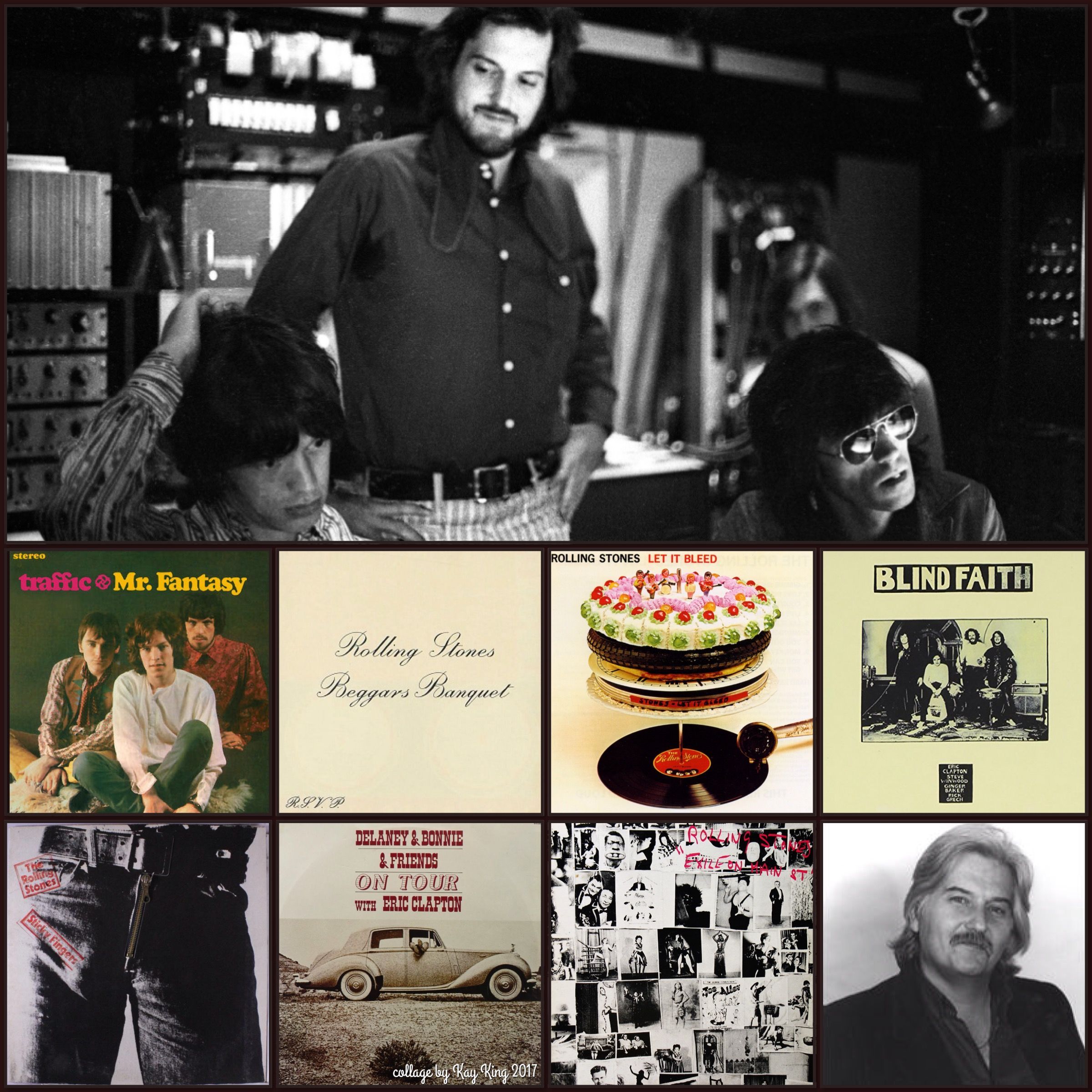 In recent years, Keith Richards and Mick Jagger have been prone to revising history regarding Miller's importance as a producer, often belittling his contributions to what now stands as their band's finest work. 
To understand Miller's contribution, one need only compare the albums Jimmy Miller produced for the Stones with the albums the band has made without him. While a handful of songs might aspire to the level of quality that Miller brought to the proceedings, the Rolling Stones have made an overwhelming amount of mediocre music since Jimmy Miller's departure.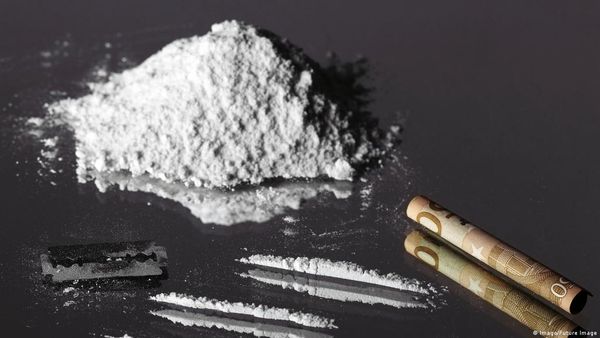 It's no wonder that a beautiful mansion on the Cote d'Azur stocked with heroin was attractive to some of the Stones' famous friends. During Richards's time visitors who showed up at Nellcôte, included Eric Clapton, John Lennon and Yoko Ono, actors James Caan and Faye Dunaway, poet William S. Burroughs and playwright Terry Southern.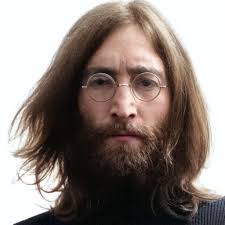 John Lennon apparently couldn't handle the excess – he vomited on the property, then made a hasty departure.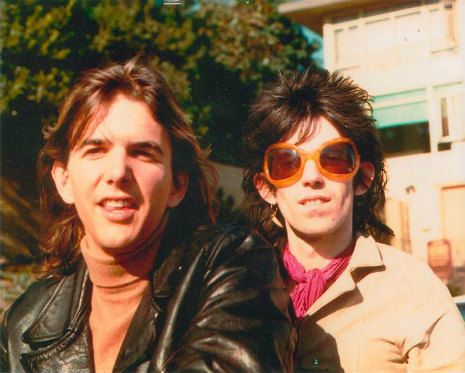 Gram Parsons & Keith Richards
Another visitor was American musician Gram Parsons, who had an influence on the country music elements of 'Exile' (and sings backup on the twangy "Sweet Virginia"). He was also heavily into heroin and got booted from the mansion by Richards, when the junkie was making a show of anti-drug support for the French authorities. 
Brian Jones
The track "Shine a Light" began life a few years before work on 'Exile' started. Jagger wrote "Get a Line on You" about his perception of a drugged-out Brian Jones, who was still alive and in the Stones at the time. By the time of the song's appearance in 1972, neither of those things was true, and it became a sort of gospel-tinged elegy.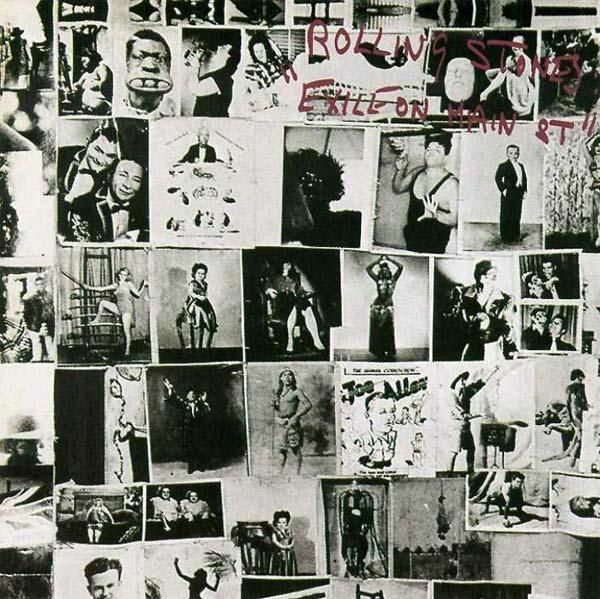 The album's cover is a photo of a photo – many photos, actually – shot by Robert Frank. An outtake from the photographer's book 'The Americans,' the photo titled "Tattoo Parlor" is a collage of circus performers, chosen by Jagger and designer John Van Hammersveld to match the double LP's "outlaw" spirit." (classicrock.com)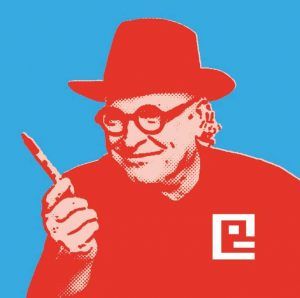 John Van Hamersveld
Here's a bestclassicbands.com interview with John Van Hamersveld, the artist who assembled the images that were taken by Robert Frank (many which appeared in his book, The Americans):
"John Van Hamersveld: Most people don't understand the politics behind the development of album covers of the past. First of all, the album was like buying a piece of pop culture fashion, constructed by a graphic designer reflecting the music culture—like Sgt. Pepper's Lonely Hearts Club Band, or Andy Warhol's banana for the Velvet Underground, or Pink Floyd's Dark Side of the Moon. Then came the Exile on Main Street cover from the Stones in 1972 that turned heads. 
One day [photographer] Norman Seef and I met the Rolling Stones in Hollywood. A beautiful girlfriend I had met earlier on the scene in London, Chris O'Dell, was now Mick Jagger's personal assistant. In early 1972, the Rolling Stones approached Norman and me to work on the design of a songbook with photographs for Warner Bros. At this stage, I didn't know that I would be packaging Exile on Main Street. The Stones were in Los Angeles at Sunset Sound studios, finishing the record. Our first meeting was set to be in Bel Air, where they were staying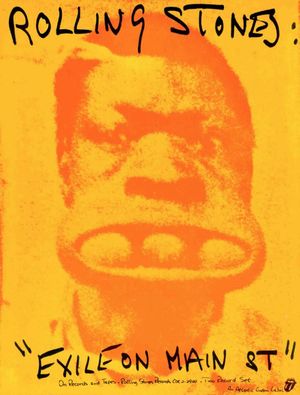 Perhaps the most memorable photograph on the cover is one of a guy holding three balls in his mouth. Marshall Chess, who was then the Stones' manager, needed an image for billboards and other advertising; I had a great idea. ...Chess said, 'Why don't we take the guy with the balls in his mouth? That is the most amazing photograph I've ever seen.' 
Keith was sitting on the couch across from me. He was looking at me in his mirrored sunglasses while smoking a joint. He looked so healthy, handsome and rested. Then, to my surprise, Robert Frank [photographer and filmmaker well known for his late 1950s book The Americans] walked into the room with a small Super 8mm Canon camera.
I knew Robert from a meeting in New York in 1968. I knew of Frank, and said to Jagger, 'Hey, why not use Frank for the album cover?' This was when the concept was launched in Jagger's mind. Frank and Jagger had a conversation and later went off to seedy Main Street in Los Angeles to take photographs of the band. 
At the request of Marshall Chess, Norman and I came to a second day of meetings. We walked through the living room of the villa, down to the far wall in the dining room where Mick and Keith were waiting with Marshall. Marshall started the meeting, and Norman handed another album cover by another designer to him. The cover was passed to Jagger for approval. He rejected it. Marshall then handed me a Robert Frank front photo collage. The tattoo-parlor-wall cover image was from Robert's photo documentary The Americans. Mick, on my right, looked on for both of us to agree, so I nodded. This became the famous photo composition for the Exile on Main Street album cover. As the meeting progressed, the other pieces of the package were handed to me.
During the meeting, Marshall asked me what we would do with Norman's photos, given that Frank's photos were the agreed-upon ones for the cover. Marshall had Norman's images from the late-night photo shoot. They were the sequences in which Keith arrived at the very last minute for the shoot. Everyone had been waiting for him to show, and then he arrived with his pants hanging off his butt. With Keith's arrival, the group was ready to go on with Norman's session ("This is a one-time shot!" someone said). Lights, smoke, and confetti were readied, and a sequence was attempted, but then, by accident, Keith began to fall all over the set, creating a disaster. All else failed, and our budget then had been used up.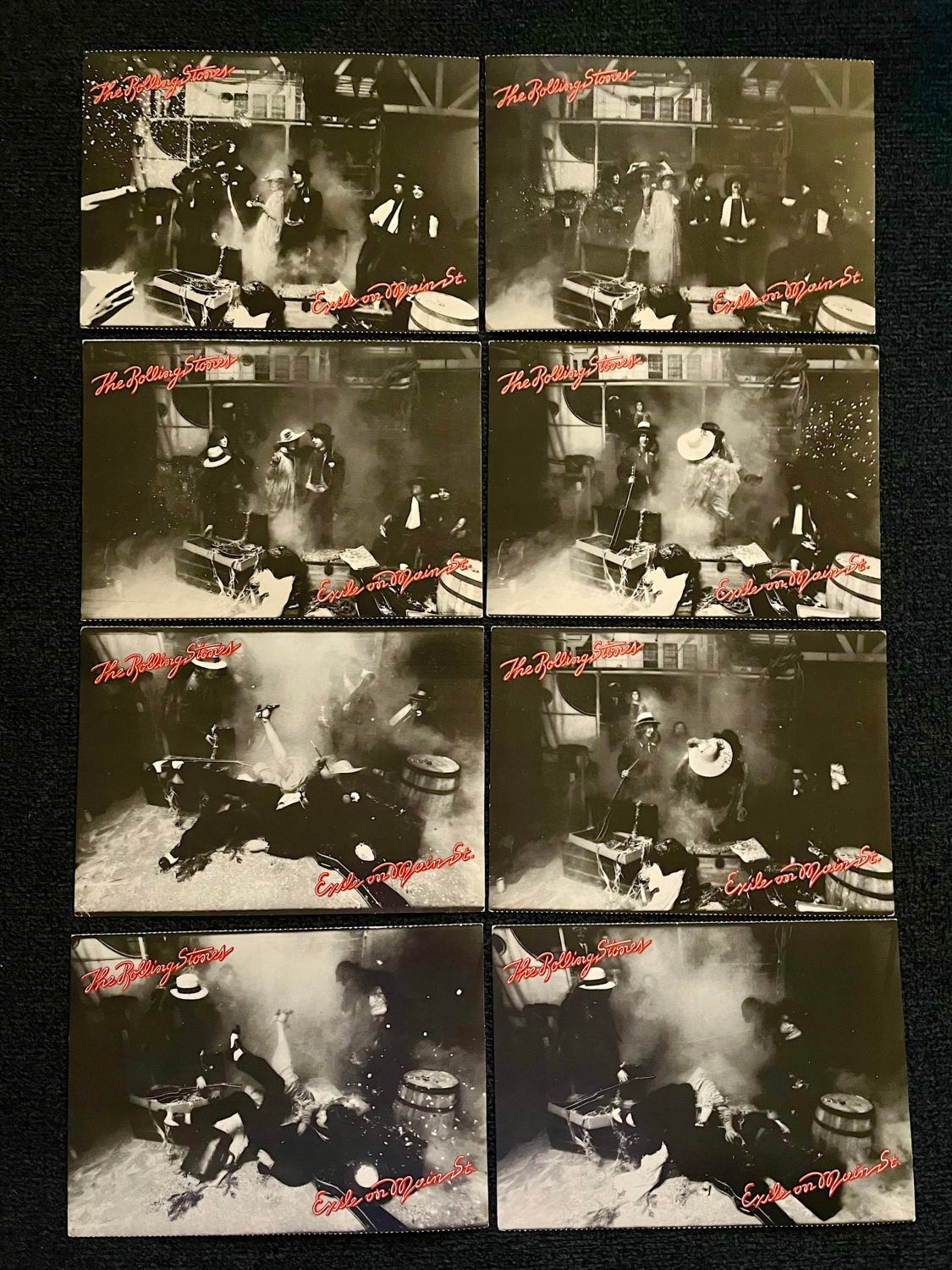 Suddenly Keith said from across the edge of the table, 'Make some postcards,' showing us with his hands an accordion-folded-style collection of postcards. He then proceeded to almost lose his balance and fall over onto the rug. I said to Mick, 'Let's take that as an idea and do it.' Marshall and Jagger handed me a stack of photos made by Frank over the weekend. I left with the visual ingredients to go to my place at the Chapman Park Studio Building. 
The last step of the approval process stopped at Ahmet Ertegun's office at Atlantic Records. He was the label's ultimate authority, so when this kind of art and aesthetic made it past his eyes, I knew that all would be OK. In the eyes of many in the industry, they were all shocked by the ugly, rough, tough, beat look of the package and that it was not funny or real humorous.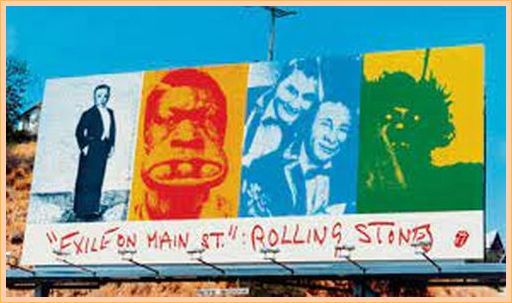 One day, Norman Seef and I drove through Hollywood in his dark green '69 Mustang convertible, with the top down. I had a stat of the cover in my hand, and we looked it over as an art piece. I told him I thought if I were to take four of the front cover photos out and paste them in color into the billboard composition, I would have a great design. So I later blew up the photos and pasted them on a board. The next day I had to get the right measurements for the size of the hand-painted outdoor billboards. I went over to Pacific Outdoor and there in the office we agreed, and went over the government codes and restrictions for the scale requirements. I helped them maximize the size to be larger than normal. The finished product finally was placed at Sunset and La Cienega, at the top of the hill. I focused the message around the fantasy, sideshow characters in the cover with the guy with eggs in his mouth. 
This became the freaks displayed on the Sunset Strip, a prestigious site for the Art & Rock Scene. Reviewers said that the cover shot, assorted pictures of circus freaks, is not a collage but a photo Frank took in 1950 of the wall of a tattoo parlor somewhere on Route 66. The comparison to the notorious Stones—jet-setting tax exiles, cocaine-fueled satyrs and perpetual outsiders—is clear. To drive the point home, an identical layout on the back cover featured Frank's photos of the Stones themselves, shot on L.A.'s seedy Main Street. (Frank did a 1972 tour film documentary of the Rolling Stones, the unreleased Cocksucker Blues.) 
The inner sleeves were even more casually slapped together, with titles and credits hand-lettered by Jagger himself. The layout perfectly complements the sprawling, ramshackle sound of Exile itself." (bestclassicbands.com)
"The musicians involved in the recording of the Exile tracks were made up of a veritable all-star team of Rolling Stones collaborators. Besides the faithfully solid-as-a-rock drumming of Charlie Watts, this also meant saxophonist Bobby Keyes. Nicky Hopkins' piano was crucial, most notably as centerpiece of the classic "Loving Cup." Clydie King & Venetta Fields, both formerly of Ray Charles' legendary Raelettes, blessed this godforsaken mess with some church-fueled vocal beauty. Most importantly, Mick Taylor, the best pure musician the Rolling Stones ever counted as a member, was in the sweet spot of his five-year tenure in the band. Taylor's imprints are all over this record. He plays every lick of slide guitar. He plays lead and rhythm in other places. He even subs in for bassist Bill Wyman on bass for five tracks, presumably since Wyman was either shagging or sleeping at the time. Or maybe Richards just knew Taylor was by then the group's secret weapon. Either way, he wields his axe with devastating effect all over the album." (rockalbums.com)
"If Exiles On Main Street can claim a hero, it's Keith Richards, who spent much of the time billowing through the record, his guitar painting the mosaic in question. Mick Taylor and Charlie Watts supported the musical director, creating a backchannel that was pounding in its backpedal and performance. It didn't hurt that the music was diverse and solid in its exhibition, much of it stemming from the band's lifelong experiences as individuals. Mick Jagger was 29, no great age, but worldly enough to write a tune as lilting as Shine A Light." (Culture Sonar)
Final Words From Chris Charlesworth's just backdated blog

"Fifty years old...the double album Exile On Main Street is being rightly celebrated as the Rolling Stones' greatest ever LP. The hits compilation Forty Licks aside, it is the Stones' LP I have listened to the most; released as a single CD in 1994, I doubt any six-month period has passed since when I haven't played it at least once at home or in my car, a great big smile erupting as 'Rocks Off' blasts from my speakers, Keith's guitar swinging into action as Mick sings ambiguously about sex and, possibly, the perils it can bring.
It's a downhill, helter-skelter ride from there, not a duff track among the 17 that follow, a smorgasbord of hi-energy rock, spirited gospel, honky country and soupy blues. Never again would the Stones sound so confident, so convincing, so energized, so prolific, so eclectic, so wrapped up in their musical ideals in the space of one LP, albeit one that occupied four sides of vinyl. When I play it now I sense a sort of musical claustrophobia, as if the group was cramming as much into it while they could, perhaps even making a final grand statement before the money ran out and they imploded into a mess of Mick's upwardly mobile ambitions, Keith's drug addiction, Charlie's ambivalence, Bill's gloom and Mick Taylor's inexperience. 
We could be forgiven for thinking that 'All Down The Line' and 'I Just Want To See His Face' were produced by different bands. The former – which was actually recorded 18 months earlier in Los Angeles – ranks alongside any of the Stones' great Chuck Berry rewrites, a Grade-A rocker that demands repeated plays, while the latter is a swampy voodoo chant in the style of Dr John, the sort of thing that might be heard at a gospel church in Mississippi where the congregation speaks in tongues. 
No two songs on the entire record are less alike than this pair, and they are matched by the incomparable 'Tumbling Dice', with its layer after layer of sinewy guitar lines, or the country campfire vibe of 'Sweet Virginia', in which Gram Parsons surely had a hand, and its companion piece 'Torn And Frayed', or the relentless, almost punk, pace of 'Rip This Joint', or Keith's own 'Happy', virtually a one-man band creation. 
Everywhere you look there's something to gorge on: the James Moore cover 'Shake Your Hips', aka 'Hip Shake', given a sensuous Southern twist; the OTT tribute to Angela Davis that was 'Sweet Black Angel'; the down-home blues of 'Stop Breaking Down', rearranged from Robert Johnson's original with Mick Taylor on slide; the sumptuous gospel of 'Loving Cup' with Nicky Hopkins' cascading piano; even the throwaway 'Turd On The Run', another pacy sprint with Mick's harp howling in the wind. 
What have I missed? Bobby Key's sax in 'Casino Boogie'; the sleazy 'Ventilator Blues'; the emotion-packed, choral majesty of 'Let It Loose'; and the swaggering finale 'Soul Survivor', the cue to start again at the beginning, as I so often have. 
In Keith's book, Life, the Stones' guitarist says the title of the album came from the group's tax-imposed exile in the South of France where the LP was recorded, the main street being the Riviera coast road that stretched from Cannes to Monte Carlo. Being cooped up in Nellcôte, the 18-room mansion built in the 1890s in the hills above Villefranche Sur Mer, the Stones and their entourage of wives, crew and additional musicians like Keys, Jim Price, Parsons and Hopkins, had nothing else to do but eat, drink and make music, urgently, and result still sounds spectacular."
---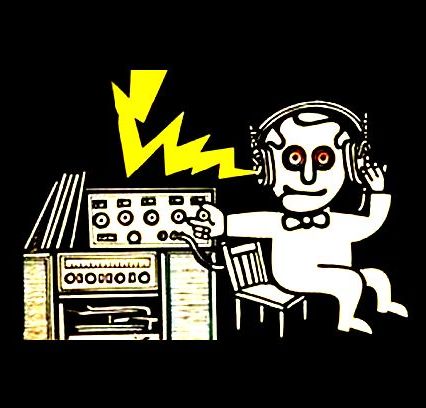 ---