1/4 - 1/5 Pastime Pub (Amityville, NY)
 1/6 Right Track Inn (Freeport, NY)
 1/8 Phinneas T's (Oceanside, NY)
 1/11 – 1/12 Silver Dollar Saloon (Bay Shore, NY)
 1/13 Right Track Inn (Freeport, NY)
 1/15 Phinneas T's (Oceanside, NY)
 1/18 – 1/19 The Music Box (Bellmore, NY)
 1/20 Right Track Inn (Freeport, NY)
 1/23 Phinneas T's (Oceanside, NY)
 1/25 - 1/26 - 1/27- Right Track Inn (Freeport, NY)
2/1 Blackbeard's (Baldwin, NY)
2/2 The Music Box (Bellmore, NY)
 2/3 Right Track Inn (Freeport, NY)
 2/8 – 2/9 Phinneas T's (Oceanside, NY)
 2/10 Right Track Inn (Freeport, NY)
 2/15 – 2/16 The Music Box (Bellmore, NY)
 2/17 Right Track Inn (Freeport, NY)
2/22 - 2/23 Right Track Inn (Freeport, NY)
Gig Note: Ray & Jack are felled by the flu but, at the insistence of the club's owner (Al "No Freebies" Gordon), the band goes ahead and does this weekend at the Right Track anyway! Forming a one-off band called the Spastic Mono Band which is comprised of members of the Freelance Vandals and M.C. Osso & The Reflectors, the ad hoc band delivers two nights of off-the-cuff rock & roll!
2/29 Good Times (Massapequa Park, NY)
3/1 Pastime Pub (Amityville, NY)
 3/2 Right Track Inn (Freeport, NY)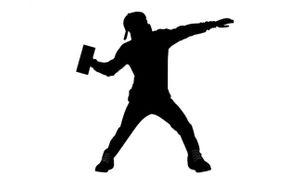 3/7 – 3/8 Fitzgerald's (Rockaway Beach, NY)
Gig Note:  The environs of Rockaway Beach proved to be extremely unfriendly. Apparently, the management of this blue-collar club told his patrons that the Freelance Vandals were a Bruce Springsteen cover band and when we turned out to not be one, the locals expressed their ire by throwing bricks at the band's equipment van! As the Vandals sped away from the venue, they all sang "Born to Run" at the top of their lungs!