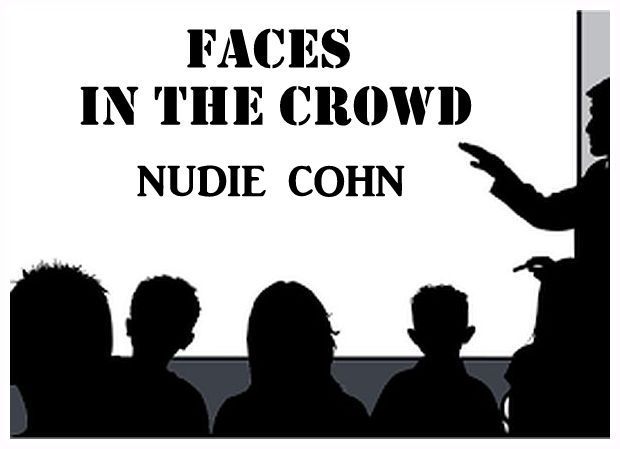 "Nuta Kotlyarenko, known professionally as Nudie Cohn (December 15, 1902 – May 9, 1984), was a Ukrainian-born American tailor who designed decorative rhinestone-covered suits, known popularly as Nudie Suits, and other elaborate outfits for some of the most famous celebrities of his era." (Wikipedia)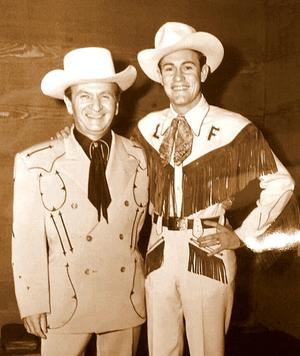 Nudie Cohn with country music star, Lefty Frizzell
Nudie Cohn was a Russian immigrant who first established himself as a tailor in New York city in the 1930's when he opened a store called Nudies For The Ladies which specialized in producing undergarments for showgirls.  Legend has it that he was the first tailor to put rhinestones on tailored clothing.  By the 1940's, Cohn had moved to California when he set up shop in his garage and began creating stage outfits for such country music greats as Spade Cooley, Lefty Frizzell and Tex Williams.  Nudie's unique clothing designs created so much interest among the showbiz crowd that he opened a store called Nudie's Rodeo Tailors on the corner of Victory and Vineland in Los Angeles.  From the UDiscover website: "When the honky-tonk singer, Lefty Frizzell, approached Nudie Cohn in 1957 to help him stand apart on a large bill, the tailor told him, 'Lefty if you've got the guts to wear it, and it's a hit, you can pay me for it.' He bedazzled both suit lapels with Frizzell's initials in blue rhinestones and a trademark was born."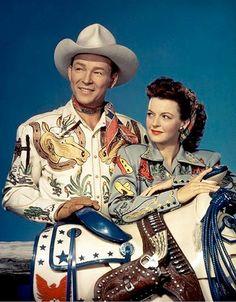 In the early 1950's, many more artists took notice of Nudie when he became the custom tailor for Roy Rogers and Dale Evans.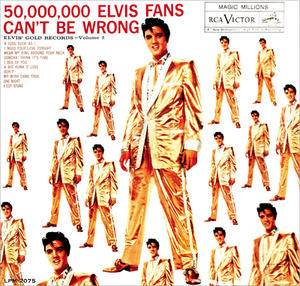 In 1957, Cohen got his biggest break of all when he was commissioned by Elvis Presley's manager, Col. Tom Parker, to design a $10,000 lame suit that graced the cover of Presley's 50,000,000 Elvis Fans Can't Be Wrong album which was released by RCA in 1959.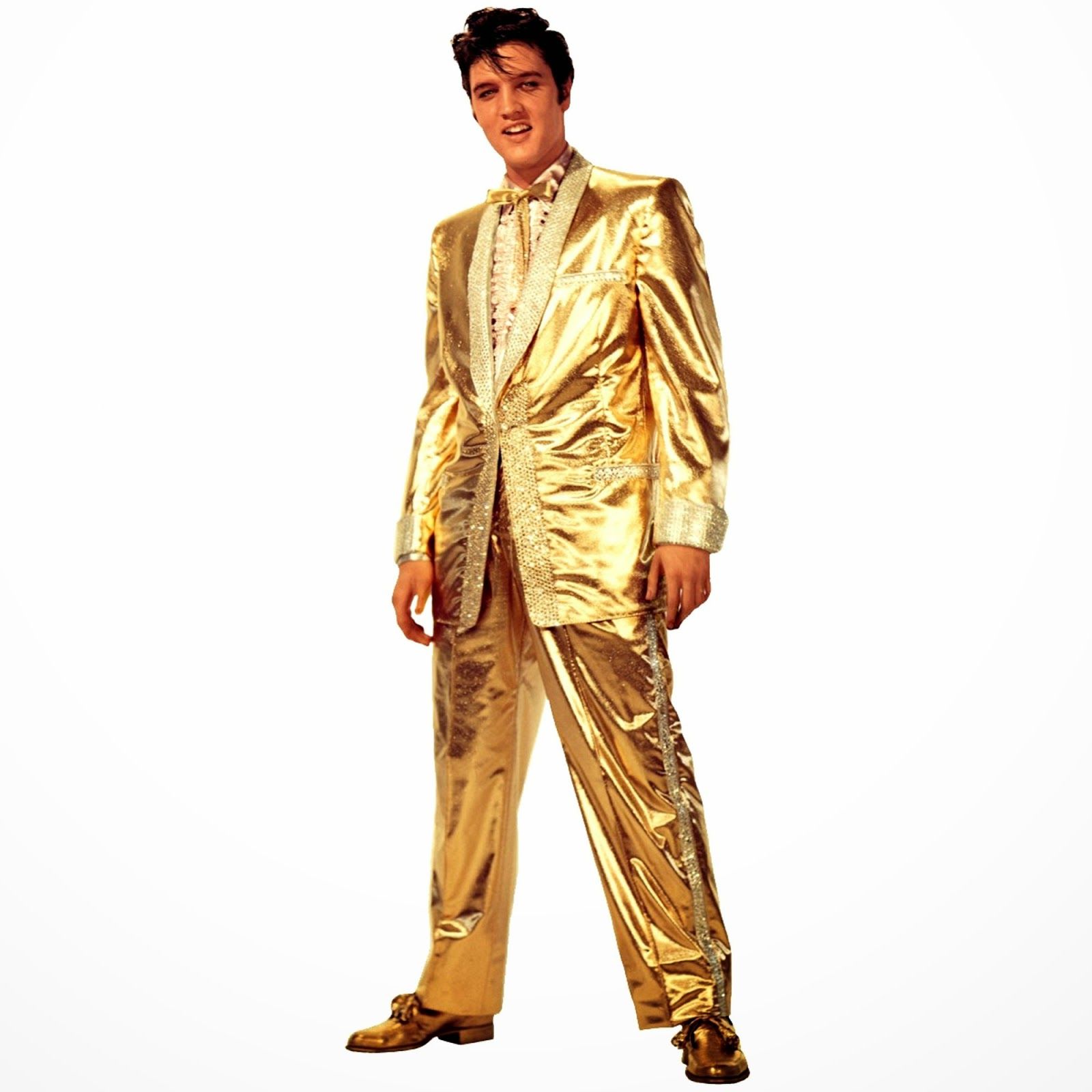 The Elvis History Blog provides the backstory regarding the creation of this legendary garment: "The creation of the gold suit dates back to late 1956. While Elvis was completing his breakout year with a whirlwind of public appearances, his manager came up with the idea to have a spectacular outfit made for his famous client. Colonel Parker had become friends with Nudie Cohen of Nudie's Rodeo Tailors in North Hollywood a couple of years earlier. Nudie had made extravagant costumes for country singer Hank Snow, with whom the Colonel had been associated before Elvis came along. Nudie was working on Presley's wardrobe for his upcoming film, Loving You, when Parker asked him to make a special outfit for Elvis.  The Colonel decided that his golden boy needed a golden suit, and so he commissioned Nudie  to fashion a gold-leaf tuxedo for Elvis to wear on stage during his personal appearances in 1957. The material Nudie chose for the gold clothing was lamé, which involves wrapping thin ribbons of metallic material around a fabric yarn. In the fifties, the process was most commonly used for fancy evening wear and theatrical costumes. The most common colors of such garments were gold and silver. An issue with lamé is that the yarn tends to slip and separate with frequent usage, a weakness that, in the end, would prove the undoing of the Presley ensemble."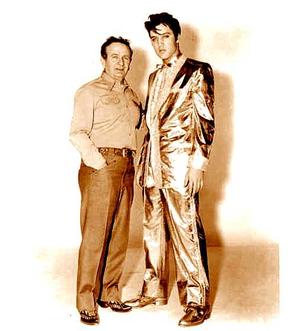 More info regarding how the gold suit came to be priced at $10,000 was gleaned from the A Nudie A Day blog: "As spectacular as the suit was, Nudie and the Colonel (huckster showmen that they were), added a gimmick. The suit would be valued at an astounding $10,000. Nudie would later joke that $9,500 was pure profit, and the actual bill of sale for the suit was for $2,500—but the suit would officially be touted as the Famous $10,000 Gold Lamé Suit."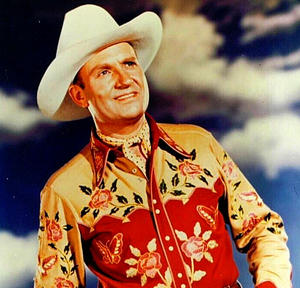 Gene Autry in a Nudie Shirt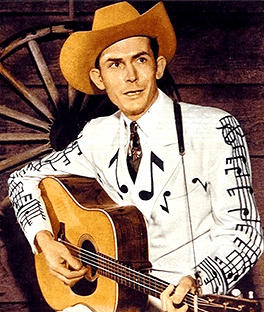 Hank Williams in his famous Nudie Musical Notes Suit
From the Nudie's Rodeo Tailor site: "In 1963, Nudie Cohn moved his store to Langershim Boulevard.  There Nudie continued to clothe everybody who was anybody...including John Wayne, Gene Autry, Cher, John Lennon, Ronald Regan, Elton John, Robert Mitchum, Pat Buttram, Tony Curtis, Michael Landon, Glen Campbell, Hank Snow and Hank Williams Sr."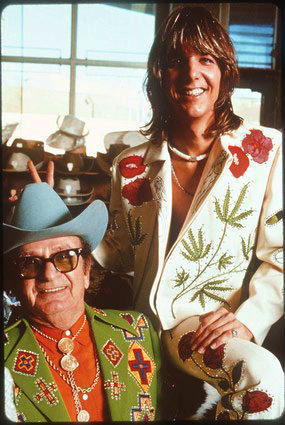 Nudie and Gram Parsons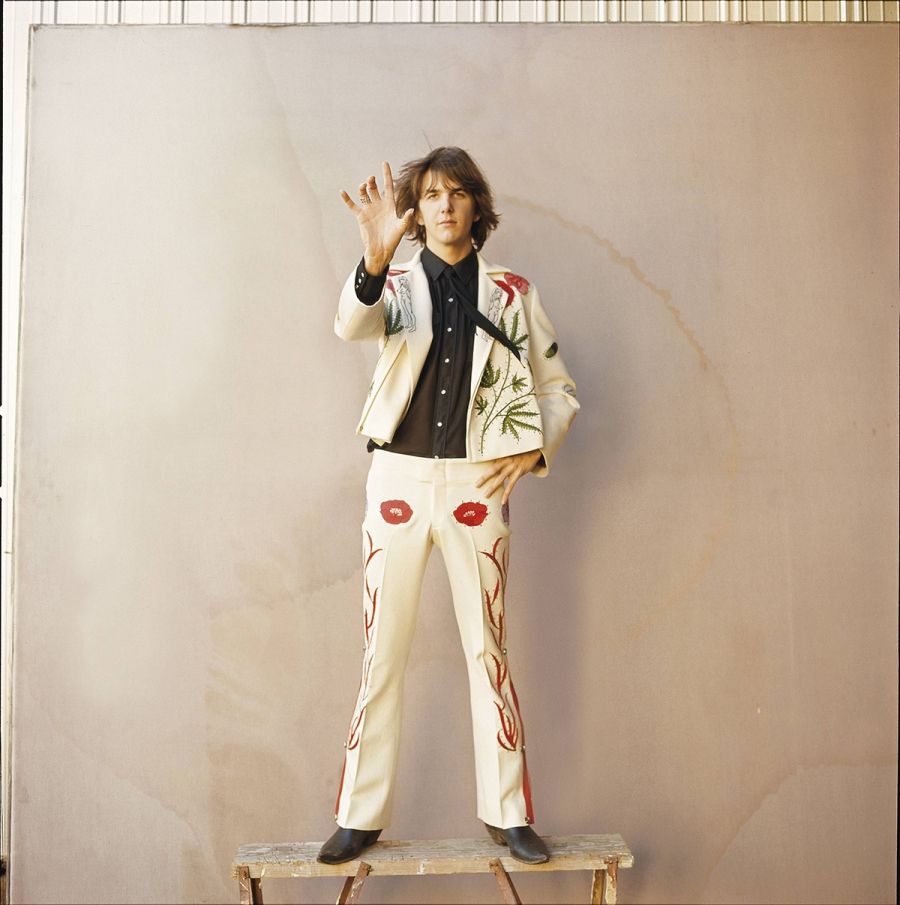 Gram Parsons in his Flying Burrito Brothers Nudie suit
As the 1960's were winding down, Nudie Cohn's career took on a new dimension when he made a suit for Gram Parsons.  An article by Elyssa East in the Oxford American magazine provides some details about the creation of Nudie's most renowned suit: 
"The 1960s were coming to a close when rising country rock musician Gram Parsons posed next to Nudie Cohn, the celebrated Western-wear designer more than three times his senior. Raeanne Rubenstein shot their portrait for Show: The Magazine of the Arts at Nudie's Los Angeles workshop. Over a smooth bare chest and midriff, the twenty-something Parsons wore the suit Nudie designed for him for the cover of the Flying Burrito Brothers' debut album, The Gilded Palace of Sin. Made of white cavalry twill, it was embroidered with crudely rendered naked ladies, rhinestone-studded marijuana leaves, and sequin-dotted poppies. Tuinal and Seconal capsules and sugar cubes laced with LSD decorated the sleeves. On the back shined a giant, gleaming cross. Flames licked the sides of both bell-bottom legs. Rubenstein's shutter clicked, capturing the near-familial warmth and affection between the two men, neither of whom would have predicted that the suit, which went on to help make Parsons a legend, also foretold of his death.  
In the late 1960s, Nudie's son-in-law and head tailor Manuel Cuevas met Parsons and enticed him into Nudie's shop. In addition to working for Nudie, Manuel, who goes by his first name professionally, was working on crafting the Grateful Dead's skeleton-and-roses insignia and designing the suits for the Beatles' Sgt. Pepper's album. Soon after, Parsons began sporting Nudie's outlandish creations as the visual corollary to his unique sound. 
Parsons had started a new band called the Flying Burrito Brothers with Chris Hillman, another ex-Byrd.  When it came time for the Burritos to record their debut album, The Gilded Palace of Sin, Nudie was the obvious choice to help put together their look.  Nudie and his staff made outfits for all four of the Burritos, each to their own tastes and whims. Hillman, who played guitar and shared vocals and songwriting credits with Parsons, opted for a lush cobalt blue suit with peacocks on the front and a giant sun on the back. Peter "Sneaky Pete" Kleinow, the band's pedal steel player, requested a suit embroidered with a pterodactyl and a tyrannosaurus rex. Bassist Chris Ethridge asked that his Edwardian frock coat and pants be covered in a classic motif of red and yellow roses. Manuel stitched the embroidery on Parsons's suit himself because Rose Clements, Nudie's chief embroiderer, refused to sew the pictures of drugs and naked women...At the time, the album's greatest success belonged to Nudie—four months after Gilded's release, he was featured on the cover of Rolling Stone. Before long, John Lennon, Janis Joplin, Bob Dylan, the Rolling Stones, Sly Stone, and Bootsy Collins, among others, would all wear his styles, inspiring Western wear's popularity in the 1970's."

Robert Redford wearing a Nudie suit in the 1979 film, The Electric Horseman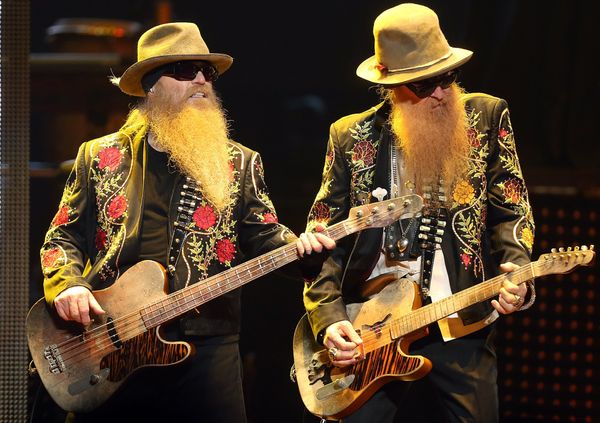 " Nudie adapted with it, designing suits for rock icons suc as John Lennon, Sonny And Cher, ZZ Top, David Lee Roth, and the tailor even counted Sly Stone and Aretha Franklin as customers. As he got older, Nudie would cruise the Sunset Strip in his custom Nudie Mobiles and hit up The Roxy Theatre, The Whisky A Go Go and The Rainbow Room, looking for new customers in need of something flashy. If Nudie Suits were their own form of medieval tapestries, the Nudie Mobiles were pop culture icons in their own right. Outfitted in the same intricate chain stitching on the inside, with steer horns, silver dollars and six-shooters on the outside, these cars became Nudie's calling card as he drove around town. Most of them (like the suits) now live in far-flung locations: Buck Owens Crystal Palace in Bakersfield; The Valley Relics Museum in the San Fernando Valley; Bobbejaanland, a Western-themed amusement park founded by Belgian entertainer Bobbejaan Schoepen; and the newly opened Nudie's Honky Tonk in Nashville." (UDiscover)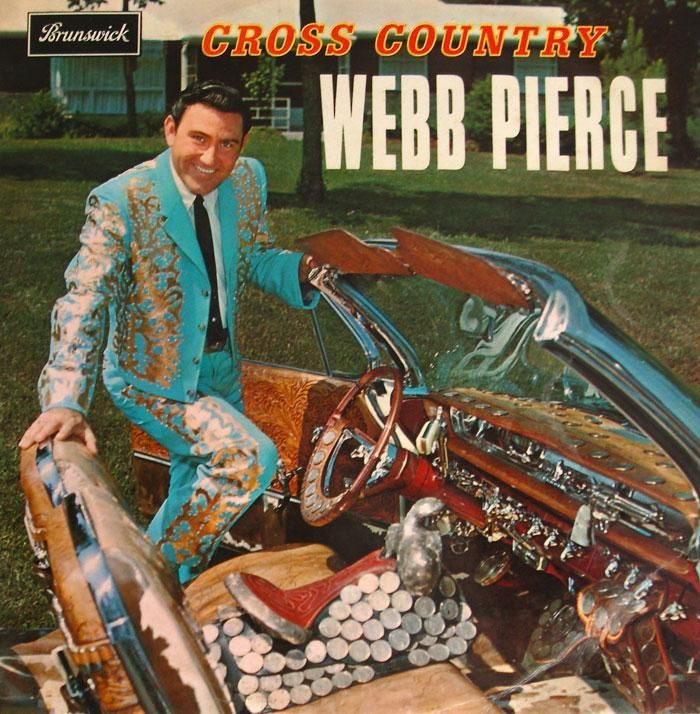 In an interview with the oipolloi.com site, Nudie's grandaughter, Jaimie Lee Nudie stated that, besides designing clothes, he also designed 18 custom sedans which were known as 'Nudie Mobiles': "I have two of his Nudie Mobiles. I've got the last one that was made for my grandmother Bobbie, a 1975 Cadillac El Dorado convertible and the one he made for my mother to drive me around in as a kid — a 1964 Pontiac Bonneville Safari station wagon. The Cadi', my grandmother left to me when she passed, and the wagon was given to me from a man in Canada who owned it. He said it belonged to me and knew I should have it. He delivered it to me four years ago on Mother's Day with a bill of sale for ONE dollar!  I would take the Nudie wagon out on the weekends, and the Nudie Cadi' had been in the museum on display! I think Nudie's inspiration for creating these cars was that he wanted to be noticed as he drove down the road, and the Nudie Mobile was the perfect calling card (or calling car)."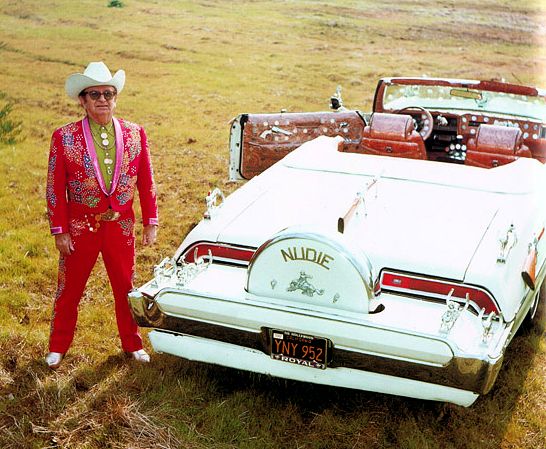 Nudie Cohn, 81 years of age, passed away in 1984. The following excerpt from the aforementioned Oxford American article provides a fitting epitaph for Nudie, the Cosmic Tailor: "Many consider Parsons's Nudie suit to be the designer's masterpiece. Nicknamed Sin City, after a song on the Burritos' album, the suit has been called "the Sistine Chapel ceiling of cowboy attire" by Guardian critic John Robinson. It is a study in dualities: vice and sanctity, irony and earnestness, and country music style and rock & roll sensibility. Aesthetically, it is the perfect visual expression of Parsons's music, which melded country to rock and gave rise to an entirely new sound. Bands such as the Eagles, the Doobie Brothers, and later-generation artists Uncle Tupelo, Whiskeytown, Old 97's, and Steve Earle—and the entire Americana and alt-country movements—would be inconceivable without the example Parsons set. Contemporary musicians such as Jack White and Jeff Tweedy continue to wear Nudie- and Parsons-inspired looks to this day."
Here are some more examples of Nudie Cohn's unique artistry: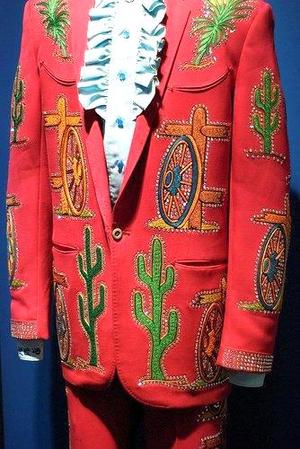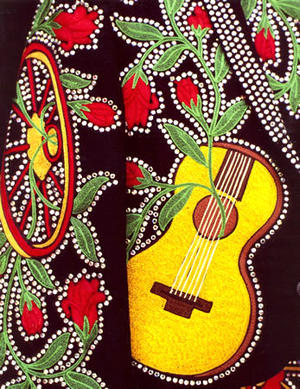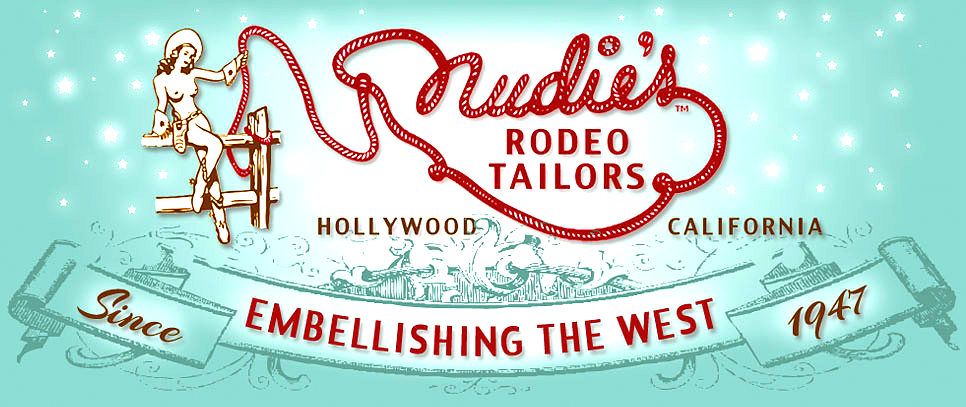 Nudie's daughter, Jamie, has reopened their LA store and the legend of the Cosmic Tailor lives on!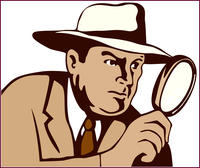 FURTHER INVESTIGATION
---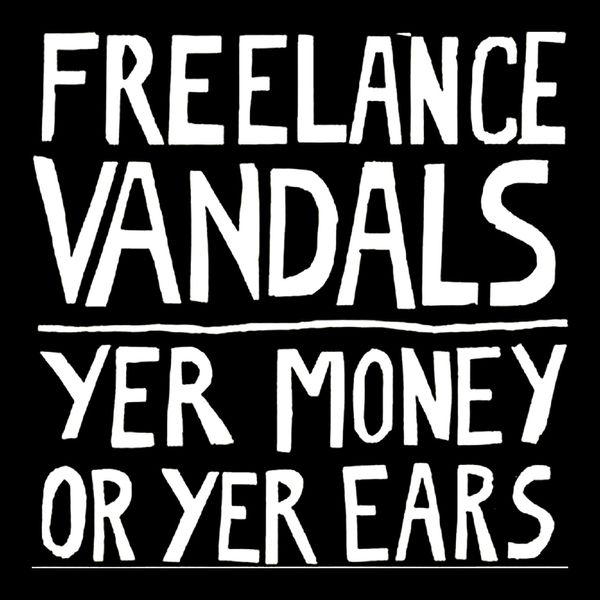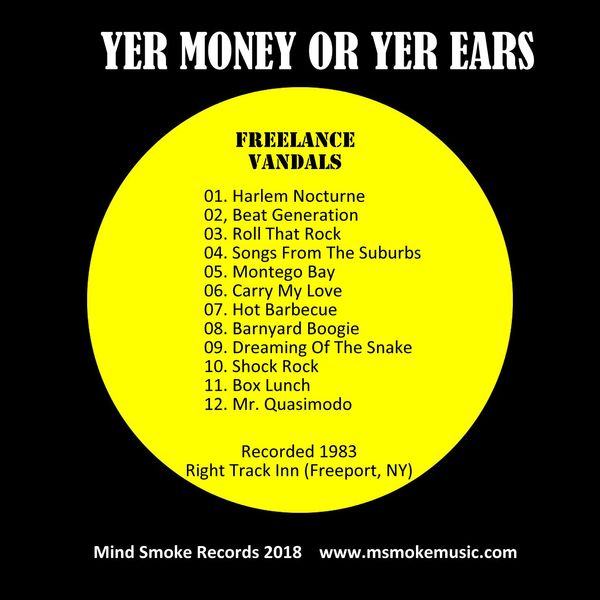 OFFICIAL RELEASE DATE: NOV. 20
PRE-ORDER RELEASE DATE: NOV 13
---
---