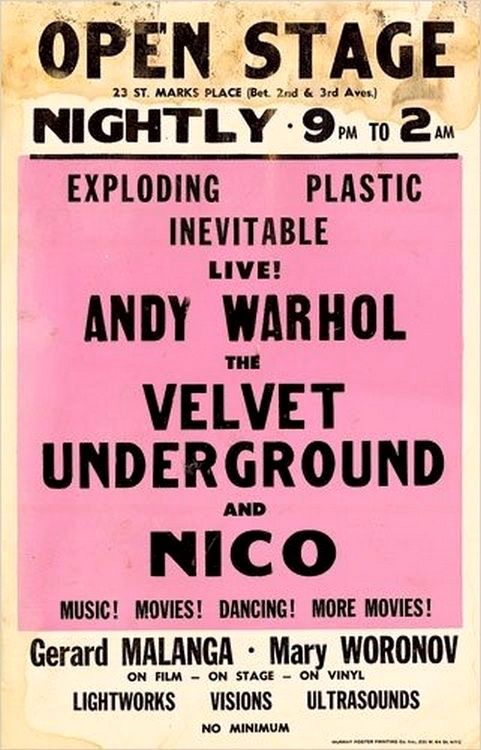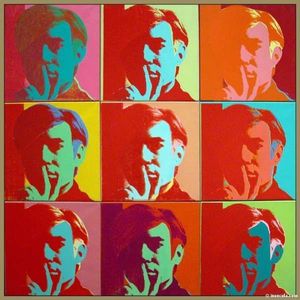 "A Pop person is like a vacuum that eats up everything, he's made up
from what he's seen.  And that's why people are really becoming
plastic; they are just fed things and are formed and the people who
can give things back are considered very talented."
- Andy Warhol
Our Story Begins Here....
"During 1965, Andy Warhol accelerated and amplified his scope to match the culture's momentum. In October, he announced that he was leaving art and staged a happening: a 40-foot long silver balloon was launched into space from the Factory roof. Filled with helium, it was a forerunner of the Silver Clouds that remain a staple of every Warhol retrospective today. 
Four days after the helium happening, Warhol travelled to Philadelphia for a major retrospective at the Institute of Contemporary Art. This was planned as something different: Columbia Records executive Norman Dolph was hired as a DJ, while curator Sam Green removed the art from the walls to ensure its safety. The blank space was more like a discotheque than an art gallery. To the sounds of It's All Over Now, Barefootin' and Ian Whitcomb's campy You Turn Me On, the crowd of 2,000-4,000 slowly boiled over. Chanting "we want Andy and Edie", they cornered Warhol and his immediate retinue up a staircase against a closed-off ceiling, which had to be jimmied to assist their escape. Warhol was terrified but thrilled: he had become a rock star.
By this time, Pop Art had become a media sensation, with major articles such as "The ins and outs of Pop Culture" (Life, August 1965). Prominently citing Warhol, Gloria Steinem's piece was so wide-ranging that it made the simple point: Pop had become the condition of contemporary life. Within this climate, Warhol's hook-up with an underground pop group was inevitable. In fact, the Velvet Underground were not the first musicians with whom Warhol sought to collaborate: the Holy Modal Rounders and the Fugs were filmed and photographed performing in the Factory during July 1965. For some reason, it didn't work: the Velvets were younger and more malleable. 
Within the context of late 1965, the Velvet Underground would not have seemed too far out. The charts were full of strange sonorities: droning dirges (Ticket to Ride, See My Friends), trance-like drug reveries (Mr Tambourine Man), brutally riffing Stax rockers (Satisfaction, Day Tripper) or monomaniacal on-the-one grooves (Papa's Got a Brand New Bag, In the Midnight Hour). There were, however, a few stones in the pathway of the VU's putative pop success. They sang about the wrong drugs: not the beatific allusions inspired by marijuana and LSD, but the desperate void created by heroin. And their attitude and sound instantly polarised audiences - as the Sex Pistols would do, 10 years later. 
Lyricist Lou Reed was inspired by the outcast writers of the 1950s, who charted America's underbelly before it became fodder for fashion spreads. William Burroughs, James Purdy and Hubert Selby Jr were right off the map, right off the edge of the respectable world, but again they were describing - often in deadpan, demotic prose - a recognizable, empirical reality. The Velvets' secret weapon, John Cale, had studied with the avant-garde composers John Cage and La Monte Young. He wanted to bring down the walls of Jericho with his amplified drones, feeling that music was a revolutionary force that had the power to affect the environment. Rhythm guitarist Sterling Morrison and drummer Mo Tucker were both from Long Island. They wanted to rock, as in Bo Diddley and motorcycle gangs: bad-ass music for bad-ass people in bad-ass times.
With socialite and model Nico added by Factory film-maker and fixer Paul Morrissey to up their pop quotient, the Velvets became part of Warhol's multimedia environment - first called Up-Tight (unlike Stevie Wonder's exultant single, released in November 1965, this was a feel-bad experience) and then, in April 1966, the Exploding Plastic Inevitable. When they teamed up with Warhol, their abrasiveness was amplified into an all-out assault. One of the earliest reviews comes from their 8-13 February 1966 residency at the Cinematheque on West 41st Street. Archer Winsten observed in the New York Post how the VU prodigiously amplified, prepares itself in a tuning session, then produces a rhythmic beat proving that the session may not have been necessary
.The VU were not ego-driven. At Rutgers University in New Jersey on 9 March 1966, they dressed all in white. The effect, according to Sterling Morrison, was "invisibility". Like a mirror, they were showing America a truth it did not want to face: although they did not start the war in Vietnam, although they did not produce or sell heroin, they got the blame.
In late April, the band recorded the basis of an album at the Scepter Records Studios in New York with Norman Dolph. These nine tracks - different mixes or versions of the songs on The Velvet Underground and Nico, minus There She Goes Again and Sunday Morning - got them the contract with MGM/Verve. (The recordings only came to light 40 years later when an acetate was bought at a New York flea market for 75 cents.) That same April week, Newsweek published its "Pop" issue which highlighted Warhol and the EPI: "What's happening now is happenings - where music, dancing, movies, everything happens at once and assaults all the senses." 
In 1966, many strands of art, music and entertainment were all coming to the same point, by different means - the total focus on the instant that is the hallmark of: many eastern religions; the happening; the drug experience; the ecstasy of dancing; the total synaesthesia of Pop Art. After all, as Warhol stated in Newsweek: 'I guess it'll all get so simple that everything will be art.'" (The Guardian)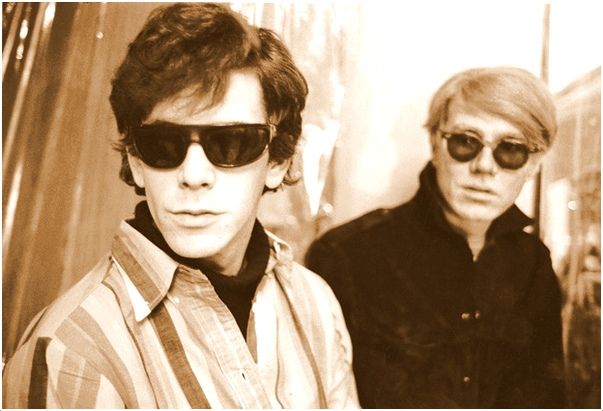 Lou Reed & Andy Warhol
"The intersection of two masters of the late 20th Century, Andy Warhol and Lou Reed, resulted in a spontaneous combustion of music, film, poetry, visual effects and underground culture that spawned generations of followers and redefined art in the modern world. Warhol called it The Exploding Plastic Inevitable.  Andy Warhol had been looking for a rock band to manage, and when he first saw The Velvet Underground, it fired his imagination.
John Cale's droning viola betrayed his classical music training with John Cage and LaMonte Young; Moe Tucker's primordial drumming and androgynous vibe defined the group's feel; Sterling Morrison's primitive guitar stylings and facility on bass and keyboards fleshed out the sound of The Velvet Underground. But it was vocalist and songwriter Lou Reed who attracted Warhol instantly with his streetwise sneer, odes to casual drug use (Heroin, I'm Waiting For The Man), sacrificial death (The Black Angel's Death Song), sadomasochism (Venus in Furs), and his boyish downtown charm paired with a nonchalant attitude the two shared. When Warhol insisted on the addition of chanteuse and actress Nico as a lead singer for the Velvets, Reed reluctantly obliged, writing Femme Fatale, I'll Be Your Mirror, and All Tomorrow's Parties, Warhol's favorite Velvets song.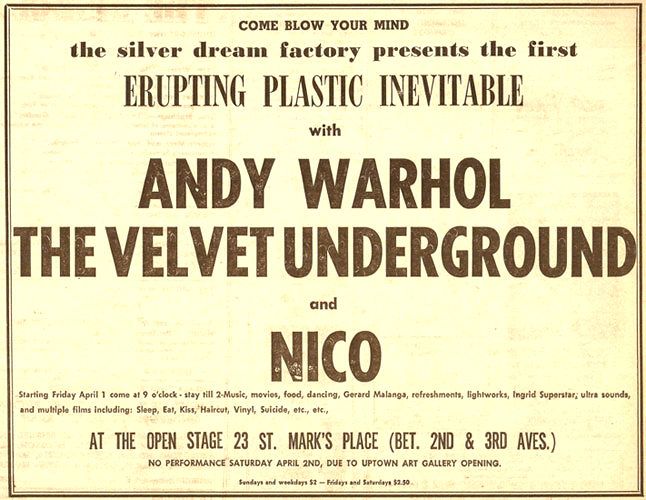 Warhol seized on the opportunity to create a traveling road show that leveraged his fame and integrated multiple media, showcasing his increasingly experimental films, dancing, poetry and mayhem, along with stroboscopes, slides and projections. This confluence of live music, multi-media and performance art was christened The Exploding Plastic Inevitable and toured the U.S. in select cities for over a year, inciting varying degrees of confusion and hostility...the ripples and repercussions of the EPI would be felt for decades, influencing everything from post-hippie expressionism to punk rebellion, from underground art experimentation to Cirque du Soleil and Blue Man Group, from bohemian performance poetry slams to EDM raves." (The Music Settlement)
On April 1, 1966, the Velvet Underground and Nico began their residency at 19-25 St. Mark's Place in the space that would become the Electric Circus, as part of Andy Warhol's 'Exploding Plastic Inevitable.'  It was this month-long series of performances, attended by a who's who of Downtown's avant-garde and Uptown's glitterati, which perhaps more than anything shaped the Velvet Underground's reputation as the leading edge of the radical rethinking of cultural possibilities emerging from New York at this time.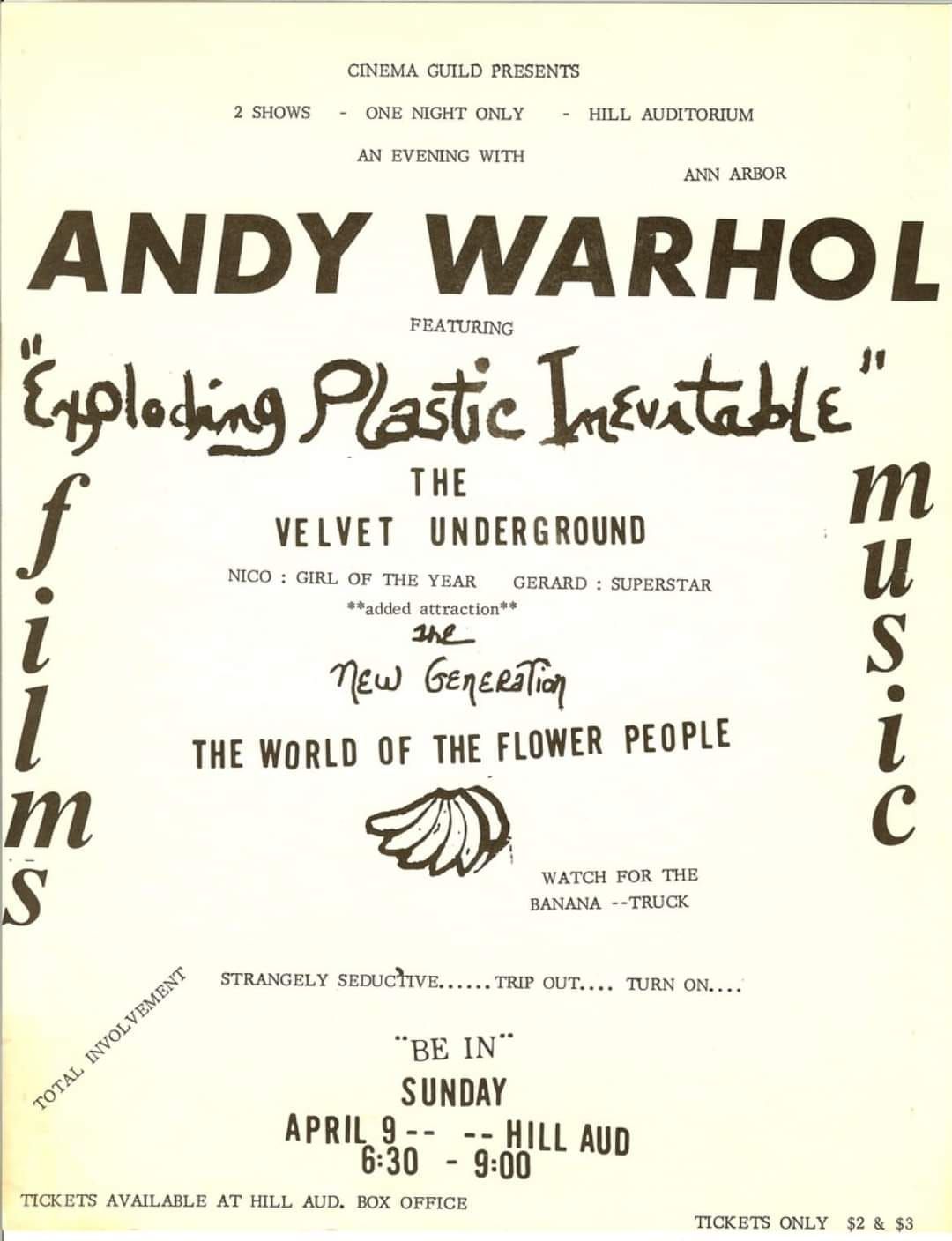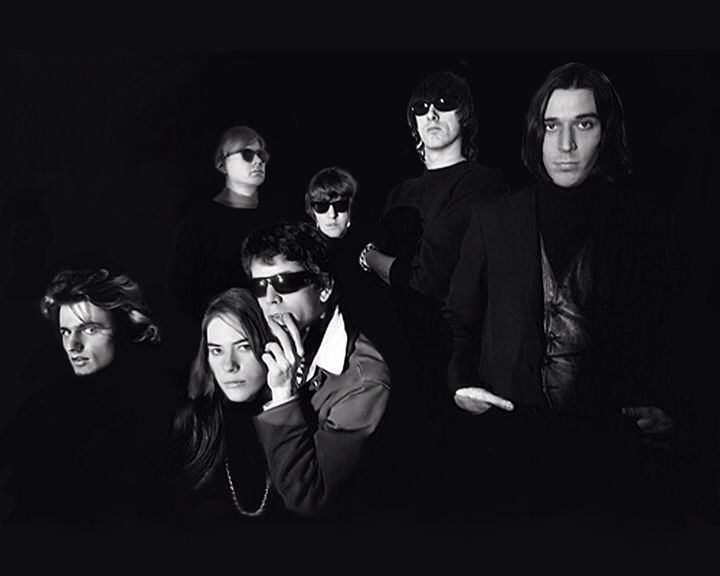 The Performers
Music: Velvet Underground
Dancers: Actress Mary Woronov and Artist Gerard Malanga
"The EPI stemmed from a series of Warhol's experimentation with the world of rock music and intermedia performances. As early as 1963, Warhol was in the midst of forming a rock band called the Druds with Patty and Claes Oldenberg, Lucas Samaras, Jasper Johns, Walter De Maria, La Monte Young, and Larry Poons. This project, albeit short-lived, demonstrates Warhol's early engagement and experimentation with music. The installation consisted of excerpts from Eat, Sleep, Kiss, and Haircut, played in a loop with a soundtrack composed by Young consisting of 4 different, singular tones played at maximum volume. An early trial of intermedia performance, the installation was ill-received, called a festival side-show by critics and eventually shown without Young's loud and imposing soundtrack.  Barbara Rubin and Gerard Malanga introduced Warhol to the Velvet Underground in late 1965 at their performance at Café Bizarre. He decided to become their manager, allowing them to practice at The Factory space and placed Nico, a striking German model, actress, and singer, just newly arrived in New York, as their frontwoman.  
The group's initial performances were entitled Andy Warhol Up-Tight, first appearing at the annual New York Society for Clinical Psychiatry dinner at the Delmonico Hotel in January 1966. This particular performance included the Velvet Underground and Nico with Gerard Malanga and Edie Sedgwick dancing on stage. Filmmakers Barbara Rubin and Jonas Mekas rushed into the crowd, shoving flood lights and cameras into the faces of the stunned attendees, asking questions such as 'Is his penis big enough?' and 'What does her vagina feel like?' Eventually, the name Andy Warhol Up-Tight morphed into the Erupting Plastic Inevitable and finally the Exploding Plastic Inevitable, dropping Rubin and Mekas, replacing their guerrilla-like assaults with a complete auditory, synesthetic experience. Initially, the EPI was seen as a clash of disparate components and was surprised, confused, and a little amused at the oddity of the production. But Warhol was never one to remain static—the EPI was just one example of his innate ability to thoroughly explore the newest scene while lending his creativity to different media. Diving deeper into my research, the production started to make sense as a cohesive work within the context of Warhol's other pieces—particularly his experimentation in film...or a total work of art. I realized that the EPI was not simply meant to shock or entertain but to interact with and envelop the audience in a way that made the viewers an essential part of the work." (My Mind Was Blown: Experiencing the Warhol's EPI Gallery)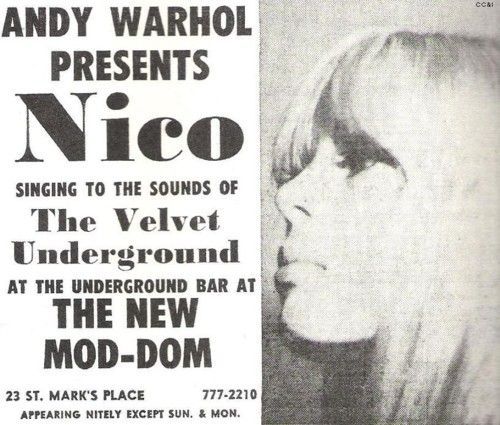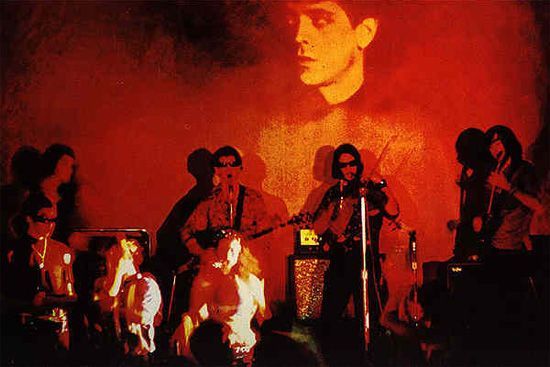 Velvet Underground
"In 1965, after being introduced to the Velvet Underground by filmmaker Barbara Rubin; Andy Warhol became the band's manager and suggested they use the German-born singer Nico (born Christa Päffgen) on several songs. Warhol's reputation helped the band gain a higher profile. He helped the band secure a recording contract with MGM's Verve Records, with himself as nominal producer, and gave the Velvets free rein over the sound they created. 
During their stay with Andy Warhol, the band became part of his multimedia roadshow, Exploding Plastic Inevitable, which combined Warhol's films with the band's music, which made use of minimalist devices, such as drones. Warhol included the band with his show in an effort to use rock as a part of a larger, interdisciplinary-art work based around. They played shows for several months in New York City, then traveled throughout the United States and Canada until its last installment in May 1967. 
The show included 16 mm film projections by Warhol, combined with an amazing light show designed by Danny Williams. Because of the punishing lights, the band took to wearing sunglasses onstage. Early promo posters referred to the group as the erupting plastic inevitable. This soon changed to the exploding plastic inevitable." (Wikipedia)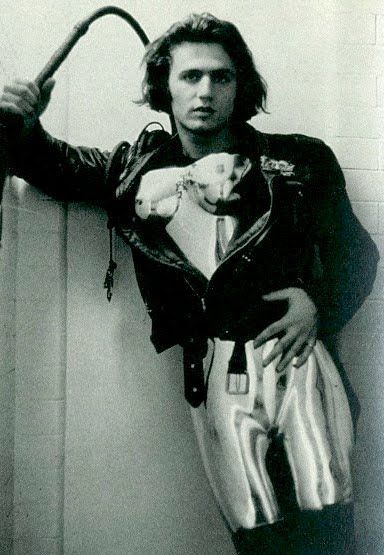 Gerard Malanga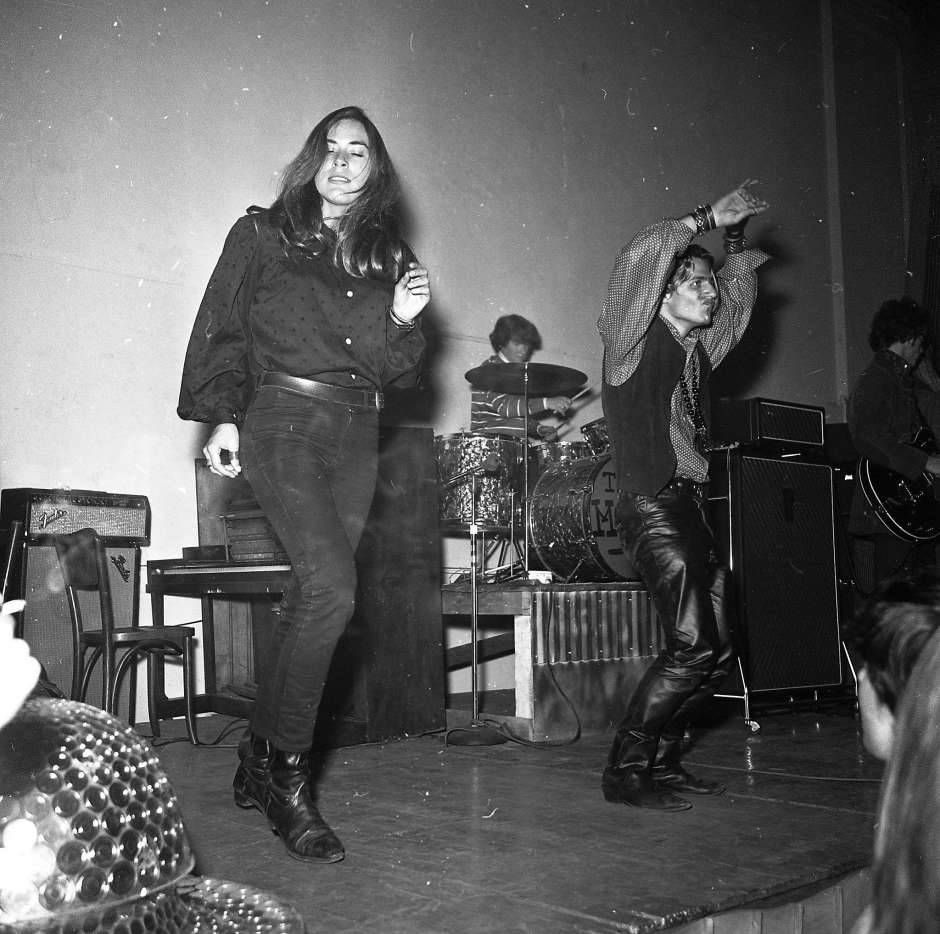 Mary Woronov & Gerard Malanga
"In April 1966, the Velvet Underground began their residency playing with Andy Warhol's Exploding Plastic Inevitable at the Dom, where Factory newcomer Mary Woronov joined in. 'Gerard Malanga felt we would be center stage and liven things up,' Woronov said. 'So he brought me on with the black leather suit and a whip, and we worked out a dance with a sort of S&M kind of theme.' Their routines were supposed to be dark and theatrical, but they sometimes veered into goofier realms. 'For Waiting for the Man, I would lift weights,' Woronov said. 'For Heroin, Gerard would run around with a plastic needle that was two feet long and shoot up. It was sort of an act, to music.' Meanwhile, the Velvet Underground unleashed sheets of sound as Warhol slipped colored gelatin slides over film projector lenses or just stood on the balcony, observing the crowded scene."  (Downntown Pop Underground, Abrams Press 2018)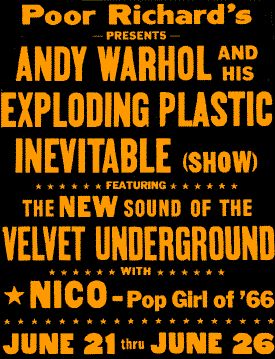 "In 1968 a fledgling critic by the name of Wayne McGuire sent an unsolicited article to Crawdaddy! magazine proclaiming the Velvet Underground to be 'prophets of a new age, of breakthrough on an electronic: intermedia: total scale.' Describing them as 'the only true intermedia group in the country,' McGuire situated them within the context of Andy Warhol's Exploding Plastic Inevitable, or EPI, an overwhelming expanded cinema production collaboratively orchestrated from 1966 to 1967. At the height of its development, the Exploding Plastic Inevitable included three to five film projectors, often showing different reels of the same film simultaneously; a similar number of slide projectors, movable by hand so that their images swept the auditorium; four variable-speed strobe lights; three moving spots with an assortment of colored gels; several pistol lights; a mirror ball hung from the ceiling and another on the floor; as many as three loudspeakers blaring different pop records at once; one to two sets by the Velvet Underground and Nico; and the dancing of Gerard Malanga and Mary Woronov or Ingrid Superstar, complete with props and lights that projected their shadows high onto the wall. Advertisements for the EPI emphasized the variety of included effects, touting in addition to Warhol and the music: Superstars Gerard Malanga And Mary Woronov On Film On Stage On Vinyl: Live music, dancing, ultra sounds, visions, lightworks by Daniel Williams; color slides by Jackie Cassen, discotheque, refreshments, Ingrid Superstar, food, celebrities, and movies, including: Vinyl, Sleep, Eat, Kiss, Empire, Whips, Faces, Harlot, Hedy, Couch, Banana, Blow Job, etc., etc., etc. all in the same place at the same time.3 The cumulative effect was one of disruptive multiplicity and layering, as the Velvet Underground, Nico, and other of Warhol's superstars appeared amidst the barrage of sounds, lights, images, and performance. Critics who saw the shows consistently labeled the effect 'decadence' or 'perversion.' The showing of such anodyne films as Eat (1964), they more consistently pointed to such scenes as Malanga's sadomasochistic reprogramming in Vinyl (1965); Mario Montez's drag in films like Harlot (1964), Mario Banana (1964), and More Milk, Yvette (1965); the slyly allusive activity of Blow Job (1964); or the explicitly pornographic engagements in Couch (1964) were all accompanied by the Velvet Underground's lengthy, atonal improvisations and dark, provocative songs like Heroin, Venus in Furs, and Sister Ray." (My Mind Split Open - Center For Comparative Media)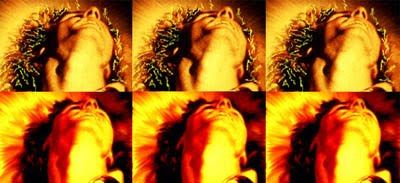 Interview with Filmmaker and Photographer Ronald Namath  
On filming Warhol's Exploding Plastic Inevitable
(www.bauhaus-imaginista.org): 
Ronald Namath: Before filming Exploding Plastic Inevitable (or EPI), I was living in Chicago, and studying at the Illinois Institute of Technology Institute of Design (formerly the New Bauhaus) from 1962–67 (B.S. in Photography, 1965; M.S. in Cinematography, 1967). The method of teaching used at the Institute of Design (or ID) allowed one to explore various media so as to fully understand the nature of any particular medium and its creative potential. This was in contrast to the established method of teaching, which involved learning a particular tradition or style of art. The Bauhaus method encouraged one to explore creative possibilities within any particular medium, without limitations. It's very much the difference between teaching and learning. With teaching, someone tells you how to do it; with learning, you discover for yourself the essentials through your own experimentation. Added to this was art history, which provided a perspective on one's own explorations. This combination of medial exploration and art history proved an excellent way to explore the mediums of photography and film. 
The initial exploration of the photographic medium at ID involved working with light, paper and chemicals, without a camera. Light and dark shapes were created solely through the interaction of chemical and light. The next phase was to include objects on the paper and expose these to light. In addition, the various chemicals were used in an experimental manner to create imagery. All this provided a broad understanding of the medium of photography.  One of the most significant ways I learned to explore photography (and one that later had a strong influence in the making of EPI) involved printing multiple negatives superimposed together. This allowed multiple levels of space/time to be experienced simultaneously, an effect that would eventually be used in the editing of Exploding Plastic Inevitable to provide an immersive experience similar to the original EPI multimedia events.
Are there artistic techniques that you learned at the ID that were used for Exploding Plastic Inevitable?
Ronald Namath: My experience of this learning method was the fundamental ground for filming—and much later, being able to recreate Warhol's Exploding Plastic Inevitable using digital technology. The strategy I used while filming the EPI, addressed in your last question, was based of some of the basic visual elements I first experimented with in my 8mm films.
How did it happen that you filmed the Exploding Plastic Inevitable?
Ronald Namath: Having extensive prior experience with immersive and multiple-screen projections environments, I realized that it was such a significant event that it should be filmed. I inquired and learned that it had had not been filmed yet by anyone. So, I made plans to do recordings of it when it came to Chicago. 
What kind of venue did the EPI take place in and how many people attended the shows?
Ronald Namath: Warhol premiered the Exploding Plastic Inevitable with the Velvet Underground and Nico on the lower east side in New York City in late April of 1966. It opened at the Dom and performances during that month were sold out. It attracted all types of people—uptown socialites like Jackie Kennedy, downtown poets like Allen Ginsburg and Barbara Rubin, artists, musicians and Midtown career people. It also attracted a great deal of publicity and was a major news happening at the times, with many news crews on the scene, including Walter Cronkite, then America's most well-known news anchor. The EPI was a raging success. Warhol's immersive media projection environment/discotheque created a new art form.  
After the success of the EPI in New York, Warhol arranged for the Velvet Underground to cut their first LP album at Scepter Records, which later became the infamous disco Studio 54. The EPI then went on tour to Los Angeles and San Francisco. It came to Chicago in June of 1966 for a week of shows at Poor Richard's, a nightclub with space for a couple hundred people. It previously had been a church … not a traditional church, but some kind of a free church. It was a big hall without windows, filled with lights shows and projections, no air conditioning, people dancing and very humid air.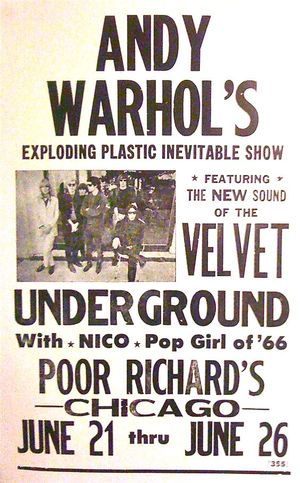 Larry McCombs'  account of his experience at
Poor Richard's, Chicago, 24 June 1966
"It's hot, godawful, sticky, sweaty, miserable hot. The Place is jammed and there's hardly room to move. The waitress does her best, but it takes a while to get your drink and you're dying of thirst. There's all sorts of mirrors and lights overhead, some of them rotating. Lights shining and blinking in a complex pattern, up one wall and along another. Red dots start moving through and around and among them, in a different pattern (or is it the same?) 
Suddenly on the side wall there's a black and white movie, poor quality, like a badly done home movie, of a man eating. He eats slowly, savoring each bite, staring blankly off into space. He goes on eating. Music and noise begins to come from somewhere. Now on the end wall there's another movie. People moving around–a girl?–several boys–one tall, well-built blonde, lifting weights, posing, dressed in Levis and open black leather jacket with a white T-shirt underneath. He moves with a strange combination of cruelty and sensuous delight. The man on the side wall goes on eating, staring blankly at this scene once in a while. The lights continue to dance over and through the movies. The music gets louder; a voice begins to talk but you can't understand the words; there are shouts and screams occasionally. 
There's a man strapped to a chair, stripped to the waist, being whipped. Are those his screams? No, they aren't in time. The man goes on eating. The girl smokes. Is she part of the whipping scene, or has she somehow slipped over from the eating movie? The music is very loud now, with a driving rock and roll beat. The muscular blonde is moving slowly about with a whip which he curls about his body. Suddenly, he flings himself into dance, while the whipping goes on behind him. Suddenly that film moves to the top of the screen and below it appears another view of the same scene, earlier or late? The whipping is in the foreground, or is it a dance? Lights, noise, screams, - the man on the side of the wall eats slowly, fondles a cat, stares at the audience. 
Various tortures, fights, dances–all mixed together, Inextricable. Lights shining unbearably bright in your eyes. Dancing lights on the wall. Nasty torturous dancing with whips and lighted matches. The man eats, watches, watches you. Louder, faster, noisier. 
Suddenly the films end. The noise and music go on. Several people have appeared from somewhere. They stand in front of the screen, tuning instruments. The noise of their tuning, the electric buzzes and hums, begins to blend with the noise and music from the films. 
Then they gradually take over. Behind them on the wall are movies of a girl. One, two, several views of her in different movies. Close-up, far away, they begin to zoom in and out in time with the music. Eyes, mouths, noses, she stares, blinks, licks her lips. 
On stage now is the cruel blonde man, with his whip, dancing with the tall masculine blonde girl in silver lame costume. The lights have become a dim blue flicker, but a flicker that goes faster and slower and pauses now and then, just as your eyes get used to each kind of flicker. Dancers on the floor, with huge strips of silver material that flash above their heads as they dance. Clean-cut, straight looking kids, working hard at dancing to the noise. 
Bright green and red spotlights, the dancers silhouetted on the walls in great grimacing poses. The musicians occasionally revealed, sweating over their instruments, grinding out a noise that has music in it somewhere. They're watching the movies, watching each other, watching you. 
Too much happening–it doesn't go together. But sometimes it does –suddenly the beat of the music, the movements of the various films, the pose of the dancers, blend into something meaningful, but before your mind can grab it, it's become random and confusing again. Your head tries to sort something out, make sense of something. 
The noise is getting to you. You want to scream, or throw yourself about with the dancers, something, anything. 
The noise builds to a climax and ends. The dancers pause. Everyone looks a bit weary. The musicians diddle around with their instruments and amplifiers. The lights and films go on. One of the musicians is a girl. Or is it? 
They start again. 
There's an electrified violin making horrible bag pipe sounds against the noisy background. It's grating, terrible, and yet your mind latches onto that bit of tune against all the chaos. It's almost a relief. 
The films are doing strange things. The blonde girl becomes a brunette–girl or boy? Showers of colored lighs suddenly burst upward from the drums with a crash of cymbals and shoot across the ceiling and walls like a fireworks burst. 
The dancers on the floor are looking tired and ecstatic and bored, all at once. The music gets noisier, the viola is frantically screaming a tune, higher and higher. 
On the screens, some of the views of the girl are replaced by films of the blonde boy and silver lame girl, dancing, fighting, torturing each other with the whip. The real pair are there too, making weird shadows on the wall, the boy dancing, but writhing in torment with his hands over his head. 
The music is lost in the chaos of noise. Are there children chanting or singing? 
The amplified viola goes higher and higher, becomes a shriek, a feedback noise, a regular dit-dah-dit of unbearable Morse code screaming above the other noise. It all builds to a tremendous climax. 
Then it goes on and on and on and on. You wish it would stop. The musicians build wilder and wilder. The drummer hits a shuddering beat that you feel through the floor. 
It's all coming to an end. But it doesn't. It goes on. The lights flash in your eyes. The noises all blend into one and your mind tries to sort out little bits of rhythm and tune. The screaming Morse message is still there, but you only hear now when you listen for it. 
The dancers on the floor are sweating, looking like they can't bear any more of it all. But it goes on and on. 
Finally it all comes to a shuddering screaming end, the music and noise die down, the films flicker out. Only the colored lights still dance across the walls. The musicians and dancers leave, looking wilted. 
You sit there for a while, finally find your waitress, finally leave, it's hot. What can you say?"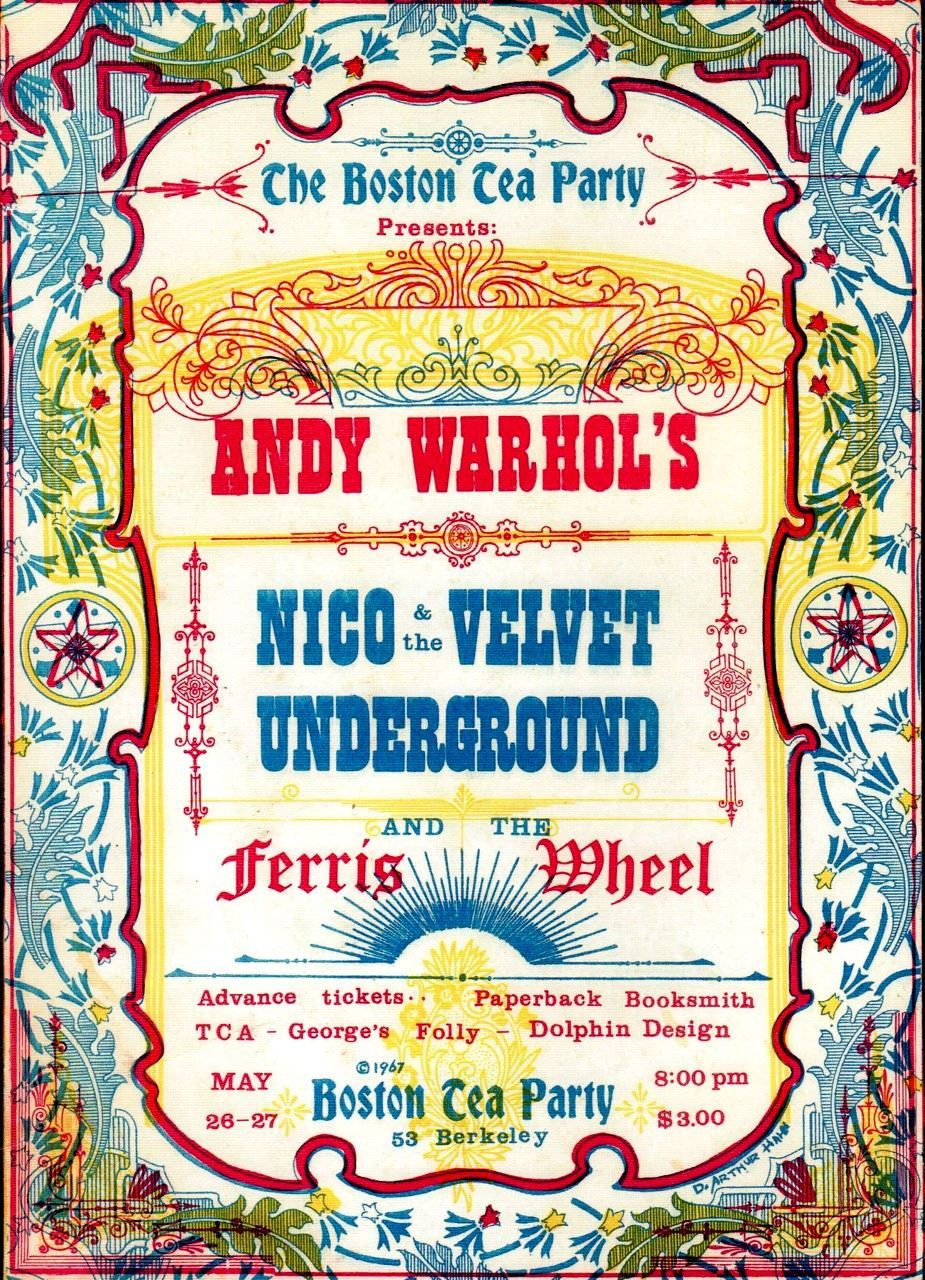 Andy Warhol's Exploding Plastic Inevitable:  
Nico & Velvet Underground  
Ferris Wheel  
Boston Tea Party  Boston, MA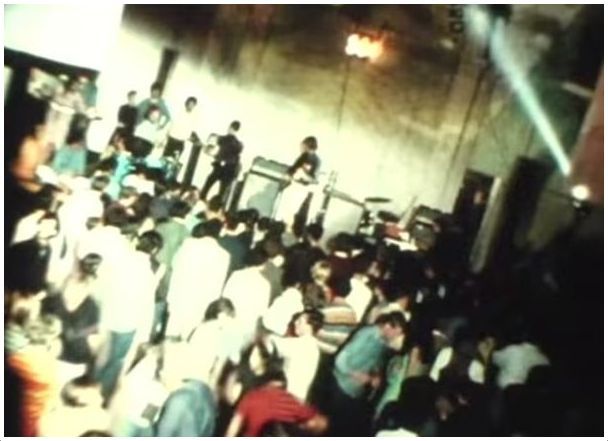 THE VELVET UNDERGROUND IN BOSTON (1967, sound, color, 33 mins. Dir: Andy Warhol): 
This newly unearthed film, which Warhol shot during a concert at the Boston Tea Party, features a variety of filmmaking techniques. Sudden in-and-out zooms, sweeping panning shots, in-camera edits that create single frame images and bursts of light like paparazzi flash bulbs going off mirror the kinesthetic experience of the Exploding Plastic Inevitable, with its strobe lights, whip dancers, colorful slide shows, multi-screen projections, liberal use of amphetamines, and overpowering sound. It is a significant find indeed for fans of the Velvets, being one of only two known films with synchronous sound of the band performing live, and this the only one in color. It's fitting that it was shot at the Boston Tea Party, as the Beantown club became one of the band's favorite, most-played venues, and was where a 16-year-old Jonathan Richman faithfully attended every show and befriended the group. Richman, who would later have his debut recordings produced by John Cale, and later yet record a song about the group, is just possibly seen in the background of this film.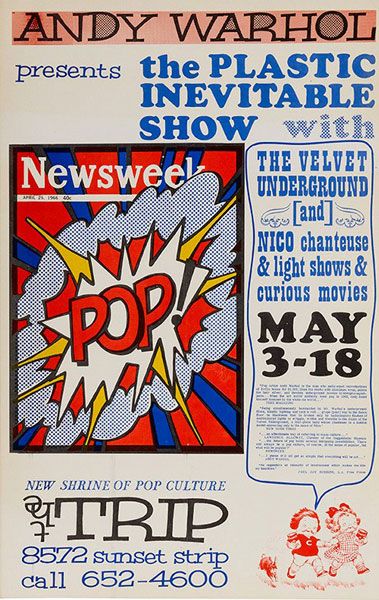 "The day after the Velvet Underground's 2 May contract with MGM Records began, they began what was intended as a two-week residency at the Trip on Sunset Strip in Los Angeles. It was advertised on the back page of KRLA Beat newspaper - FLIP OUT! SKIP OUT! TRIP OUT! (a Donovan quote from his song about the club) - with the logo of the Trip itself: a cartoon of Batman in profile. 
By then, the Exploding Plastic Inevitable was a barrage of flashing lights, multi-screened films, sadomasochistic mime, and music amplified beyond distortion to the point of pain. It was the most fully worked-out staging, up to this time, of the high 60s Pop drive towards the dissolution of hierarchies, linear perception, and overt meaning. In LA the entourage were staying in the Castle (a haunt, at different times, of Bob Dylan and Love) and Warhol himself was bathed in mass media: offers of TV work - introducing a series of 'campy movies', doing a TV interview, reading bad reviews of the EPI ('I think people will come if there is a really terrible one'). 
Jim Paltridge, a West Coast journalist, picks up the story three weeks later in San Francisco. In the intervening period, the Velvets and the EPI had been stranded in LA, caught in two legal disputes, in one of which they were suing the Trip's owners for the balance of their contract: $3,000. This incident has been presented as an example of West Coast hostility to the VU, but there was another possible factor.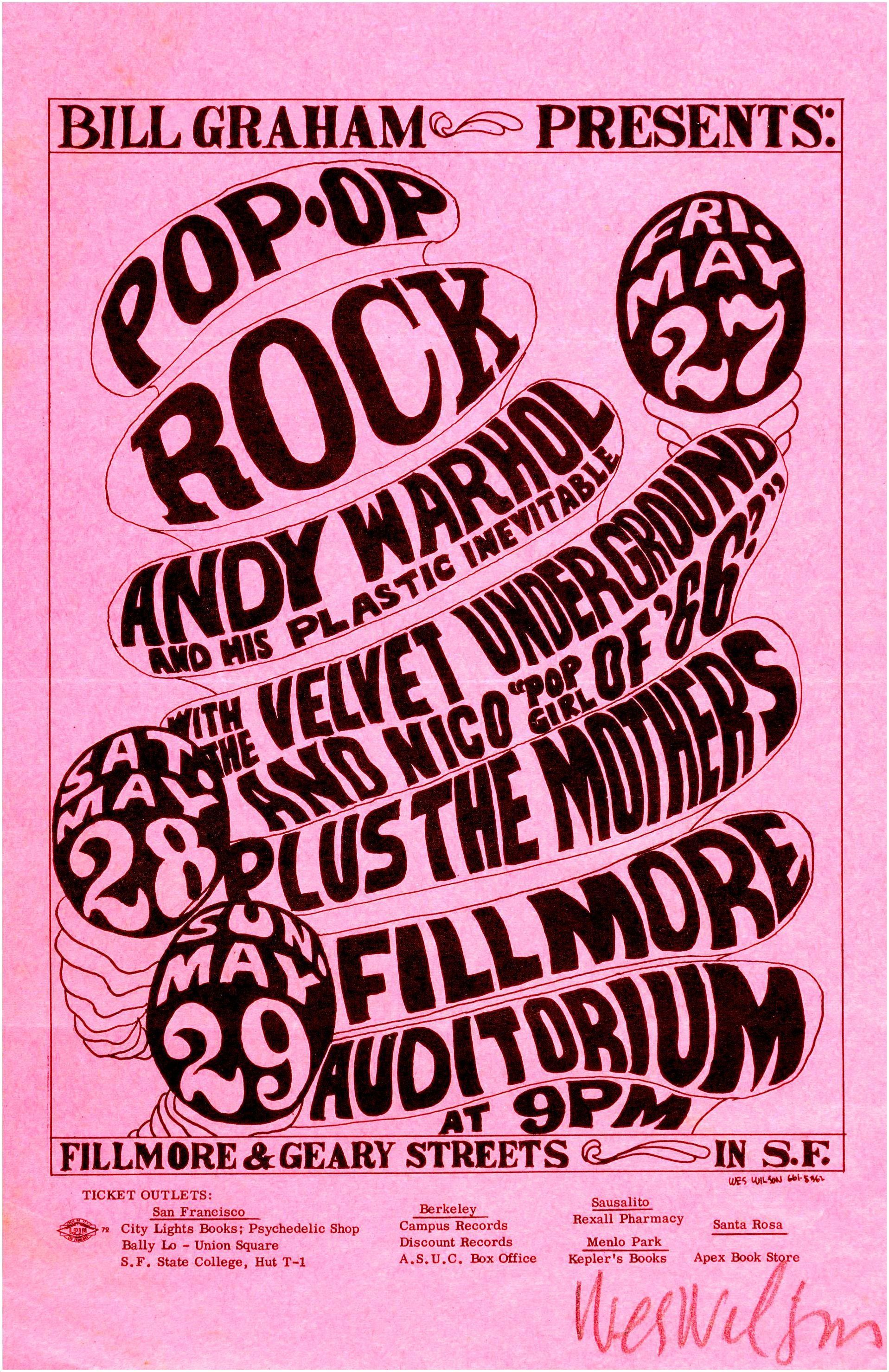 The real hostility began in San Francisco, where the Exploding Plastic Inevitable show arrived on 27 May. The first signs were encouraging. The Chronicle ran a favorable interview on 23 May. Four days later, the paper printed another interview by columnist Merla Zellerbach, who faithfully reproduced bon mots like 'we're pop people, formed by television'. Asked to explain the Exploding Plastic Inevitable, Warhol simply said: 'It's a totality.' Paltridge's lapidary description of the show pictures a relaxed enough scene. The Fillmore audience includes 'teeny-boppers, lots of teeny-boppers; hairdressers on leave and their dates, smart hippies and sloppy hippies'. The assault begins slowly: 'Paul goes off to round up the Velvets. Andy starts one of the projectors. Giant picture of Nico eating a candy bar...Andy turns on another projector. Giant picture of Edie Sedgwick in black bra and panties sitting on an unmade bed with a handsome boy wearing jockey shorts. 'What you mean, Andy?' asks Edie's voice over the loudspeaker. The Velvets set up their equipment. Nico comes out on stage. Nico: 'The song is I'll Be Your Mirror.'" 
This successful shock therapy did not go down well, however, with the cheerleaders of the San Francisco scene. Paul Morrissey provoked the Fillmore's owner, Bill Graham, into an explosion that Warhol recalled with relish in POPism: 'You disgusting germs from New York! Here we are, trying to clean up everything, and you come out here with your disgusting minds and whips!'
During that month, Verve also released the Velvet Underground's first single: All Tomorrow's Parties, backed with I'll Be Your Mirror. The label printed off a few hundred promo picture sleeves, depicting the group in a narrow band of light: a window into another world peopled by strange, blank-looking young men and androgynous women. Sung by Nico, the lyric was a very apt description of certain people at the Factory at the time, Lou Reed later told journalist David Fricke; 'I kept notes of what people said, what went on, and those notes would go directly into songs.' All Tomorrow's Parties was a snapshot of the Factory at its height: the parties, the ragged costumes, the ego peeled open like a banana once the speed had worn off. 
The music was avant-garde in the extreme: it was one of the first pop songs to use prepared piano (where the instrument has its sound altered by placing external objects on the strings or between the keys) and a kind of prepared guitar (all of the strings on Reed's guitar were tuned to D). Then this was edited into a two-minute 52 seconds single mix. Nico also sang the flip, I'll Be Your Mirror. Warhol suggested that the single be pressed with a built-in scratch to make it repeat on the title phrase - although at that point the technology was not there. In total, this was an information-packed, content-rich 45, a total Pop Art product: nothing could have been more NOW.
The show went out on the road again in late autumn, but the timing was off. The pop sensation of the moment was the Beach Boys' Good Vibrations: positivity and California were in, New York negation out. December 1966 saw the issue of the second Velvet Underground single: Sunday Morning/Femme Fatale. It sold even less. 
Even though pop culture was changing around them, their momentum of 1966 carried Warhol and the Velvet Underground into 1967 with hardly a break. In March, the same month that Marshall McLuhan published his ground-breaking survey of the high 60s, The Medium is the Massage, The Velvet Underground and Nico was released. Despite the fact that some of the material had been recorded months earlier, the album had been delayed by production problems and, it was later claimed, music industry politics.
The presentation of the Velvet Underground's album was lavish: a gatefold sleeve, beautifully printed color photos of the group and the EPI, and plentiful notes. Despite the lavish package and the quality of the music, the album grazed the Billboard Top 200 and then disappeared. This failure - for all concerned still thought in terms of pop, ie chart success - spelt the end of the Exploding Plastic Inevitable, which performed for the last time in May 1967, at Steve Paul's the Scene club in New York. The group split from Warhol soon after. 
The EPI's sophisticated yet brutal mixture of film, art, music, fashion and mediation revealed roiling emotions that were too much for the pop culture of the time, but its influence has been as vast as it is uncontested. The EPI now seems like a basic blueprint for the multimedia synaesthesia of 21st-century pop culture - a vision for the future that came to pass. OMM!" (The Guardian)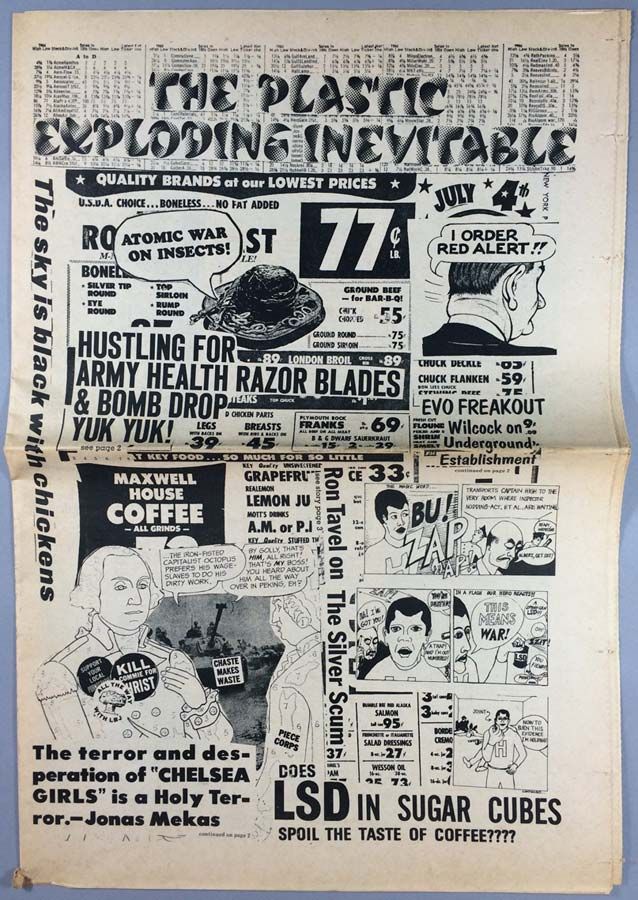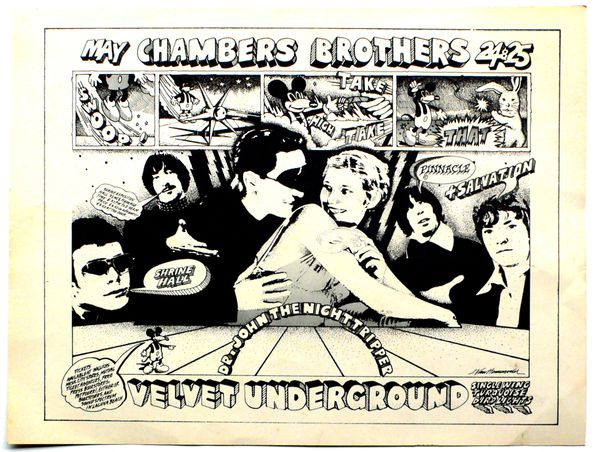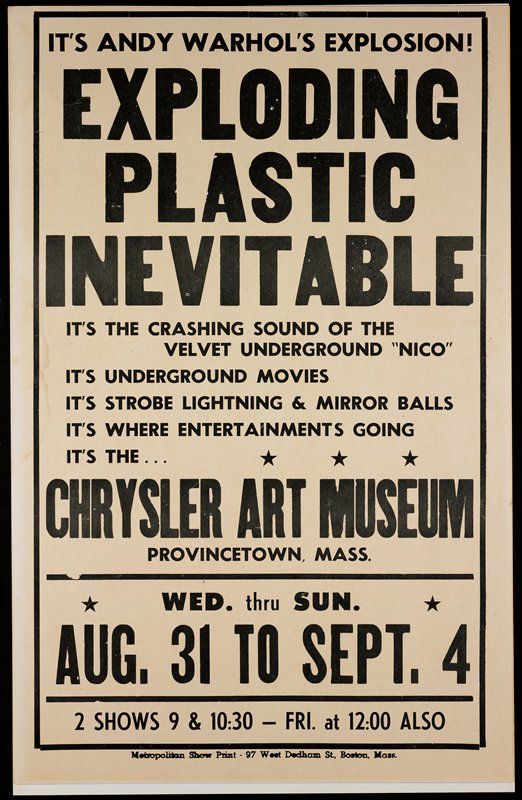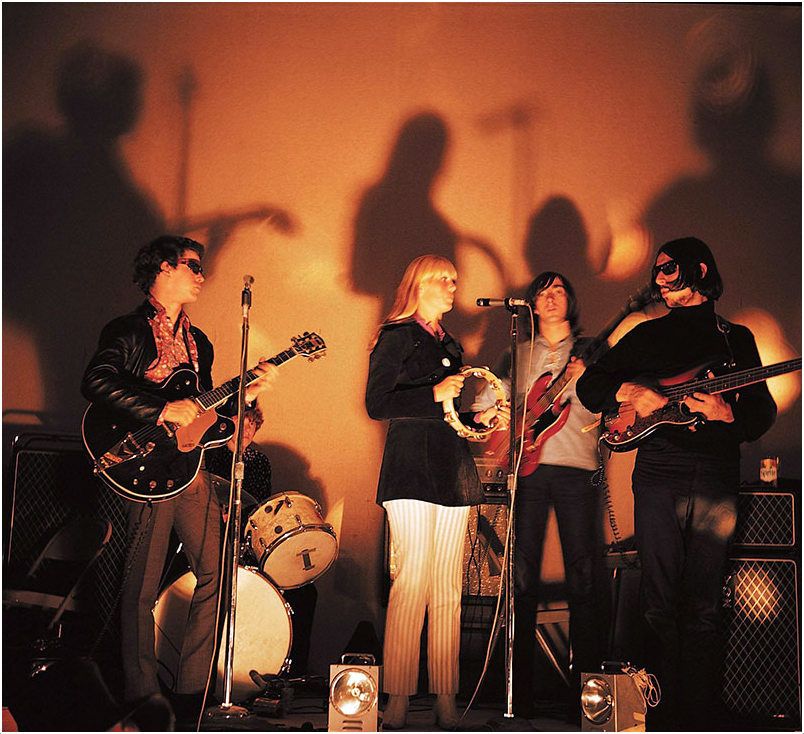 "For The Exploding Plastic Inevitable, the late Autumn saw a trudge around the Midwest, playing to small and barely appreciative crowds.  Confronted b the titanic instrumental blasts @ the Valley Dale Ballroom in Columbus, Ohio, on November 4th managed only a few desultory claps and a couple of muted shrieks of recognition when Nico, still the featured performer, came up front to sing her numbers.  Two days later, the EPI played Cleveland; the review in the local paper stated, 'What Happened?  NOTHING!' 
The EPI was not concerned with psychedelia, even though it took on some of its appurtenances; the idea of total immersion in a multimedia environment; the idea that the audience was part of the performance.  Having had its publicity peak in the spring, it was in dancer of becoming passe.  It became obvious that he tide was slowly ebbing away from the EPI." (Jon Savage, Faber & Faber, 1966: The Year the Decade Exploded)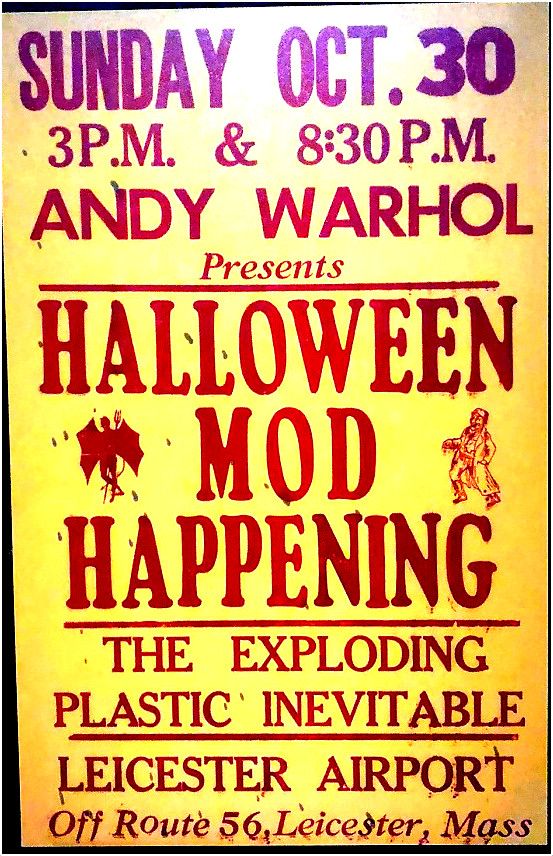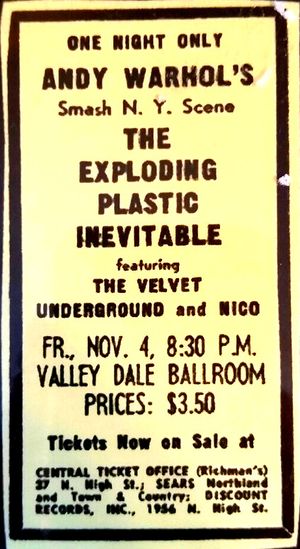 "Today, the Grand Valley Dale Ballroom sells itself as the leading special event and banquet facility in Columbus, Ohio. 'Getting married at the Grand Valley Dale Ballroom,' its website says, 'is Oh! So! Romantic!'  At least part of the romance lies with the ballroom's history as a music venue, where Frank Sinatra and Perry Como trod the boards: 'The History of Valley Dale,' runs the slogan, 'is a Story of Good Times.' 
For some reason, the Story of Good Times neglects to mention the night in 1966 when Andy Warhol's Exploding Plastic Inevitable came to town. On stage, amid strobe lights and Warhol's films, the Velvet Underground and their German singer, Nico, played a set of songs you could claim, without hyperbole, would change rock music for ever: Heroin, I'm Waiting for the Man ("it's about scoring dope," deadpanned Lou Reed), All Tomorrow's Parties, Venus in Furs. Judging by the lo-fi recording included on this six-CD box set, the audience appears to have received the lot in horrified silence.
You can mock their lack of foresight – the very sound and vocabulary of rock music is expanding before their very ears and they seem to hate it – but can you really blame them? On the most prosaic level, by the time they get to the future classics, they've already been subjected to the erroneously titled, 27-minute long Melody Laughter. It begins with formless noise, the feedback alternately shrieking and groaning like wood under stress. After about a quarter of an hour, it resolves itself into something vaguely approaching a song, albeit one decorated with improvised vocals by Nico: not, it has to be said, one of music's natural scat singers. 
The giant musical screw-you that constituted their opening number aside, how could anyone in 1966 have hoped to get a grasp on the Velvet Underground's music? Some call the album on which some of these songs were released a few months later the most influential record in rock history: certainly, it's hard to imagine what rock music would sound like today if the album had never existed. But nearly half a century after it was released, it still feels mysterious and unknowable. 
With hindsight, you can hear vague intimations of music that came before it. At one extreme, the drone of John Cale's viola was informed by the avant-garde minimalists with whom he'd studied before joining the band, while the piano thumping through All Tomorrow's Parties and I'm Waiting For the Man had its roots in LaMonte Young's X for Henry Flynt, which "required the performer to repeat a loud, heavy sound every one to two seconds as uniformly and as regularly as possible for a long period of time". At the other, there was R&B: There She Goes Again famously pinched its vamp from Martha and the Vandellas' Hitch Hike, while Maureen Tucker learned her ultra-primitive drumming style playing along to Bo Diddley albums. Lou Reed's obsession with free jazz pioneer Ornette Coleman must have informed some of its dissonance, while his love of doo-wop is evident in the album's gorgeous ballads; an example of which is Sunday Morning, which carries a distinct hint of the eerie, reverb-drenched atmosphere of the Flamingos' I Only Have Eyes For You or Nolan Strong and the Diablos' remarkable 1954 single The Wind. But they're vastly outweighed by moments that defy any rational explication. Even today, you listen to Heroin, lurching from its measured, vaguely folky opening to screaming noise and back again, or All Tomorrow's Parties – a kind of glorious, stately din – and think: how did anybody end up sounding like this?
Even the Velvet Underground themselves sound a little confused at the new terrain they're mapping out – among a selection of rehearsals taped at Warhol's Factory lurks a recording of an increasingly frustrated Reed attempting to teach Venus in Furs to a baffled Nico: 'It goes 'Strike dear mistress and cure his heart.' 'VOT?' That seems to have been almost everyone's initial reaction to The Velvet Underground & Nico. Now, 45 years on, it's as enigmatic and resistant to explanation as ever. All you can do is succumb to it." (The Guardian Oct. 2012)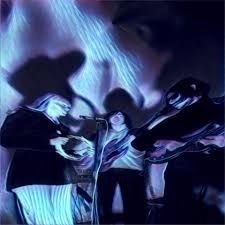 ---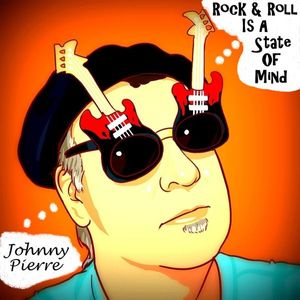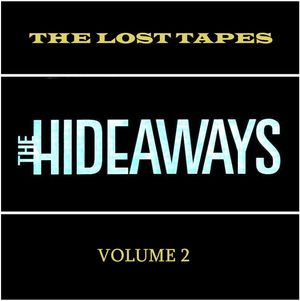 ---