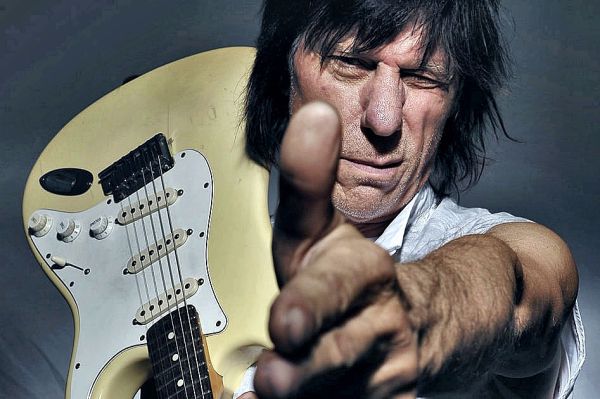 I was shocked to learn that Jeff Beck, perhaps the greatest rock & roll guitarist of all, had passed away on Tuesday due to spinal meningitis.  I've always ranked Beck alongside my other favorite guitarist, Danny Gatton.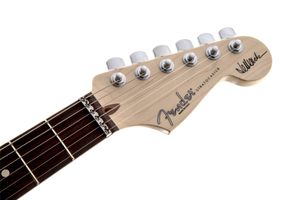 Often described as one of the greatest guitarists of all time, Beck – whose fingers and thumbs were famously insured for £7m – was known as a keen innovator. He pioneered jazz-rock, experimented with fuzz and distortion effects and paved the way for heavier subgenres such as psych rock and heavy metal over the course of his career.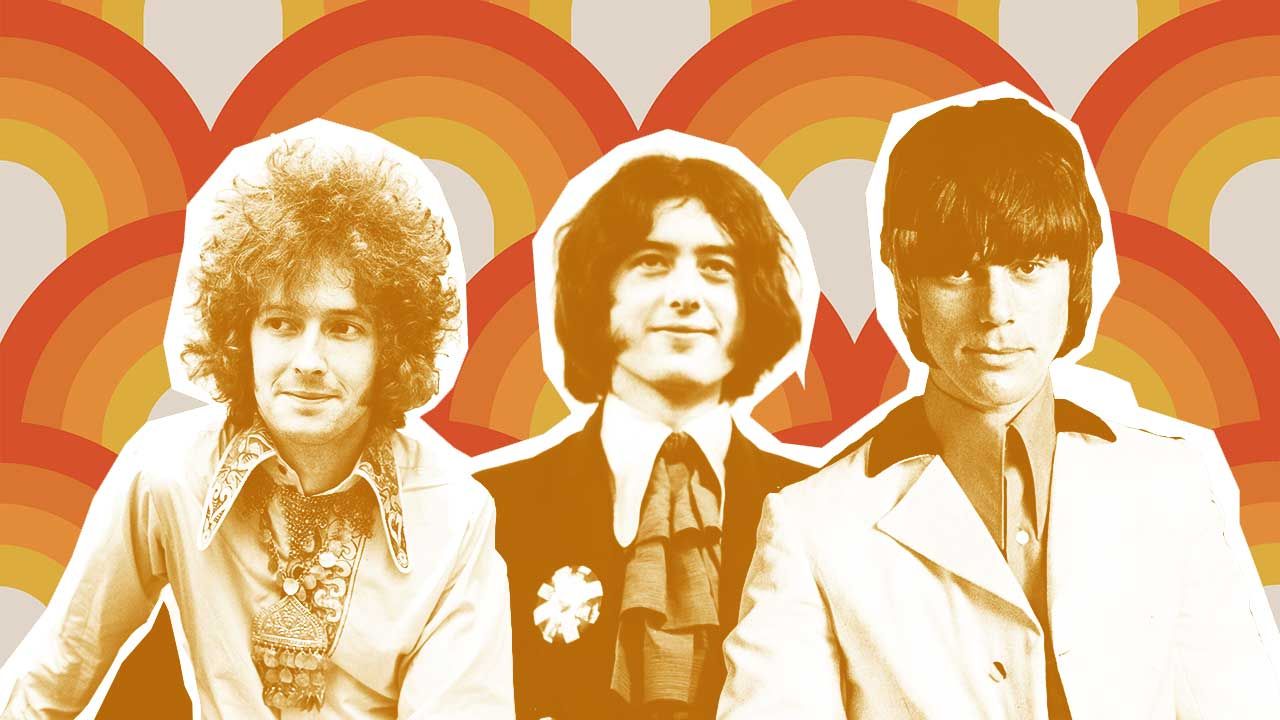 Eric Clapton...Jimmy Page...Jeff Beck
"Beck was born in Wallington, Surrey. He began playing guitar in his teens, on a homemade model (which he constructed in emulation of one of his heroes, the American guitarist-inventor Les Paul). His idols included Gene Vincent's lead guitarist Cliff Gallup and American bluesmen Buddy Guy and Otis Rush. In a striking coincidence, three of the greatest guitarists of the rock era, Clapton, Beck and Page — the latter two became friends in their early teens after being introduced by Beck's sister — grew up within 15 miles of each other.
Like many young British musicians, he was drawn to blues and R&B, and his first bands — the Night Shift, the Rumbles, the Tridents — all drew from the classic American repertoire. His break came in 1965, when Clapton, impatient with the Yardbirds' increasingly pop-oriented, experimental bent, exited the group to join John Mayall's purist unit the Bluesbreakers.

A fleet, imaginative soloist, Beck brought formidable instrumental firepower to British band the Yardbirds, which he joined in 1965 as a replacement for Eric Clapton. Entirely at home with the group's blues roots, he burnished their pop hits with an adventurous and virtually unprecedented use of feedback, sustain and fuzz. 
After a precipitous exit from the Yardbirds — where he had been joined by another future guitar star, Jimmy Page — he established his own band, the Jeff Beck Group, which was fronted by vocalist Rod Stewart, soon to become a solo star. The unit proved as unstable as it was powerful, and lasted for just two albums. 
During the '70s, Beck assembled a second, more R&B-oriented edition of his group, and briefly formed a short-lived power trio with bassist Tim Bogert and drummer Carmine Appice of Vanilla Fudge and Cactus. 
The Jeff Beck Group
At the turn of the decade, the guitarist founded a new quintet edition of the Jeff Beck Group that leaned heavily on the jazzy keyboard work of Max Middleton. Though the band's albums Rough and Ready (1971) and its self-titled 1972 follow-up performed respectably, they were largely considered inferior to the records produced by the Stewart-Wood lineup.

Beck reached the probable apex of both his critical and commercial success with a pair of mid-'70s all-instrumental albums, "Blow by Blow" and "Wired," that found him moving into jazz-fusion terrain. The latter LP was recorded with keyboardist Jan Hammer, formerly of the top fusion act the Mahavishnu Orchestra. 
From the early '80s onward, the temperamental Beck — a notorious perfectionist in the studio and a prickly band mate — would sporadically reappear, retrench, retire and reappear again. His latter-day work ranged from an homage to rockabilly singer Gene Vincent to instrumental sets reflecting the influence of techno, electronica and ambient music.
While a famously mercurial personality, Beck was indisputably one of the greatest guitarists of the rock era, and his playing remained innovative, imaginative and full of surprises until the very end." (Variety)

For me, one of the most moving moments that Jeff Beck ever did was his spectacular version of The Beatles' Day In The Life that took place at The 25th anniversary rock and roll hall of fame concert.  His performance illustrated the depth of his artistry.
The Jeff Beck Band performing A Day In The Life @ The 25th anniversary rock and roll hall of fame concert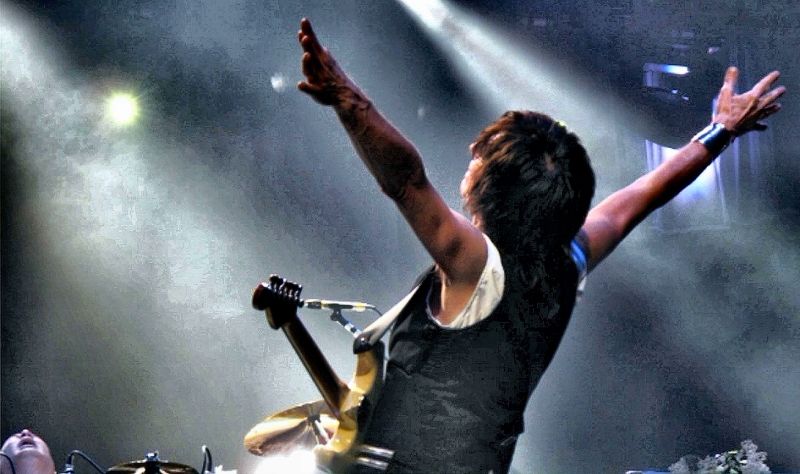 RIP Jeff Beck...blessings for eternal peace.
May you swing the good thing always.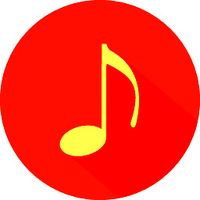 JEFF BECK DISCOGRAPHY
*

ALBUMS

*
Truth 1968
Beck-Ola 1969
Rough and Ready 1971
Jeff Beck Group 1972
Beck, Bogert & Appice 1973
Blow by Blow 1975 
Wired 1976
There & Back 1980
Flash 1985
Jeff Beck's Guitar Shop 1989
Crazy Legs 1993
Who Else! 1999
You Had It Coming 2001 
Jeff 2003 
Emotion & Commotion 2010
Loud Hailer 2016
18 (with Johnny Depp) 2022
*

SINGLES

*
1967  "Hi Ho Silver Lining" / "Tallyman"
1968   "Love Is Blue (L'amour est bleu)" 
1969   "Goo Goo Barabajagal (Love Is Hot)" (with Donovan & Jeff Beck Group)
1972   "Hi Ho Silver Lining" (re-issue)
1973   "I've Been Drinking" (with Rod Stewart)
1975   "She's a Woman"― "Cause We've Ended as Lovers"― "You Know What I Mean"
1976   "Come Dancing"
1980   "The Final Peace"― 
1982   "Hi Ho Silver Lining" (2nd re-issue)
1985   "Gets Us All in the End" ―  "Stop, Look and Listen"  ―  "Ecstasy"―  "Ambitious"― 
"People Get Ready" (with Rod Stewart)
1986   "Wild Thing"
1989   "Stand on It"― "Guitar Shop" (with Terry Bozzio and Tony Hymas)
1993   "Manic Depression" (with Seal)
2014   "No Man's Land (Green Fields of France)" (with Joss Stone)
2022   "This Is a Song for Miss Hedy Lamarr" (with Johnny Depp)
*

GUEST APPEARANCES

*
Beck has appeared as a guest artist on many recordings, including the following: 
1968 Donovan's album Barabajagal on the title track and "Trudi" 
Stevie Wonder's 1972 album Talking Book on the track "Lookin' for Another Pure Love" 
Badger's song "White Lady" from the 1974 album White Lady 
Stanley Clarke's 1975 album Journey to Love on the title track and "Hello Jeff" 
Narada Michael Walden's 1976 album Garden of Love Light on the track "Saint & the Rascal" 
Stanley Clarke's 1978 album Modern Man on the song "Rock 'n Roll Jelly" 
Rod Stewart's album Camouflage (on three tracks) 
Tina Turner's album Private Dancer 
Diana Ross's album Swept Away 
Mick Jagger's 1985 album She's the Boss & 1987 album Primitive Cool 
Malcolm McLaren's 1989 album Waltz Darling, on the tracks "House of the Blue Danube" and "Call a Wave" 
Buddy Guy's 1991 album Damn Right, I've Got the Blues on the tracks "Mustang Sally" and "Early in the Morning"
Kate Bush's 1993 album The Red Shoes 
Jimi Hendrix's song "Manic Depression" from the 1993 album Stone Free: A Tribute to Jimi Hendrix with Seal 
Duff Mckagan's 1993 solo album Believe in Me on the tracks "(Fucked Up) Beyond Belief" and "Swamp Song" 
Seal's 1994 album Seal 
Instrumental version of "A Day in the Life" on the 1998 album In My Life 
ZZ Top's 1999 release XXX on the track "Hey Mr. Millionaire". 
ZZ Top's 2016 live album Live: Greatest Hits from Around the World on the songs "Rough Boy" and "Sixteen Tons" 
Joe Cocker's Heart & Soul album on the track "I (Who Have Nothing)"
Brian May's song "The Guv'nor" from the album Another World 
Pretenders song "Legalise Me" from the 1999 album Viva El Amor 
Chrissie Hynde's song "Mystery Train" from the 2001 album Good Rockin' Tonight: The Legacy of Sun Records 
Roger Taylor's song "Say It's Not True" from the album Fun on Earth 
Vanilla Fudge's album Mystery (credited as J. Toad) 
Roger Waters' album Amused to Death 
Cozy Powell's album Tilt on the tracks "Cat Moves" and "Hot Rock"
Jon Bon Jovi's solo album Blaze of Glory 
Paul Rodgers' songs "Good Morning Little School Girl" & "I Just Want To Make Love To You"
Morrissey's album Years of Refusal on the song "Black Cloud" 
Imelda May's album Life Love Flesh Blood on the song "Black Tears" 
The Yardbirds' 2003 album Birdland on the song "My Blind Life" 
Ruth Lorenzo's 2018 album Loveaholic on the song "Another Day" 
Dion´s 2020 album Blues with Friends on the song "Can't Start Over Again" 
Ozzy Osbourne's 2022 album Patient Number 9 on the songs "Patient Number 9" and "A Thousand Shades"
---